By Nance Ebert, Contributing Writer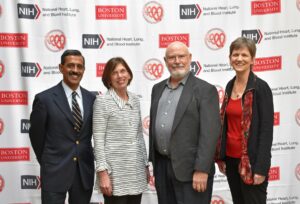 FRAMINGHAM – Seventy-five years ago, fifteen thousand participants voluntarily gave biological samples, health information and their time to participate in the Framingham Heart Study. The study's original mission was to gain more knowledge regarding heart disease but has since evolved to include matters relating to other age-related diseases like dementia, bone diseases, diabetes, lung disease, stroke and more. The study has moved far beyond heart research and has included great partnerships with leading researchers. 
To commemorate the 75th anniversary, several events are in the planning stages to include participant-focused ongoing research with a fall open house at the Framingham Heart Study headquarters in Framingham. In addition, next spring, there will be an official celebration with the local community, administration from Boston University, NIH and others. 
Multiple generations of family participants
"It is currently estimated that there are seven thousand remaining participants in the study, and they belong to different groups," said Patricia Connell, MPH, the director of operations at the Framingham Heart Study. "The first group are second generation or the children of the first generation of participants. The second group are the grandchildren of the original participants."
"The third group comprised of two additional cohorts recruited to participate as the original 1948 group consisted of primarily Caucasian people. This helped to increase the diversity," Connell explained. 
For the thousands of participants who volunteered with this study, there was no monetary compensation whatsoever. These people have been a part of something big and impactful, and for most, that was what they took pride in. 
Identifying risk factors
Boston University School of Medicine has served as the National Heart Lung and Blood Institute (NHLBI) contractor and academic partner for the study. The study found high blood cholesterol as well as high blood pressure to be major risk factors for cardiovascular disease. Additionally, cigarette smoking and diabetes were cited as a result of the FHS as risk factors for coronary heart disease. 
As of February 2023, Framingham resident Agnes De Cenzo, age 105, was the last surviving original Framingham Heart Study participant. Her daughter, who is also a FHS participant, is proud to be a part of something that has such a huge impact with health around the world.
The interim multiple principal investigators of FHS include Joanne Murabito, MD and George O'Connor, MD. 
"The dedication of the Framingham Heart Study participants has allowed the study to continue for seventy-five years strong," said Murabito. "The study is their study. The participants willingness to come in for testing has contributed to our knowledge of risk factors for heart disease and has expanded to many other important health conditions including brain aging and dementia." 
Origins go back to FDR
When President Franklin Delano Roosevelt died suddenly in his office in 1945, it was determined that the cause of death was uncontrolled hypertension that progressed to heart failure and stroke. Harry Truman signed a bill forming the National Heart Institute, now known as the National Heart, Lung and Blood Institute. The Framingham Heart Study was the result of this bill. 
"President Roosevelt's death may have played a role in creating the Framingham Heart Study," said Connell. 
Here are some heart-healthy tips to include in your daily life. Try to eat smart by adding fresh fruits, vegetables, dark leafy greens, whole grains and healthy oils like olive oil or avocado oil to your diet. Exercise is key for cardiovascular health. Try to maintain a healthy weight and manage your stress. Consume alcohol in moderation. Control your cholesterol and blood pressure. Meet with your doctor for a yearly physical. 
For more information about the Framingham Heart Study, please visit www.framinghamheartstudy.org.
 RELATED CONTENT: 
FDA Approves Leqembi, a promising drug used to treat Alzheimer's (fiftyplusadvocate.com)
Eight lesser-known triggers of high blood pressure (fiftyplusadvocate.com)
Walking benefits emotional wellbeing as well as physical health (fiftyplusadvocate.com)