By Janice Lindsay, Contributing Writer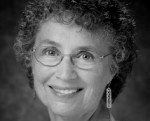 You don't often have a chance to wish a family member a happy 100th birthday. The occasion is cause for contemplation.
My great-aunt Evelyn, my grandmother's sister, was one of only two people I've known who passed that milestone, though many relatives have come close. The other was her mother who died at 101.
So I wanted to be there. My parents, my sister, and others gathered in our Rhode Island hometown to visit the nursing home where Aunt Evelyn had moved after recovering from a head injury sustained in a fall at home.
When I grew up, "nursing home" was a place you didn't want to be. It suggested unhappiness, loneliness, and neglect. 
Aunt Evelyn was having the time of her life. 
"They wait on me," she said. "I love it."
She attended all the entertainment, took every excursion. She told friends that if they wanted to visit, they should phone first because she might be out. She refused only one event. As she approached 100, she was invited to attend a celebratory luncheon for centenarians from various nursing homes. She said she had no wish to hang around with all those old people.
On the day we visited, other residents were being entertained by a belly dancer. I'm sure she would have been there if she wasn't occupied with us.
Aunt Evelyn was profoundly deaf, even with hearing aids. People communicated by yelling into one ear or by writing notes on her ever-present notepad. She could see just fine after cataract surgery and read voraciously. And she remembered. She thanked me for flowers I had sent, which had arrived the day before.
On the day we were there, she had already been celebrating. Her big family party, with her own children, grandchildren, and great-grandchildren, had been a couple of days before. Friends had come to visit, leaving gifts and flowers. She had been busy, and was maybe a little tired. She joked, "This hundredth birthday is going to kill me!"
It didn't. When Aunt Evelyn turned 102, she said that this was old enough and she was tired. She stopped eating, and complained that she was taking too long to die.
I marvel. And I question.
How is it that some people sail gaily into a second century, while others slip slowly away, sinking into dementia or physical infirmity? Is it genes? Undoubtedly they have something to do with it. Positive attitude? Probably that helps. Rich social network? That probably helps, too. Healthy lifestyle? Those who try to stay healthy like to think so, but there's no guarantee. Absence of stress? Everybody experiences heartbreak and loss. Just plain luck? Possibly. Maybe all of those things, maybe a combination.
Scientists study very old people. They would like to solve the riddle of healthy longevity. So would I. I can see myself on that horizon. I want to know what I should do now to prepare, in case I actually sail that far.
Seeing a relative turn 100 also makes you realize how small time really is. A century seems like a long time. But when I was young, I knew my great-grandfather, George, Aunt Evelyn's father. When he was young, he knew his grandfather, Seril. Seril's father was born in 1776, during the Revolutionary War. That's a direct, personal connection of people who knew each other, only two people between me and someone born two-and-a-half centuries ago.
What does all this mean? I wish I knew. These are just questions you contemplate when a relative turns 100.
Contact jlindsay@tidewater.net.
RELATED CONTENT: 
My New Hat (fiftyplusadvocate.com)
Sensible or not, it's tradition (fiftyplusadvocate.com)