By Brett Peruzzi, Managing Editor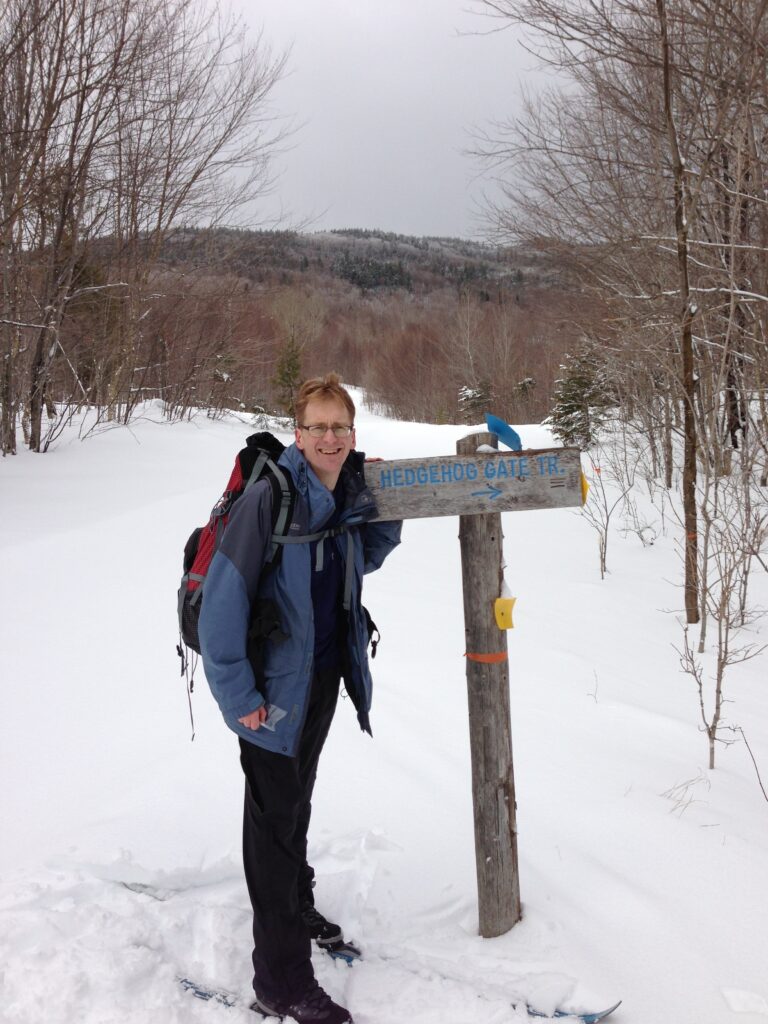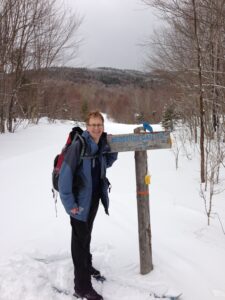 REGION – Some people dread the cold and snow of winter, but for avid cross-country skiers it's a season they look forward to with anticipation. It's great aerobic exercise, gentler on the joints than many other activities, and less hazardous than downhill skiing. And it's relatively low cost. There's no need to travel long distances and pay for pricy lift tickets―you can do it anywhere there's snow.
Getting started

As with any new exercise program, it's best to check with your doctor first if you have any serious health conditions or symptoms that might indicate that you have one. 
You can buy a complete cross-country ski package, including skis, poles, and boots for about $300. Most cross-country ski centers with their own trail network rent skis if you want to try before you buy. Remember to dress in layers that you can peel off easily as you warm up and pack your sunglasses as the sun's glare off the snow can be very bright. Bring water and snacks, and a cell phone is always a good idea if you get lost or otherwise need help.
"I would recommend that new skiers start at a cross-country ski center with groomed trails," said John Kilborn of Winchester, who has been cross-country skiing for over 40 years. "Take a lesson or two to learn the basics. I started in high school, and there was something about it that grabbed me," he explained. "I was a downhill skier, but cross-country skiing gave me a different sense of freedom, of being in nature."
You might also learn the basics by tagging along with a friend who's an experienced skier. And yes, there's always YouTube how-to videos. 
Carla Schwartz has also been cross-country skiing for at least four decades. "I live in Carlisle, which is ideal for cross-country skiing, and prior to that I lived in Framingham, which is also pretty nice in terms of having accessible trails," she noted. "I love being able to slap on my skis and boots and go out and ski, be outdoors, get warm, and get great exercise."
Where to go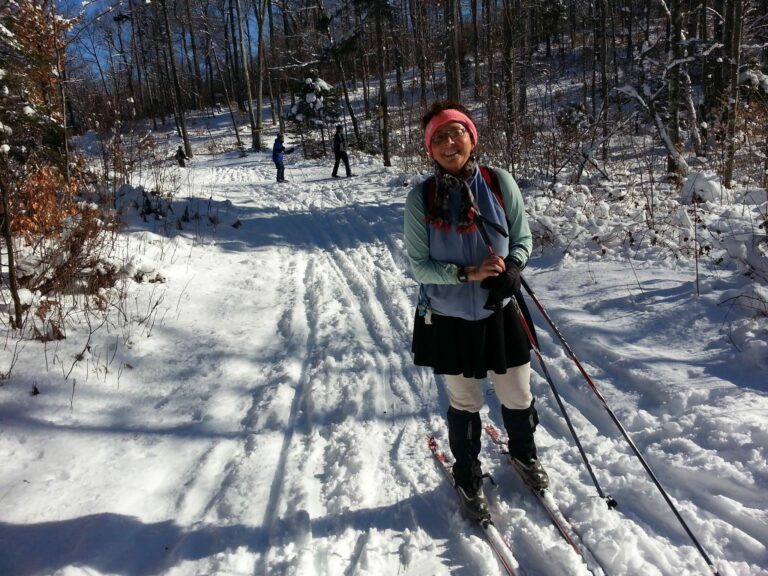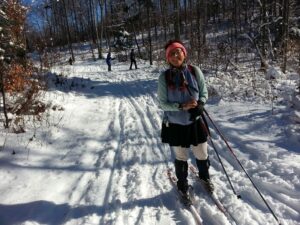 Every cross-country skier has their favorite places to ski, whether it's right out their back door or all the way up north in New Hampshire, Maine, or Vermont. "The Middlesex Fells is one of my favorite destinations, because I can walk to the reservation from my house," said Kilborn. "I also like to ski at Ward Reservation in Andover. You can see Boston from the top of Holt Hill. There's also some nice ponds to ski by as well."
"Right now one of my favorite spots to ski is Malcolm Preserve," said Schwartz. "It's a Trustees of Reservations property which connects with Estabrook Woods. But if I need to get some exercise easily and I don't trust the snow in the woods, I just go to Foss Farm," she explained. "You can both ski along the Concord River and in wide-open fields." Another popular destination for many in Carlisle is Great Brook Ski Touring Center, which offers groomed trails and equipment rentals.
If you'd like to take a day or overnight trip outside of Massachusetts, choices abound in the states to our north, and the snow is much more reliable. "While cross-country skiing is a great solitary activity, it's also a fun social activity," said Kilborn. "I've taken trips with a group of friends to Maine nearly every year. We've made several visits to Maine Huts & Trails, where you can ski on an extensive trail network and stay overnight at backcountry huts that are heated and even have hot showers."
Schwartz has also ventured frequently to northern New England to ski. "I did the Appalachian Mountain Club leadership training program, and for many years I led trips to Craftsbury, Vermont, and also Bretton Woods in New Hampshire. I still make a yearly trip to Craftsbury Outdoor Center, which is usually pretty dependable in terms of snow."
What if there's no snow?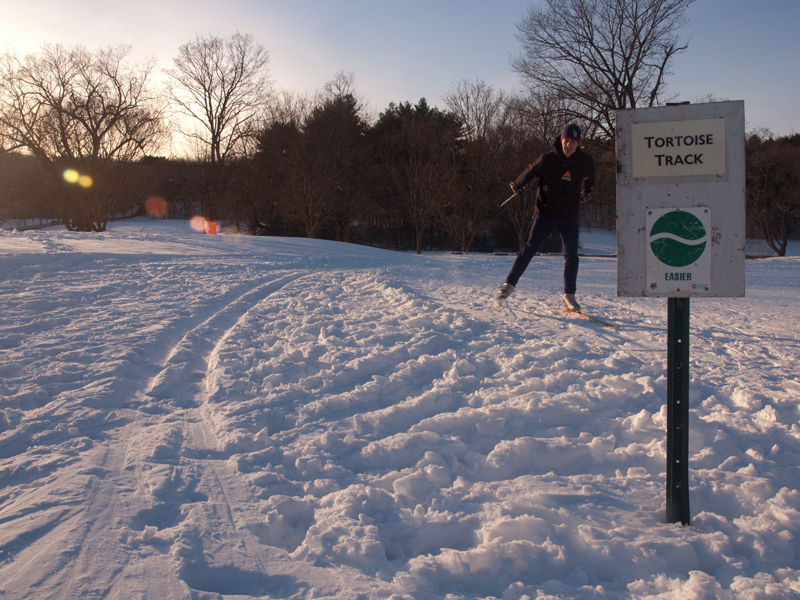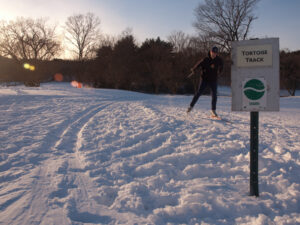 With warmer winters with less snow being more common, cross-country skiing in eastern and central Massachusetts can sometimes be hit-or-miss. But there is a solution, right near Boston.
"Our season runs from mid-December through mid-March, weather permitting," said Deb Laufer, general manager of Weston Ski Track, which has a few miles of trails that are also lighted for night skiing on the Leo Martin Golf Course in Weston. "We make snow so skiing is pretty reliable in January and February for us." Weston offers senior discounts for anyone 62 or older, equipment rentals, and lessons. 
"People over 50 are probably at least half of our customers," said Laufer. "Our kids programming is popular, but when it comes to adults, it's a lot of seniors. Cross-country skiing is fairly low impact, much better on your joints than running or even walking on pavement," she noted. "Falling is at slower speeds which leads to significantly lower possibility for injury compared to downhill skiing or other sports."
RELATED CONTENT: 
Skier's passion for the slopes remains strong after five decades (fiftyplusadvocate.com)
Great way to connect with 'Women Outdoors' – Fifty Plus Advocate Great way to connect with 'Women Outdoors'
Ice Castles are an enchanting winter destination for entire family (fiftyplusadvocate.com)