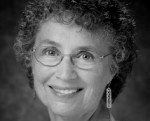 By Janice Lindsay, Contributing Writer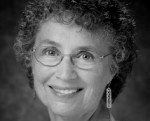 Our letter carrier rang the doorbell. Would I sign for a package from Poland?
I didn't know whether I would or not. Who'd send me something from Poland? Being an astute observer, I quickly perceived that this battered white shipping envelope probably did not hail from Poland, Maine, or even from Poland, Ohio. The return address read "Mlynska 20A, Radom, Poland." The postmark said things like "oplata poerana." These would not pass any computer's American English spell-check.
I took a chance and signed.
The package contained my new winter hat. I had ordered a hat from Amazon on the basis of a photograph and a brief description. It did not occur to me that a Cossack hat might actually come from a Cossack-ish part of the world.
The shipping papers said I had ordered a "Faux Fur Cossack Russian Style Hat for Ladies Winter, Winter Hat for Women (S. Silver)."
This hat was not my usual style. But my husband had grown tired of looking at my battered old turquoise fleece hat, stretched during so many winters that it would cover my whole head should I choose to hide my face. He suggested a furry Cossack hat. He thought it would look nice.
I was not convinced. But ever willing to try a sartorial adventure, I went online. So many colors, representing so many faux animals! And every one looked lovely on the mannequin, with her young perfect features and sloping jaw line that complemented the large fluffy dome atop her head. I chose a silver-gray faux fur, each hair tipped with black.
Sitting somewhere other than on my head, the new headwear could be mistaken for a fluffy furry mammal curled up to sleep. It definitely caught the attention of our two cats, until they detected no animal smell and perceived that this new arrival had no plans to move.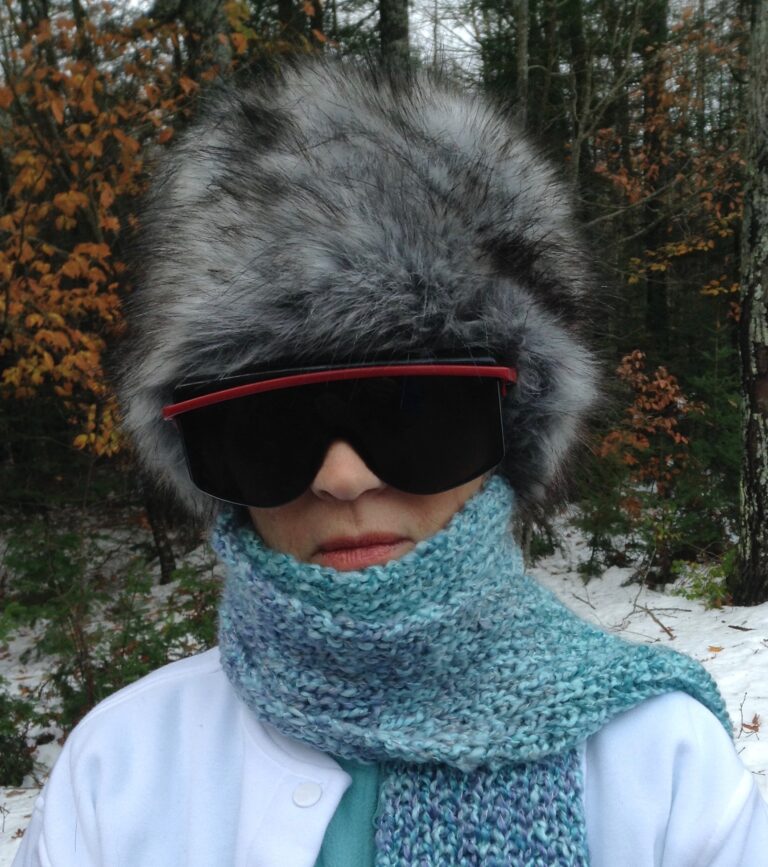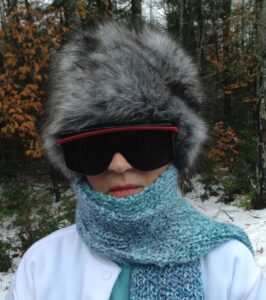 Sitting on my head, the hat looked as if it belongs on somebody else's. It did not feel appropriate on a middle-aged practical-Yankee head. It should reside on the pate of a lovely young lady of the Russian persuasion, cavorting on the steppes with her Dr. Zhivago.
I made up a name for the faux fur, in case anybody asked, which nobody did, perhaps because they didn't wish to draw rude attention to the fact that, compared with hats of those around me, mine might be considered, well, different. Perhaps they didn't want to embarrass the hat, which seemed to feel self-consciously foreign among its homey New  England knitted colleagues.
I named it "silver gray European fox" only to discover that there really are such animals, none of whom made the supreme sacrifice to keep my ears warm, though my hat could pass for one of their cousins. Generations of such foxes warmed the heads of Russian nobles.
I got used to wearing my new headgear. It was toasty warm, with its black fleece lining, even as warm as my old floppy fleece.
Dick thought it looked nice. When I wore my big hat and my big sunglasses, he said, I could be mistaken for a visiting Hollywood star. Nobody asked for my autograph.
Maybe the reason my new winter chapeau felt out of place was that it did not seem compatible with my old winter coat, my gray-blue, extremely utilitarian, very Yankee, L. L. Bean down jacket with its water-repellant outer layer.
So I considered – though ultimately decided this would be a steppe too far — searching for a "Faux Fur Cossack Russian Style Coat for Ladies Winter, Winter Coat for Women (S. Silver)." 
I'll bet they make those in Poland.
Contact jlindsay@tidewater.net
RELATED CONTENT: 
Sensible or not, it's tradition (fiftyplusadvocate.com)
How to guest a dinner party (fiftyplusadvocate.com)