By Sondra Shapiro
BUENA VISTA, Fla. —
The real magic of Walt Disney World (WDW) is the experiences are ever changing. Rides regularly get a sprucing up or complete makeover. WDW's four parks — Epcot, Magic Kingdom, Animal Kingdom and Hollywood Studios — always have some exhibit or special event going on.
But nothing compares with the latest expansion of the Magic Kingdom — the most extensive it its 41-year history.
The New Fantasyland pushes WDW's storytelling philosophy to new heights by creating a totally immersive experience that makes a guest feel he or she has stepped into a fairytale.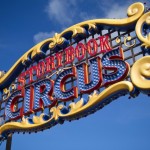 As guests pass through the grand arches into the landscape of the New Fantasyland — consisting of the Enchanted Forest and Storybook Circus — they are surrounded by a delightful world of fanciful architecture, waterfalls, grottoes, arched bridges, forests and a massive circus big top.
Even the walkways are festooned with embedded seashells, wagon tracks, banana peels (there are six of them), peanut shells and other paraphernalia typical to each area. The details allow adults and children to experience the themed areas at different levels.
The most dramatic additions to the skyscape are two new castles — Prince Eric's Castle and Beast's Castle — that join the iconic Cinderella Castle.
During a recent visit, Imagineers — the folks who develop all the rides and landscapes around WDW — frequently used such words as immersive and interactive to describe the new design philosophy. "This is a very different kind of meet and greet than we have ever done before," said Dave Minichiello. "The fun part for us Imagineers is it lets us engage and tell those stories a lot sooner, before they board their vehicle and go on their journey."
It also helps lessen the tedium of wait times, since guests are enveloped and engaged before the actual ride.
Related: Walt Disney World keeps experiences fresh
The Fantasyland additions pay homage to classic animated Disney movies: 1991's Beauty and the Beast and 1989's Little Mermaid. Another Disney addition, reflective of the animated film, Snow White and the Seven Dwarfs, will debut in 2014, with The Seven Dwarfs Mine Train, a family-style coaster.
Built on the former site of the 20,000 Leagues Under the Sea, the New Fantasyland features attractions, dining, shopping and character interactions.
Prince Eric's seaside castle is perched atop "Under the Sea: Journey of the Little Mermaid," an attraction that takes guests through scenes from the movie. The queue wends through a series of grottos and caverns, where guests barely register the wait as they help little animated crabs sort through "trash" or "treasure" to fill Ariel's treasure chest by using touch computer screens.
Finally, clamshell conveyers whisk explorers away to Ariel's underwater world, where special effects and mind-defying technology create the sensation of descending to the ocean floor. Lifelike audio-animatronics bring the beloved movie characters to life: Ariel's long red tresses actually float about her. Original movie scores and voice talents certainly make guests feel like they are actually in the movie.
Watch for the seven-and-a-half foot villain, Ursula, the sea witch, belting out her signature song, Poor Unfortunate Souls or that first kiss between Ariel and Prince Eric. At ride's end, tucked beneath the seaside cliffs, Ariel's Grotto creates an intimate setting for little ones to meet their favorite aquatic princess.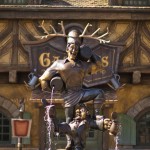 On to the Beauty and the Beast tribute. There's Belle's French inspired village, with its quaint architecture, window boxes and town square. The focal point is a fountain with a massive bronze statue of a self-important Gaston and his beloved sidekick LeFou.
Gaston's eponymously named tavern has a French hunting lodge atmosphere with antlers galore, walls cluttered with darts that missed their mark, wooden tables and chairs, a life-size portrait of Gaston hanging above the fireplace and Gaston's giant leather and wood chair covered with a fur throw.
The family-friendly establishment features roasted pork shank and LeFou's Brew, a tasty, albeit brain-cramp inducing cold beverage. This drink comprised of frozen apple juice with a hint of toasted marshmallow and topped with passion fruit-mango foam, can only be found at the tavern.
Next stop, "Enchanted Tales with Belle," an interactive attraction that allows guests to get close up and personal with the world of Belle, her father, Maurice, and the Beast.
The adventure begins with a walk to Maurice's whimsical cottage. The atmosphere is lush with flowers, trees and a dream-like meadow. A makeshift fence that leads to the cottage is built of discarded wagon wheels and an eclectic array of pieces that might have come from the inventor's workshop is everywhere.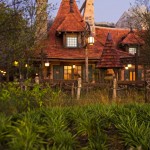 Once inside the cottage, the film comes to life with recognizable elements: A massive stone fireplace, stacks of Belle's beloved books, a tableau featuring a mirror above a table, with blue and white basin.
Then onto Maurice's workshop where the eye is overwhelmed with details. There are inventions in various forms of completion, blueprints and tools. A winged lighting fixture that might have been repurposed from one of Maurice's inventions that just didn't work out dangles from the ceiling.
The centerpiece though — an incongruous piece — is a hanging, ornate gold mirror, a gift from the Beast to Maurice so he could visit his daughter. This item is perhaps the most extraordinary technology to be found in any of the parks. Pixie dust and light bring the mirror to life, creating a portal to Beast's Castle. As guests venture through, a life-like Madame Wardrobe greets them. She and a cast member explain that the group is going to surprise Belle with a re-enactment of the "tale as old as time." Volunteers, old and young, are assigned roles and props, then everyone gathers in the library where Belle is summoned to watch the show that is narrated by Lumiere (a very sophisticated audio animatronic).
The star attraction for this adult was the Be Our Guest Restaurant, housed in Beast's Castle. To create an authentic atmosphere, Imagineers collaborated with the animation department that worked on the original movie, said Imagineer Diego Parras.
"We have seen the movie and we know what it feels like to be able to walk into that environment where Belle and Beast had that first dance together," Parras said. So everything — the floors, the lighting, tapestries, moldings and a 12-foot tall chandelier boasting 84 candles and more than 100 jewels. — was inspired by the classic film.
Diners pass through a hallway of armor, reminiscent of when Belle first entered Beast's castle. Once inside, a person could spend hours roaming through the restaurant's three dining areas — Rose Gallery, West Wing and Ballroom. Each room is more enchanting than the next.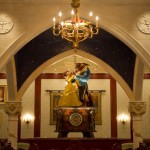 The Rose Gallery has the music box that Maurice made for Belle and the Beast. Here, it is almost seven feet tall, topped with a dancing Belle and the Beast.
The Ballroom has a 20-foot ceiling with a painted mural of clouds and cherubs, massive chandeliers and 18-foot windows that look out to the French countryside and — it's not a mirage — there is a light snow falling with gentle winds blowing.
The most dramatic room is the forbidden West Wing with its dark, brooding atmosphere. A glass bell jar containing the enchanted (holographic) rose slowly drops its petals, marking the amount of time left for the Beast to find love in order to turn back to his human form. Above the fireplace sits a slashed portrait of the young prince that slowly morphs into the cursed Beast.
The sound track from the movie is in sync as diners move through the three rooms — with each room playing a different rendition.
And yes, this is a place to dine. And drink, since the eatery serves beer and wine — an anomaly at the park.
Guests order lunch using a touch computer screen. Once items are chosen and paid for, diners are handed a "rose," a sort of tracking-device that they place on the center of the table. Almost like magic, servers deliver the order — on fine China — to the table.
Chef Richard Jennings describes the menu as "French influenced, American cuisine," adding that the most popular dinner items are the shrimp and scallop en croute and the New York strip steak.
Jennings said the menu includes some healthier options. "Our onion soup is all vegetarian. We can make it vegan if we take off the cheese," Jennings said during a recent tour. "We are trying to keep everything healthy but flavorful," he added, describing the quick lunch service and full dinner menu.
During a lunchtime visit, health-wise items — tuna nicoise and quinoa salad — were attractively presented and offered a depth of flavor not usually found at a quick eatery.
A word of warning: The wait time at noon for the quick lunch service was at least 45 minutes. And, during a February visit, I was told the establishment was booking through August for its nighttime full dinner service.
After lunch, it was off to Storybook Circus, an area that harkens back to a romanticized era of the big top, cotton candy and sideshows.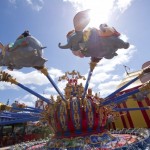 Here is the new home of Dumbo, the Flying Elephant. Seemingly re-imagined with exhausted adults and impatient kids in mind. There are now two Dumbos — one goes clockwise, one goes counter clockwise. The ride is connected to an elaborate waiting area — an indoor, air-conditioned big top. Each guest is handed a pager that holds a place in line. When it lights up, adults gather the kids to wait in a shorter line.
In the meantime, while the kids burn off energy by engaging in circus-themed activities, the adults can enjoy some rest in the bleachers.
Storybook Circus also offers a family coaster ride called The Barnstormer Featuring the Great Goofini, the Casey Jr. Splash 'N' Soak Station water play area, Pete's Silly Sideshow and the Fantasyland Train Station, a stop on the Walt Disney World Railroad.
photos courtesy of walt disney world