By Maureen Sullivan, Contributing Writer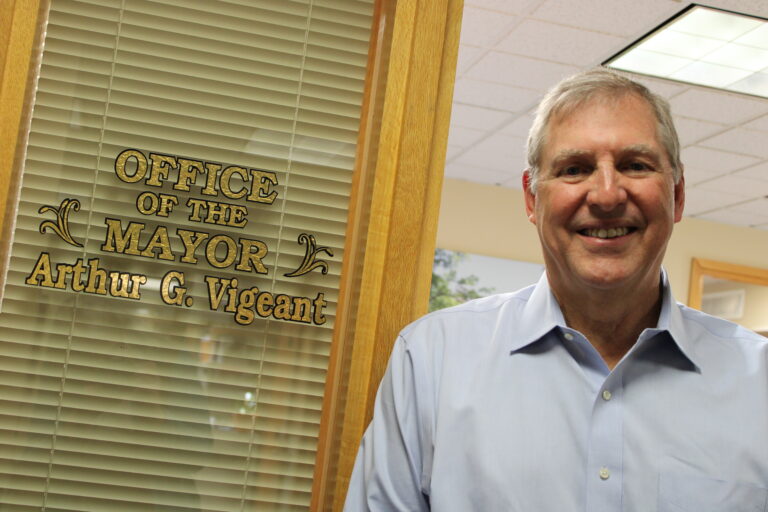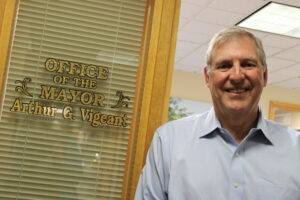 MARLBOROUGH – The piles of papers on his desk are all part of the job. Bills and measures, a city's worth of correspondence, all asking for his attention.
Arthur Vigeant will go through the piles, and comment and sign where needed.
He's the mayor, the CEO of the city of Marlborough, and these bills and measures – budget requests, transfers, proclamations and plans – keep the city operating.
"It's a big job," he said. "You've got 21.4 square miles and 43,000 customers."
Come November, it will become someone else's job, as Vigeant steps down after 12 years.
Add in his 18 years on the City Council, nine of which he spent as president, and Vigeant will have served in municipal government for 30 years.
He made the announcement in a press release in April.
"I love the city of Marlborough," said Vigeant in the release. "Serving as mayor of my hometown is the honor of my lifetime. While it will be tough to move on after being involved for so many years, I'm ready to start a new chapter in my life with my family and close friends."
A 30-year career
Vigeant was born and raised in the city, and he currently lives in a house on Brigham Street once owned by his grandmother. He is married to Susan, and they have three children – Tanya, Derek and Kyle – and five grandchildren.
When he was first elected to the council in 1993, Vigeant said, "I had no idea" about the council. He was helped along the way by the council's secretary, Karen Boule.
"She took me under her wing," he said.
"I believe the mayor's many years as a city councilor-at-large taught him the do's and don'ts for his success and long tenure as mayor," said Boule. "The key to a mayor's success has always been linked with his or her cooperation with the City Council, whether easy or hard fought."
"It might sound cliché, but when the executive and legislative bodies work together, the people win," she added.
In 2011, he was elected mayor, succeeding Nancy E. Stevens. Vigeant has since served five more terms, making him the city's longest-serving mayor.
"I was told when I first took office that this will be the greatest job you'll ever have," said Vigeant.
During his time in office, Vigeant said he's proudest of the city's AAA bond rating, along with the construction of a new library, senior center and school. The achievement he'll remember best would be the renovation of World War II Memorial Beach.
"We got more positive comments than any other project," he said.
On how he approaches his role as mayor, Vigeant said he took a page from Ronald Reagan – "I don't want to be the smartest [person] in the room. I want to have smart people in the room with me."
His executive assistant Patricia Bernard said it's been an honor working for the mayor and being able to see everything he accomplished during his time in office.
"He's been a strong mayor with great leadership skills, and has kept his focus, which is keeping Marlborough affordable," Bernard said. "He is always looking for a more efficient way to get things done, and has never subscribed to the adage 'because it's always the way it's been done,' that can often be the norm in state and local government."
Challenges facing the city
As Vigeant reflected on the projects he was proudest of, he also discussed some of the challenges he faced during his tenure. 
Vigeant's biggest challenge during his time as mayor was dealing with the COVID-19 pandemic.
"There wasn't much in the playbook about that," he said. "Everyone cooperated … we pushed our way through. It's nice to see all [the events] coming back."
Just below City Hall, Main Street is undergoing a two-year renovation project.
"Main Street's going to be a disaster for two years, but the results are going to be beautiful," he said.
Public transportation became a hot topic during discussions of the site plan review for the site of the former Rowe Funeral Home at 57 Main St. The city has no direct access to commuter rail, and limited access to buses.
Vigeant said that if he had a magic wand, he'd have at least one MBTA stop downtown.
Vigeant said the state needs "to step up" and "spend some real money and make a real effort" to overhaul the public transportation system.
"You want to do what's best to get people to Boston," he said.
Vigeant looks ahead
As he looks ahead to this fall, Vigeant said, "I'm optimistic that we'll have good candidates and good leaders."
There are currently four candidates vying to become Vigeant's successor: current city councilors J. Christian Dumais and Samantha Perlman; Michael Baker; and Patrick Hogan.
"I hope we continue to have good development [projects]," Vigeant said.
Once he becomes a former mayor, Vigeant said he "hopes to relax a little bit."
"It's been great being here for 30 years," he said. "It's been an interesting time."
"There's so much more I want to do," he added. "There's always more."
RELATED CONTENT: 
Lifelong commitment to public service (fiftyplusadvocate.com)
Westborough was home for the Navy's highest-ranking officer (fiftyplusadvocate.com)
'Leave things better for others' says former governor Deval Patrick (fiftyplusadvocate.com)