By Sarah Freedman, Contributing Writer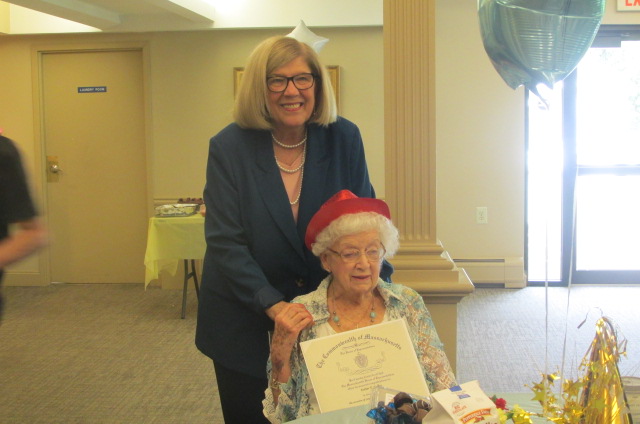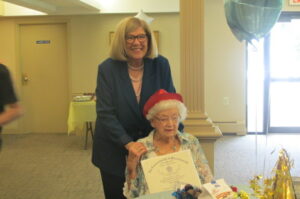 HUDSON — A Hudson resident reached a milestone and recently celebrated her 104th birthday.
Esther Folkes, whose birthday was May 10, celebrated on May 5 surrounded by her friends and family at Peter's Grove in Hudson. Rep. Kate Hogan and Hudson Senior Center Director Janice Long both presented Folkes with certificates of recognition on the occasion.
Folkes expressed her thanks to the people at Peter's Grove and the senior center for being so kind.
New York beginnings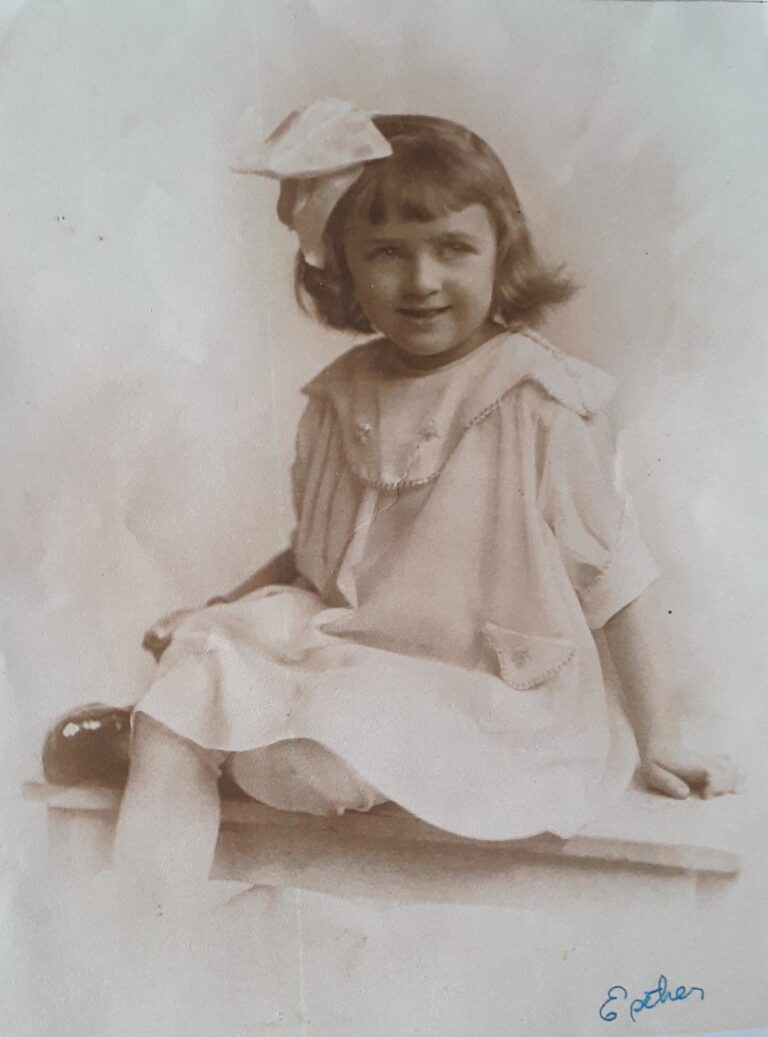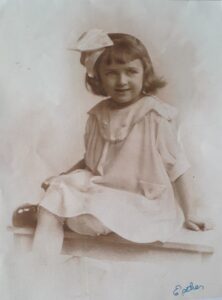 Although Folkes now has a large family that includes six grandchildren, 13 great-grandchildren and five great-great grandchildren, her story began in Brooklyn, New York.
"When I say I grew up in Brooklyn, New York, you visualize tenements," she said. "It was Flatbush."
The house had a double driveway and a two-car garage, Folkes said. When she went back to Flatbush, the area had changed from houses to high-rise buildings.
Her father had a garage and provided storage for well-to-do clients' vehicles, who would call ahead for their car. Her mother, Adele, stayed at home and raised Folkes, who was an only child.
Her grandparents, John and Sarah Morrison, lived with them as well, and she "always went places" together with them.
John was a Civil War veteran who served as a corporal in charge of the Confederate prisoners on Hart Island in New York.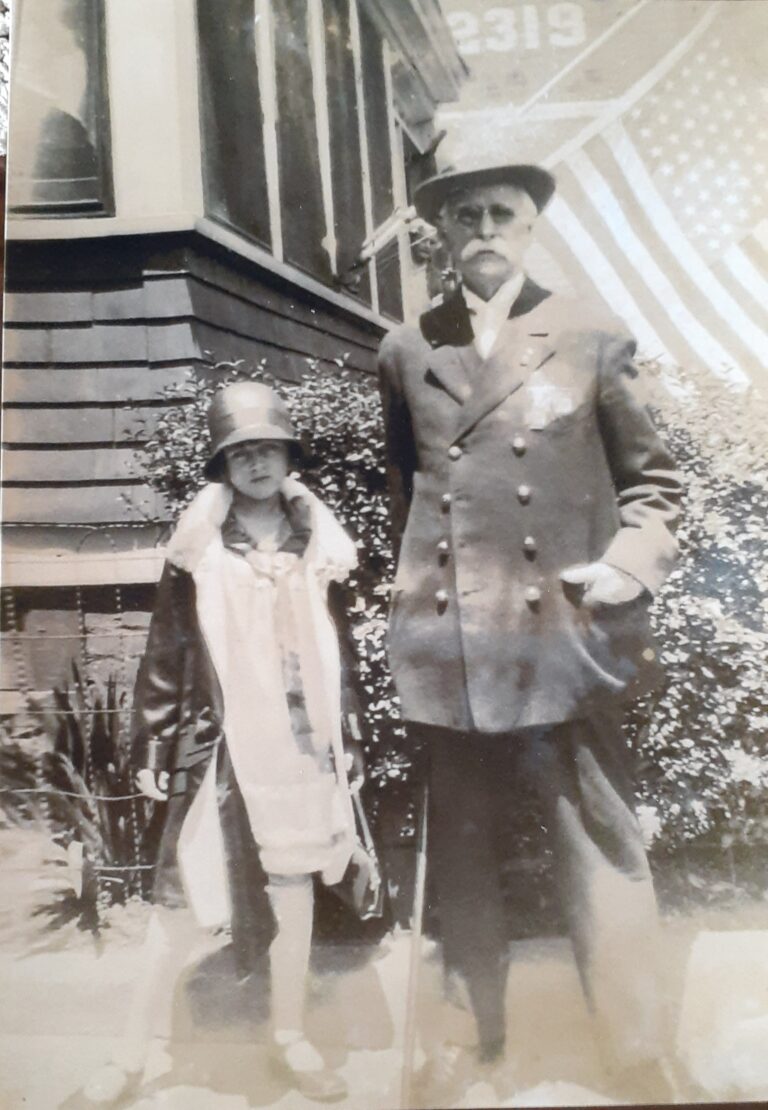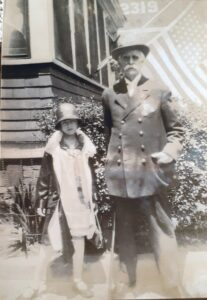 He was the last member of his post of the Grand Army of the Republic, and the grand marshal of the Memorial Day Parade in Brooklyn for the last five years of his life.
Folkes recalled getting "all dolled up for the day" and going to the parade with him. Reporters came to their house to photograph him as one of the remaining Civil War veterans of the time.
Folkes said, "He was still very young [after the war]."
He enlisted at 15, but when his mother found out, she took in washing to earn money to buy him out of the war.
"Guess what he did when he was 16?" she asked.
John served near the Rio Grande, which he called a creek, as he was from New York, which is partially surrounded by water.
"That was his remark: That river was nothing but a creek," Folkes recalled.
Folkes went to public school in Brooklyn, and, after graduating high school, she married Warren Folkes Sr. when she was 20 years old. She had four sons, Jack, Warren Jr., Kenneth and Donald.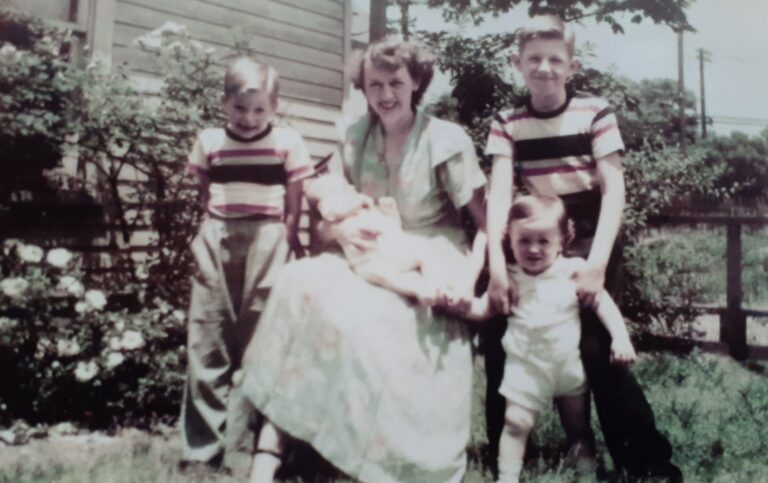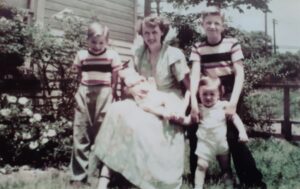 After World War II, her husband went to work for her father. Folkes remembered taking her oldest son, Jack, to the Macy's Day Parade. 
"It was Thanksgiving. It was the right time to take him to that parade," said Folkes. "He was a little preschooler."
She got Jack ready, and they rode the subway to see the parade. People lined the curb, she said, and it was hard to get a spot.
"Here's how people were," she said. "This woman said, 'Let that woman with that child up here. … This is for the children.'"
Life in Massachusetts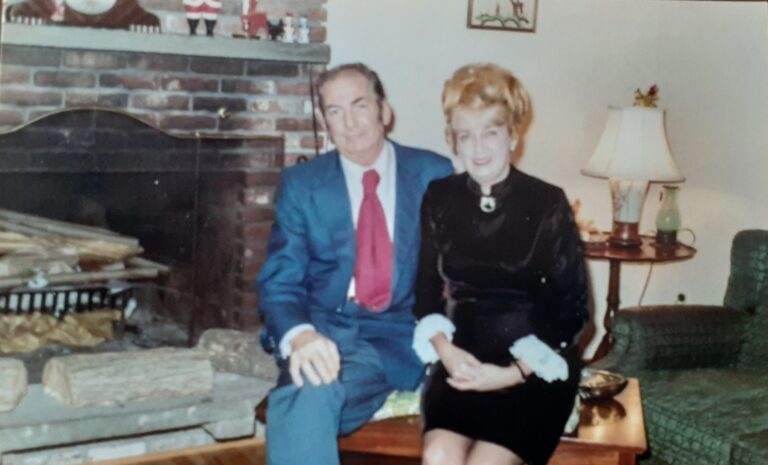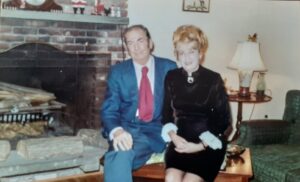 Folkes and her family moved to Ashland in 1953, and she worked at the Red Coach Grill in Wayland for 20 years as a hostess until she retired in 1985 at age 66.
"I was what they called an executive hostess," Folkes said. "You ran the dining room."
As part of her job, she wore a red uniform with a velvet collar. The only time she could dress up was on New Year's Eve, so her husband took a picture of her.
"It still looks the same when you go by it," she said.
When her children grew up, she went to the local senior center and "made friends there." Folkes is active in her church, the First Federated Church in Hudson, and she loves to cook, swim and bowl.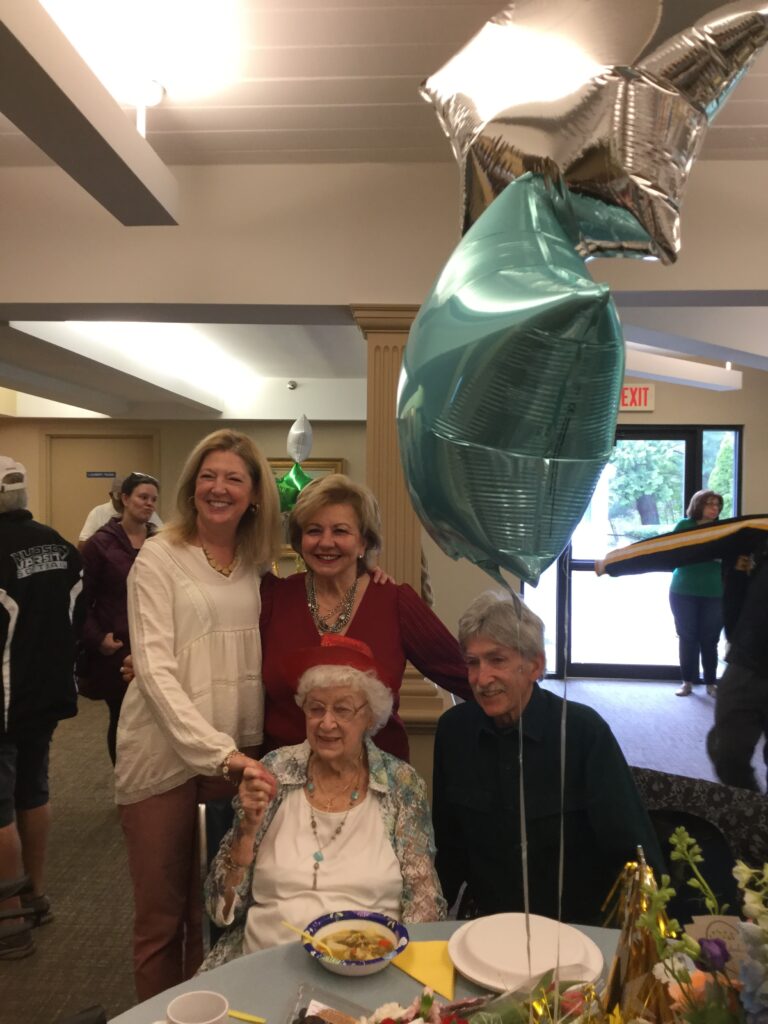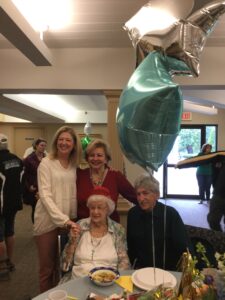 "I love line dancing, and I love bowling," she added. "You know, those kinds of things."
Her granddaughter Debbie DeGregorio said that Folkes has always been a great cook.
Folkes said, "When I was a little girl, my mother's sisters would come visit, and they would congregate in the kitchen. And they'd be baking."
Her aunts visited her mother from Connecticut and Long Island. Folkes loved watching them.
"I didn't have siblings. I loved it when they came because they would be cooking all the time, and I loved to cook," she said.
Even though Folkes said she does not cook as much now, DeGregorio said she made a stew for her great-grandson a year ago.
She was married to Warren for 49 years. When her husband died in 1988, she moved into Peter's Grove the following year. 
"I have a house full of friends here," said Folkes.
Ellie Scouras, who has known her for eight years, called Folkes an inspiration and a lot of fun.
"She's a real pistol," she said.
Anna Halliday, who has known her for 15 years, said she has always been a nice person. 
"She's never changed," Halliday said.
Her secret to enjoying life is camaraderie and appreciating the blessings in life, even when she is frustrated with something.
"I love people," said Folkes. "I have a good time with people."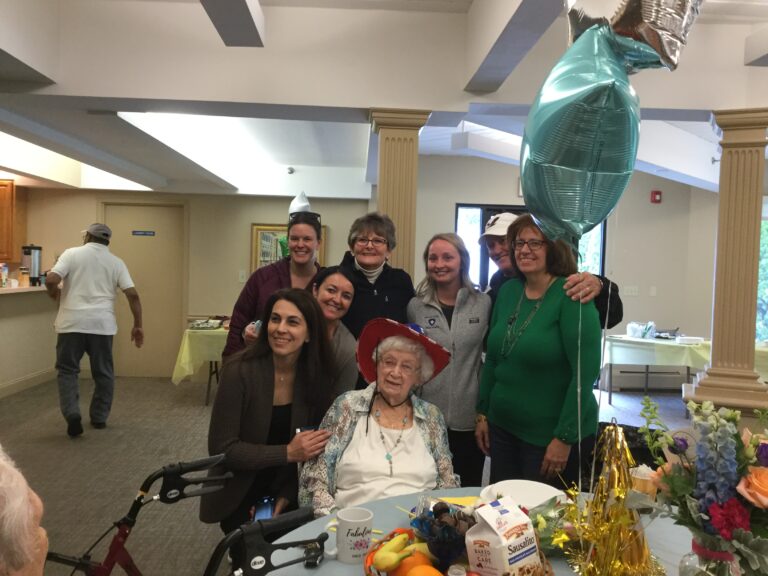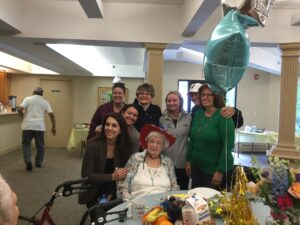 She gets letters from her great-grandchildren and great-great children addressed to "Gigi Grandma Folkes."
"I get a big kick out of that," she said
DeGregorio said, "One characteristic about grandma, and I think why she is so amazing at her age, is she is truly interested in everybody in our family and what we're doing."
If she has a big meeting at work, Folkes will ask how it went. Folkes also is interested in what her great-grandchildren and great-great grandchildren are doing, like meeting a new friend.
Speaking to her storytelling abilities, DeGregorio said that Folkes will begin a story and think of a component of the story, and then circle back to the original story.
She said to Folkes, "You really are just amazing."
Folkes laughed and replied, "I don't know about that," but DeGregorio insisted, "She is amazing."
RELATED CONTENT: 
When a relative turns 100 (fiftyplusadvocate.com)
WWII veteran celebrates 101 years at American Heritage Museum (fiftyplusadvocate.com)