By Maureen Sullivan, Contributing Writer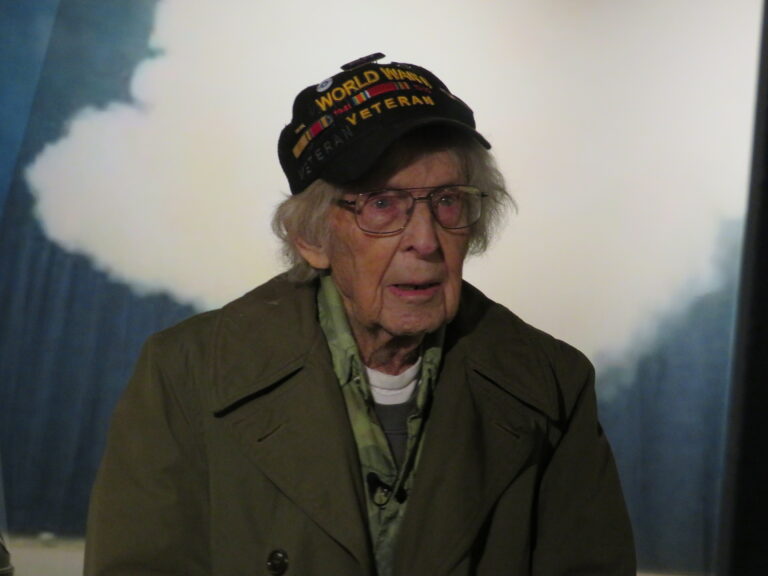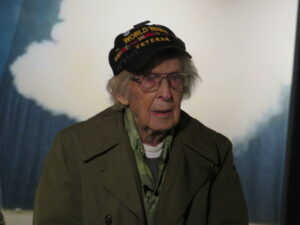 HUDSON – Russell Phipps is 101 years old. He's hard of hearing and needs a cane to move around.
But he can still recall details on how to arm and load bombs. He can still shoot a firearm (including muzzle loaders), and he still knows his way around a sawmill.
On Dec. 29, the day after his birthday, the World War II veteran and longtime Hopkinton resident visited the American Heritage Museum with family and friends.
Phipps' daughter, Marcia Caporizzo, said her father is a remarkable man.
"He's the kindest, most accommodating man around," she said. "We take rides around, and we come to a place, and he tells a story about him and his father."
"He's ever so grateful for everything in life," she added.
About his service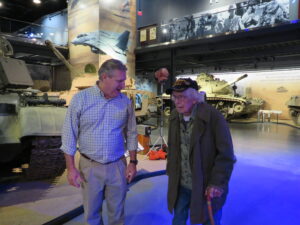 Phipps volunteered for service on Aug. 14, 1942. He became part of the Army Air Corps, rising to the rank of sergeant. Because of his skill with a firearm ("I had already done a lot of shooting with my father," he recalled), Phipps became an instructor at a base in Colorado, where he stayed for 18 months.
After that, he was sent to the Pacific Theater. He remembered landing at Pearl Harbor and seeing the wreck of the USS Arizona.
"It was quite a sight for us," he said. "It was awful."
Sent to the island of Tinian, Phipps worked on the Enola Gay, the plane that would drop one of the atomic bombs on Japan in August 1945. Japan surrendered soon afterward.
"We were thanking [President] Harry S. Truman for ending the war," he said. 
He recalled the preparations being made to invade Japan at the time the bombs were dropped.
"It was going to be hand-to-hand, house-to-house … they were thinking there'd be one million casualties, including civilians," said Phipps.
After the war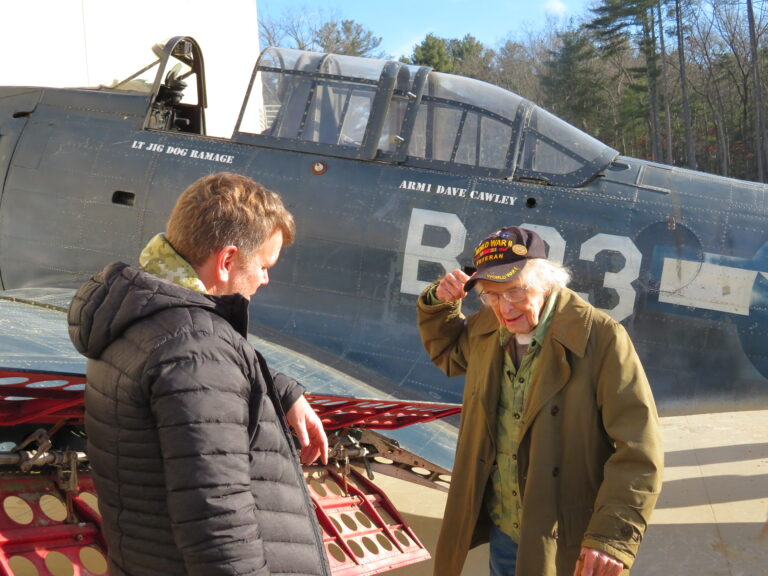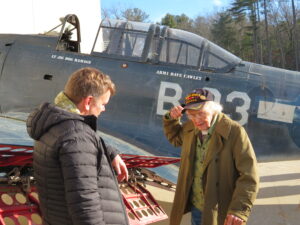 Phipps came home one cold night in February. He had arrived at Worcester's Union Station, where he saw his Model A Ford with his wife, Doris, inside with a little bundle wrapped in a blanket – his infant son, Rusty.
The new family stayed in Natick briefly before moving to Framingham. They lived in a wall tent purchased from Sears Roebuck for a few months, and then they found an apartment in the former barracks at the muster field.
Phipps purchased a piece of land in the Woodville section of Hopkinton; the family moved there, built a house, and has been there ever since.
He runs a sawmill on the property, which itself is 100 years old.
A time for reflection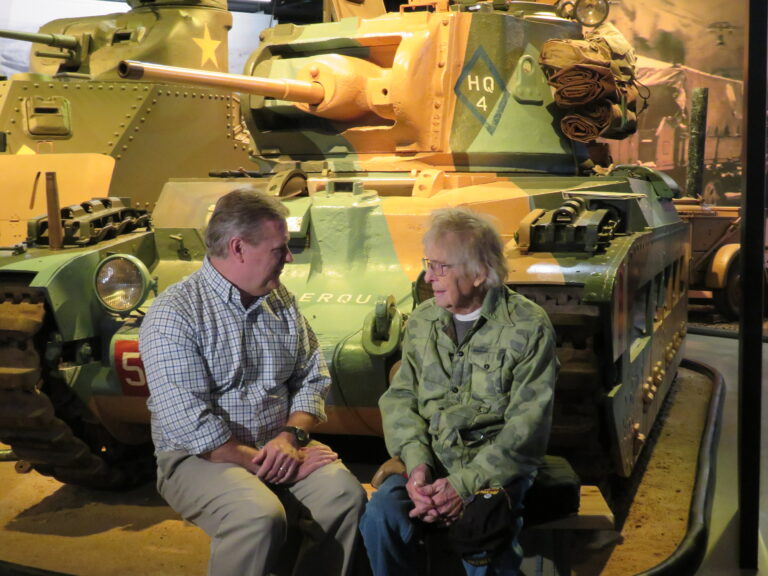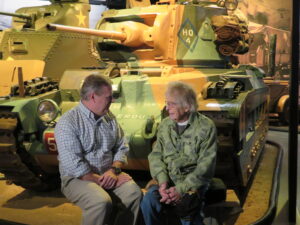 At the museum, Phipps got to see one of the museum's newest exhibits – a SBD Dauntless aircraft, which was the primary carrier-based dive bomber used by the U.S. Navy during WWII.
Robert Collings, president of the Collings Foundation, showed Phipps the aircraft, which is on loan from the U.S. Navy. It was recently salvaged from Lake Michigan and brought to the museum; the dive bomber will become part of the museum's Pacific Theater exhibit.
"I'm no hero," Phipps said. "I was one of the lucky ones." 
Phipps often thinks of his friends, including his brother-in-law, who didn't make it home. 
"We looked forward to the end of the war," he said.
Photos/Maureen Sullivan
RELATED CONTENT: 
World War II veterans share stories at event in Hudson (fiftyplusadvocate.com)
Hudson museum offers a unique, immersive historical experience (fiftyplusadvocate.com)
My Life My Story program adds life stories to veteran's medical records (fiftyplusadvocate.com)