By David Wilkening
Contributing Writer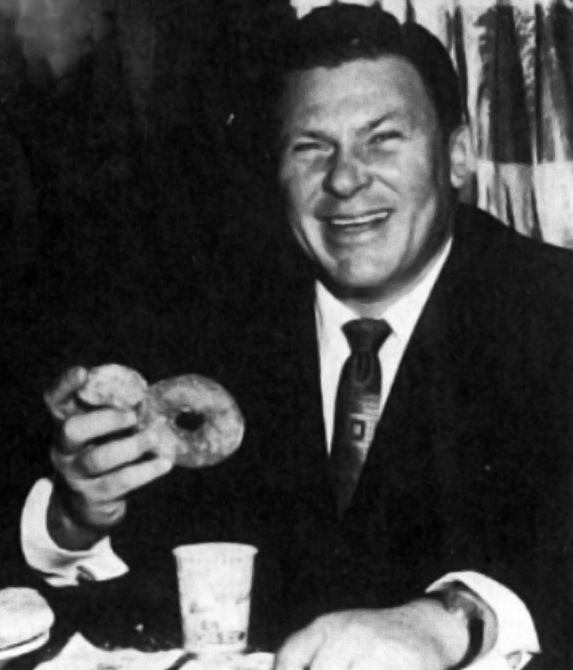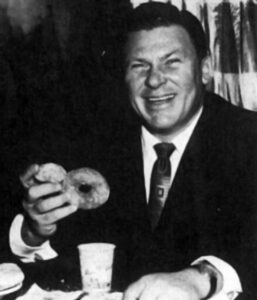 QUINCY – Some reports of his death claimed Dorchester native William Rosenberg created a national habit: making a morning stop for coffee and doughnuts. That may be somewhat of an exaggeration or oversimplification. But there's no questioning other facts of Rosenberg's life. His life story was a classic comfort tale of "rags to riches." He lived and fulfilled what was called the American Dream. He died on September 22, 2002, of bladder cancer at the age of 86 at his home in Mashpee. 
By all accounts, the typical American breakfast when Rosenberg was starting out was the standard bacon, eggs, toast and coffee―and usually eaten at home. At the very least, he created the stop-for-coffee-and-donuts habit, in the city of Quincy just south of Boston, where a remodeled version of his very first Dunkin' Donuts still greets customers.
The "rags-to-riches" story is a common one―at least the Hollywood version. That story is mostly a "fairy tale," according to research from the Pew Charitable Trusts. The stunning successes are rare―making Rosenberg's story even more noteworthy. 
Rosenberg in his autobiography referred to the American Dream, which has various definitions. The most common version is someone achieving success "with luck and pluck" against overwhelming odds against it.
A struggling immigrant family

He was born in Boston in 1916, one of four children of Nathan Rosenberg, a grocery owner, and his wife Phoebe. Both parents were Jewish-German immigrants from Prussia. He grew up in Dorchester and was educated in public schools. Financial conditions forced him to leave school by eighth grade to help support the family, who lost their store during the Great Depression.
In his autobiography he recalled a childhood with few niceties but ample supplies of family, friends and food. A favorite memory was the weekly trip to the Faneuil Hall marketplace to buy wholesale goods from farmers, fishermen and butchers. There he encountered the "biggest nickel jelly donuts you ever saw…it was fantastic," he recalled 80 years later.
Early 'menial' jobs prepared him for doughnut empire

He worked at various jobs, such as a delivery boy for Western Union. At the age of 17, he started working for Simco, a company that delivered ice cream from refrigerated trucks. He quickly rose from delivery boy to national sales manager at the age of 21. After working for Bethlehem Steel in Hingham during World War II, he borrowed $1,000 to add to his $1,500 in war bonds. Using his knowledge of meal delivery service, he started a company to deliver snacks and coffee break sandwiches to factory workers in Boston. Within a short time, he had 200 catering trucks, according to several biographical accounts. He quickly noted that 40 percent of his revenues were from doughnuts.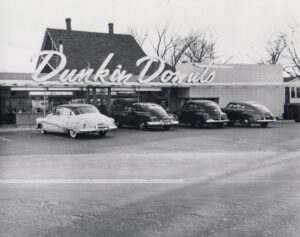 In 1950 he opened his first Dunkin' Donuts, named for offering a "quick bite" in Quincy. For two decades, it was primarily known for good coffee and doughnuts. There were initially only five doughnut choices. Later the menu expanded to other items that it is known for today. It was not until 1978 that the first major menu change occurred with the addition of muffins. Within five years, Dunkin' Donuts had six locations and Rosenberg began franchising the business to expand its reach in the marketplace. His partner in the shop, Harry Winokur, got his own start by selling doughnuts on the streets of Boston, according to a company history. Winokur went on to found the Mister Donut chain, which was eventually acquired by the company that owned Dunkin' Donuts.
In the early 1960s, Rosenberg also founded a fast-food chain called Howdy Beefburgers in Massachusetts. It was based on the TV show "Howdy Doody." It grew to 27 locations in New England, but by the late 1970s all of them had been closed or sold to competitors like McDonald's and Wendy's.
Later years

Rosenberg turned operating Dunkin' Donuts over to his son Robert in 1963. But he remained active with the company in management issues and on the board until it was sold to a British food conglomerate in 1990. Today, there are over 12,000 locations (now called simply, Dunkin' to reflect its menu expansion beyond doughnuts) in over 40 countries.
In his later years, Rosenberg became a philanthropist, particularly involving hospitals, perhaps inspired by surviving a bout earlier in life with lung cancer and also suffering from diabetes. In 2001, the year before he died at age 86, he published his autobiography, "Time to Make the Donuts: The Founder of Dunkin Donuts Shares an American Journey."
One U.S. franchise owner in New Jersey, Adam Goldman, was questioned in Independent Joe Magazine, a publication for Dunkin' franchise owners, on whether its founder today would recognize the chain with its diverse product offerings.
"Not a day goes by that I don't hear a customer asking if it's too late to get a breakfast sandwich," said Goldman. "This proves that Dunkin' has successfully changed how customers view our menu."
"I don't know if Bill Rosenberg would recognize his own concept 63 years later, but I am convinced he would be pleased," Goldman added.
RELATED CONTENT: 
Boston salesman King Camp Gillette changed the way the world shaves (fiftyplusadvocate.com)
Recent issues overshadow Boston subway system's long history (fiftyplusadvocate.com)
A melted candy bar brought the world the microwave oven (fiftyplusadvocate.com)