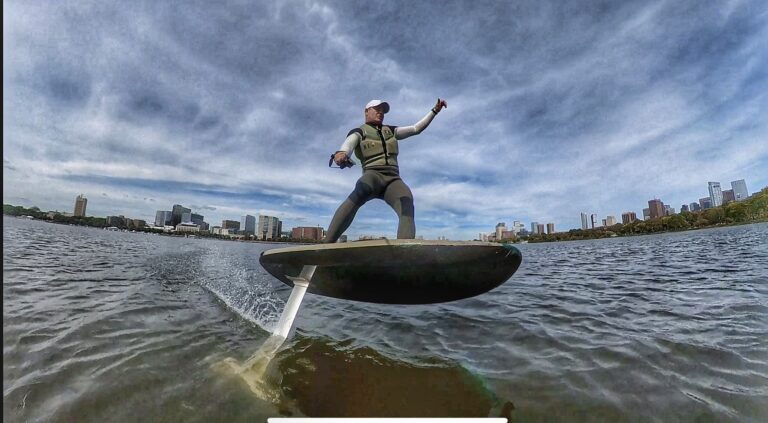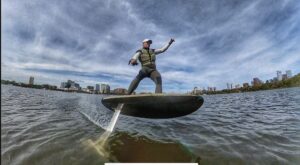 By Nance Ebert, Contributing Writer
BOSTON – Strolling around Castle Island in South Boston can be good for the soul. You are outside surrounded by history and views of nearby Pleasure Bay. Out on the water are many sports enthusiasts, including Rolando Amorim, who rides his eFoil electric surfboard, made by Fliteboard, to the delight of many onlookers. 
Passion for being on the water
For three years now, Amorim has been instructing others on how to ride an eFoil and is extremely passionate about the therapeutic benefits he has achieved out on the water. He loves the sense of quiet it possesses, unlike a jet ski, and just how easy it is to operate. He compares it to yoga in the air.
"I have always been in a rush and taking out my eFoil really suits me and calms me down," said Amorim, a Chelsea resident. "I feel like I am flying, and you can only understand this if you experience it. When I come out of the water, it actually takes me another thirty minutes or so because anyone watching wants to engage and learn more about what they just saw. I love this interaction. I am also an instructor to many different age groups," he noted.
He is well-known to many who have spotted him on Boston's urban waterways like the Charles River and even Boston Harbor. He is a big personality with a zest for life. He is muscular and tanned. He makes friends and connections everywhere he goes, even with members of the Boston Police Harbor Patrol after once being reprimanded for being too close to a large vessel.
Competitive by nature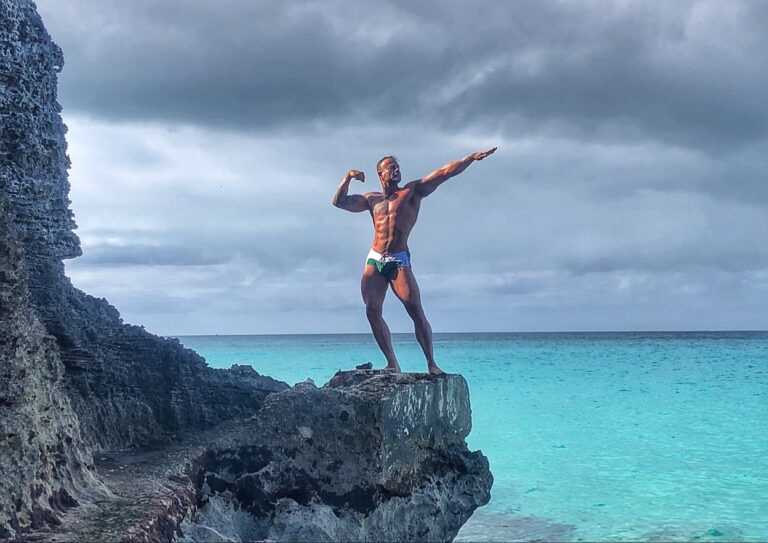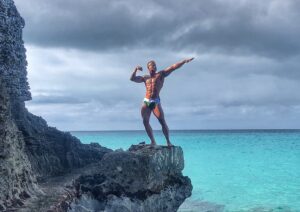 An avid outdoor sports enthusiast and competitive by nature, Amorim's journey has challenged him to continuously reinvent himself. He was born in Brazil and hated school. He was always moving around and could not settle into a desk for any given period of time. He discovered white water kayaking which challenged him and gave him a way to release his abundance of energy and benefit from his competitive edge. From the age of thirteen to eighteen, his life revolved around competing. He was a three-time state champion, on-time second place finisher in Brazil and in South America. 
"There was no internet back then and so many people would come up to me hoping I would teach them to do what I do," Amorim explained. "I never had a lesson, but I was self-taught and learned by doing. I realized that not only did I love the athleticism of competing, but the teaching component as well."
Making life changes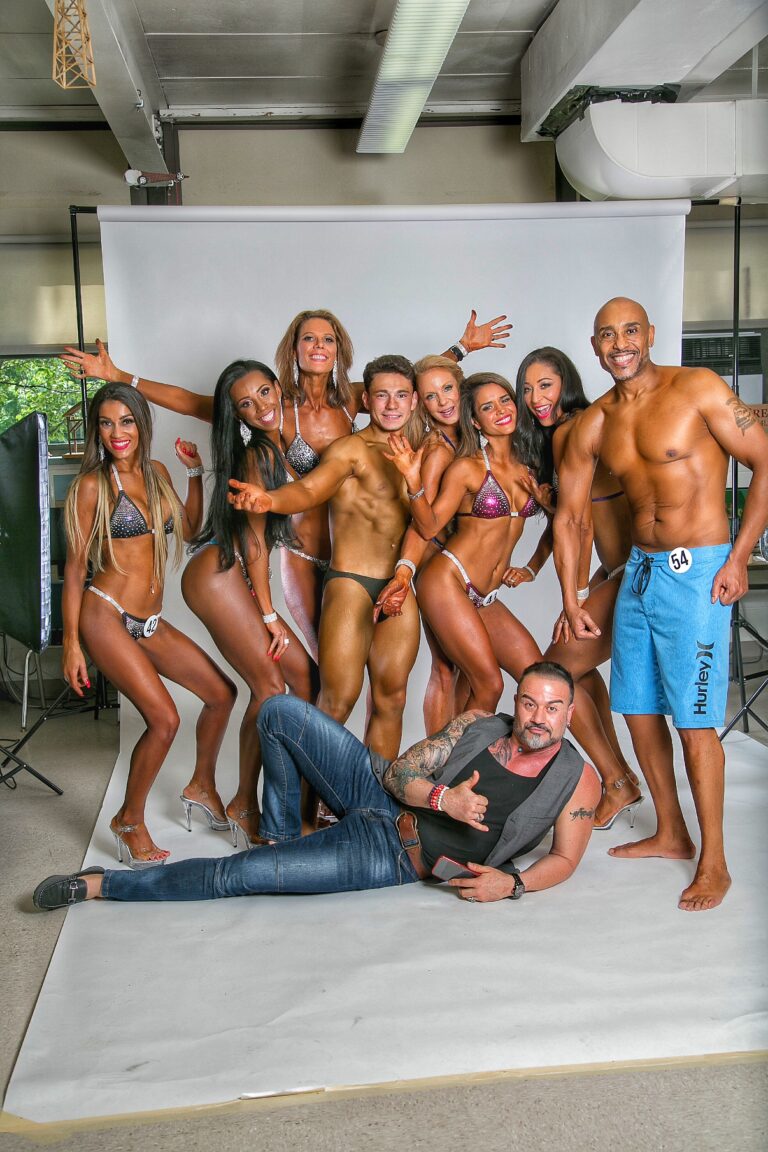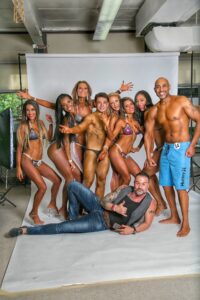 Those two factors would consistently play a role in Rolando's life. After following his older brother to the Boston area, he realized he needed to make money and figure out his next move. 
He worked tirelessly in a construction job during the day and as a cook each night. Exhausted but making decent money, he realized he was not only gaining weight and smoking cigarettes, but he was getting depressed. Knowing that he was happier in Brazil, he realized why. He needed to get back to the river with his kayak and started training again. He kept his restaurant job so he would have an income stream.
He read all he could about personal training and changed his diet and lifestyle. He became a personal trainer and a few years later, at the age of thirty, he competed in his first bodybuilding show. In addition, he was training others for bodybuilding competitions. 
From bodybuilding to yoga
"For me, bodybuilding was both the best and the worst thing that happened to me," Amorim admitted. "It's extremely physically demanding and extends to every facet of your life. No drinking, a very rigid diet and many hours of training. I did this for about four years and in 2012 I placed second in the World's Master Natural Bodybuilder competition, which was for those over the age of forty," he said.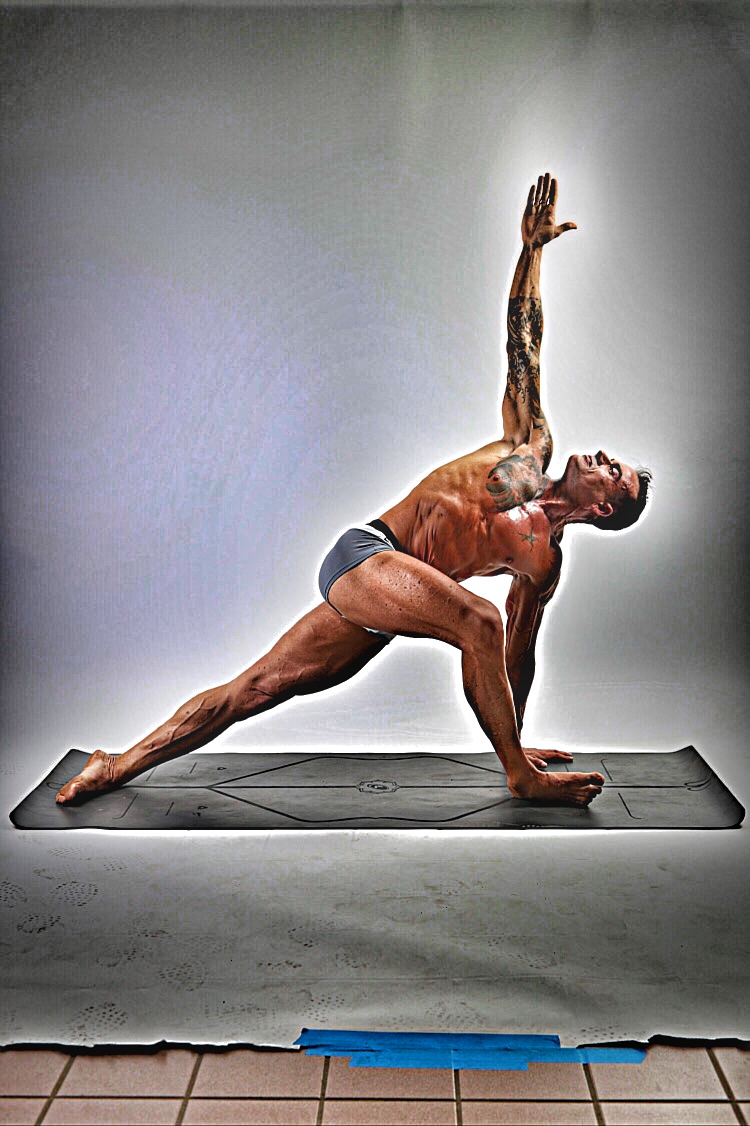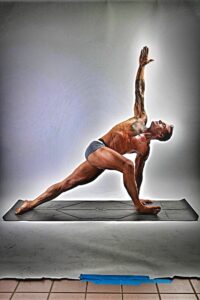 Trying to push harder no longer worked. After spending almost twenty years of his life getting big and muscular, he felt that it was never enough. Even with his rigorous training sessions, his body was not responding the same way and it was time to move on to something else. 
Rolando started yoga and windsurfing but eventually found e-foiling. At the age of fifty-three, he continues to coach others and gets great pleasure from being a part of someone else's success. He is the founder/owner of musclesculpture.com, an eFoil Fliteboard Instructor, a Pro Bodybuilder/Pro Physique instructor and a registered yoga teacher. 
"I will keep on adapting to the changes and challenges that come to me," said Amorim. "And continue to interact with people and clients that I work with to help them achieve their goals. This, in turn, is gratifying to me," he said. 
To follow Amorim on Instagram, go to coach_rolando.
For additional information about Fliteboard eFoil lessons, his website is www.ie-foil.com.
  RELATED CONTENT: 
77-year-old powerlifter marks major milestone (fiftyplusadvocate.com)
Connie Cao and son Enchee Xu of Northborough to run Boston Marathon for Flutie Foundation (fiftyplusadvocate.com)
Women's cycling group traverses Massachusetts during four-day trek (fiftyplusadvocate.com)