By Sharon Oliver, Contributing Writer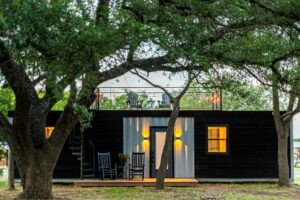 REGION – An abode is described as a place of residence, a house or home. The type of structure for a house is irrelevant and the architecture of such is becoming more and more interesting these days. One such structure is a steel shipping container, which is a popular housing trend. No bricks to lay. No wood to frame and no roofing is needed. Due to their sturdiness, shipping containers are reportedly able to withstand winds of up 170 miles per hour.
Benefits
Aside from being able to fully customize your home, building a shipping container house has several perks, like lower entry costs. It is possible to buy a new 40-foot shipping container for as low as $5,000. Smaller 20-foot containers are also very common. These rectangular shaped metal containers, which are normally used for moving goods on trains or ships, can be moved to almost any building site, and arranged to your choosing. The number of containers you want to stack or connect will of course depend upon your budget.
The average cost for building a traditional style home in Massachusetts is around $185 per square foot and this does not include utility installation. However, a container home can be purchased for around $105 per square foot, freeing up extra cash to get creative and achieve a sleek design. While there currently are few builders who specialize in container homes, there are companies that can modify them to your exact specifications and give you the customized home of your dreams. Because of their rectangular shape, most container homes fall into the contemporary school of architecture. Look for a provider or modifier who can produce a comprehensive list of things they can do to make the containers suitable for building.
Where to buy them
Wherever you purchase your shipping containers from should be able to deliver them to your desired site. So, be sure to ask about their shipping policy. Below is a short list of container home providers serving the Massachusetts area.
Conex Depot
Due to their long-established business relationships, Conex Depot is able to find inventory throughout the entire world. The company helps customers find the shipping containers they are looking for at the best price.
Outback Storage Containers
Outback Storage Containers has a large variety of shipping containers of all sizes and offers delivery all across the New England area.
Mini Warehousing, Inc.
Family-owned and operated Mini Warehousing, Inc. provides delivery all over New England plus a complete list of modifications they can make. According to Brian Quick, President of the company, "We have customers that call with any idea you can imagine and a lot of times it is literally a map and a sketch," he said. "The container is really a box with a blank slate, and we really try to create that customer's wants in a container. We're able to do that. We've been doing that for 40 years." The company is located in Mansfield.
Shipped.Com
This company helps buyers learn more about the shipping container home that sounds right for them. Not only does Shipped.com have thousands of containers on hand, but they also have online direct checkout and a digital cart.
Shipping Containers of New England
Shipping Containers of New England offers modifications and help with building.
Financing and design
Of course, for many people financing is essential. Many banks will make traditional mortgage loans for container homes but ask before you apply to be sure. Since alternative housing is likely categorized differently than that of a traditional home, gathering tax information is also important. A tax assessor can certainly help with this. As for insurance, you should be able to obtain it from anywhere you get regular homeowner's insurance. Nevertheless, make sure you keep detailed records of your entire building process in order to value your new home properly.
One more step to take is putting together a desired floor plan. Write out or draw where you want the rooms mapped out in the containers along with desired placement of such things as bathroom and kitchen plumbing and take it to a professional draftsman to produce a blueprint. Also, while shipping container homes are allowed in Massachusetts, it's essential to find out the exact zoning requirements of the municipality you want to build in before beginning your project.
RELATED CONTENT:
Cohousing another option for some people as they age (fiftyplusadvocate.com)
Accessory Dwelling Units: one approach to expanding senior housing options (fiftyplusadvocate.com)
Tiny houses offer unique alternative to traditional homes (fiftyplusadvocate.com)