By Maureen Sullivan, Contributing Writer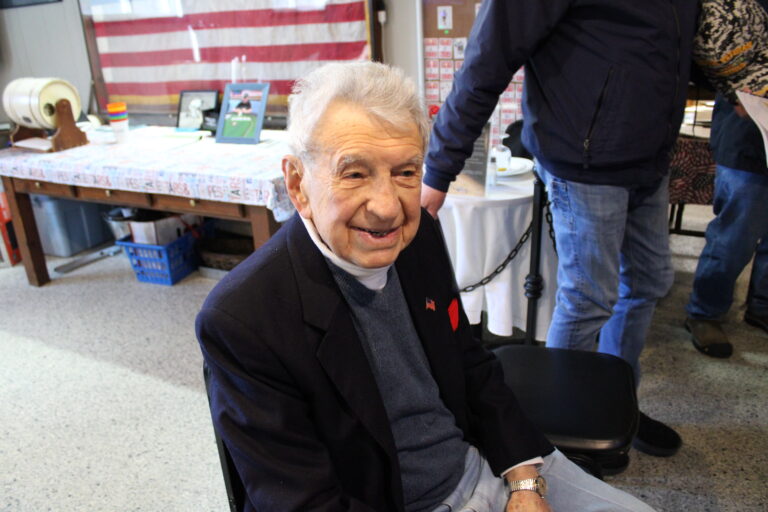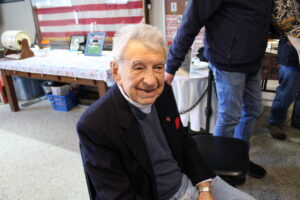 NORTHBOROUGH – Victor A. "Perry" Sacco owned two restaurants in Northborough and one in Worcester.
He is also a veteran of World War II, and he recently turned 100 years old.
To commemorate his service to his country and his community, the American Legion Vincent F. Picard Post 234 on West Main Street held a special ceremony on April 2.
Sacco, who was recently honored by the Worcester Red Sox at Polar Park, received a wooden plaque handcrafted by Josh Paille, as well as a challenge coin from the Middlesex County Sheriff's office.
The front of the plaque includes Sacco's time and place of service, along with a replica of his medals. On the back is the name of the artist and the materials used.
The plaque and coin were presented by the post's vice commander, Spencer Jacobs.
"This is great," said Sacco.
Sacco served with the 552nd Field Artillery, 1st Army Division during the war. He took part in the invasion of Normandy and the Battle of the Bulge.
Sacco finished the war with the rank of technician fifth grade (T5, equivalent to a corporal); he earned a Bronze Star and the French Legion of Honor.
"We are celebrating a good friend who turned 100 a few weeks ago," said Roger Langevin, a past commander of the post. "He's not just a veteran, he's a hero."
On his participation in two major battles, Langevin said, "Perry, you are one mean son of a gun."
Sacco is a member of the Ancient and Honorable Artillery Company, which is based in Boston.
After the war, Sacco owned Monti's and Bambini's restaurants in Northborough, and Dino's in Worcester.
Along with the Legion Riders, there was another World War II veteran in attendance – Frank Brown Jr., who served in the Navy.
RELATED CONTENT: 
WWII veteran celebrates 101 years at American Heritage Museum (fiftyplusadvocate.com)
World War II veterans share stories at event in Hudson (fiftyplusadvocate.com)
My Life My Story program adds life stories to veteran's medical records (fiftyplusadvocate.com)