By Sandi Barrett, Contributing Writer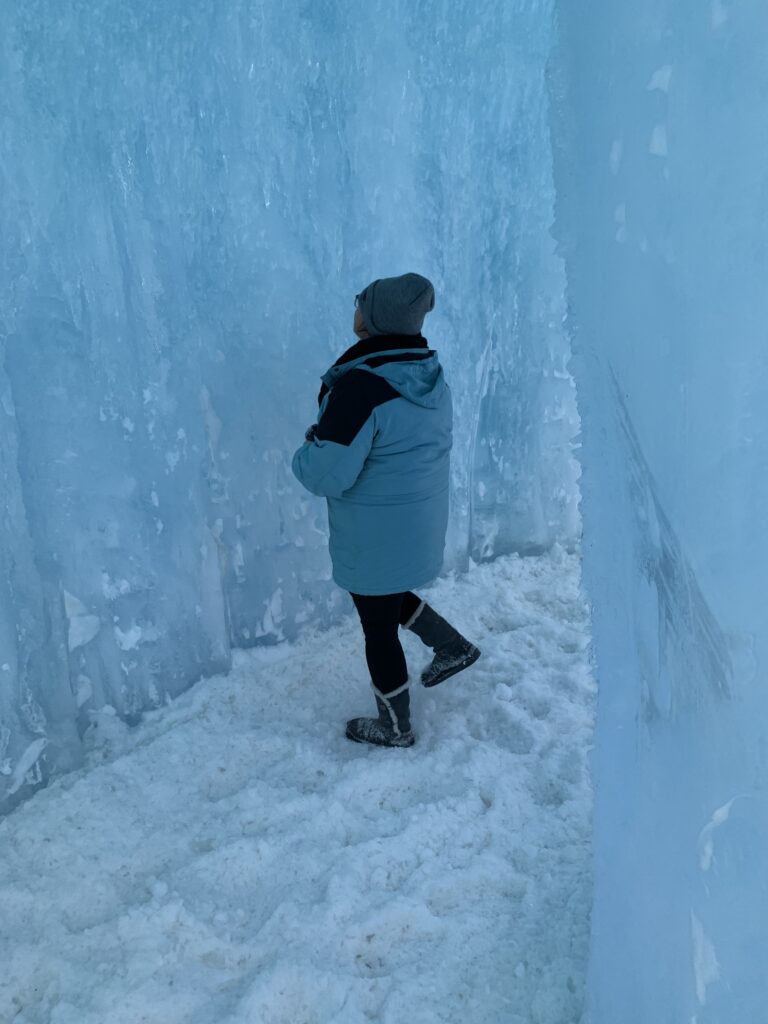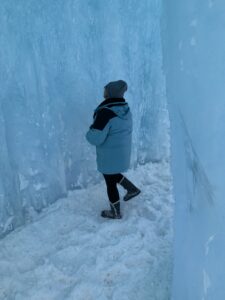 REGION – Tucked away in North Woodstock, N.H., is a frozen fairytale castle perfect for a family gathering. From toddlers to grandparents, everyone will love the magical ice sculptures that come together to form an ever-changing, crystal-like design. The castle is built and designed by ingenious ice artisans who then give up control to the temperature, wind, and water allowing them to hone the icy abode. 
Childhood inspiration

Backyard ice and snow forts were the inspiration for Brent Christensen's epic Ice Castles. As you wander through and around the castles, you encounter an ever-changing view of the sparkling walls of ice shimmering with colored backlighting.
The ice castles are open-air structures that envelop you in frozen beauty. It's difficult to remember you are outside wandering around enormous piles of ice and snow. Proper outerwear is necessary.
The New Hampshire night-time temperatures can drop significantly below freezing, and it can become extremely cold once the sun goes down. When visiting the Ice Castles plan on dressing warmly. From the young to the young at heart, snow boots, snow pants, a warm jacket, hat, and gloves are a must. You will be wandering around outside on ice and snow―cozy wool socks and warm boots will make your visit much more pleasant.
Best time to go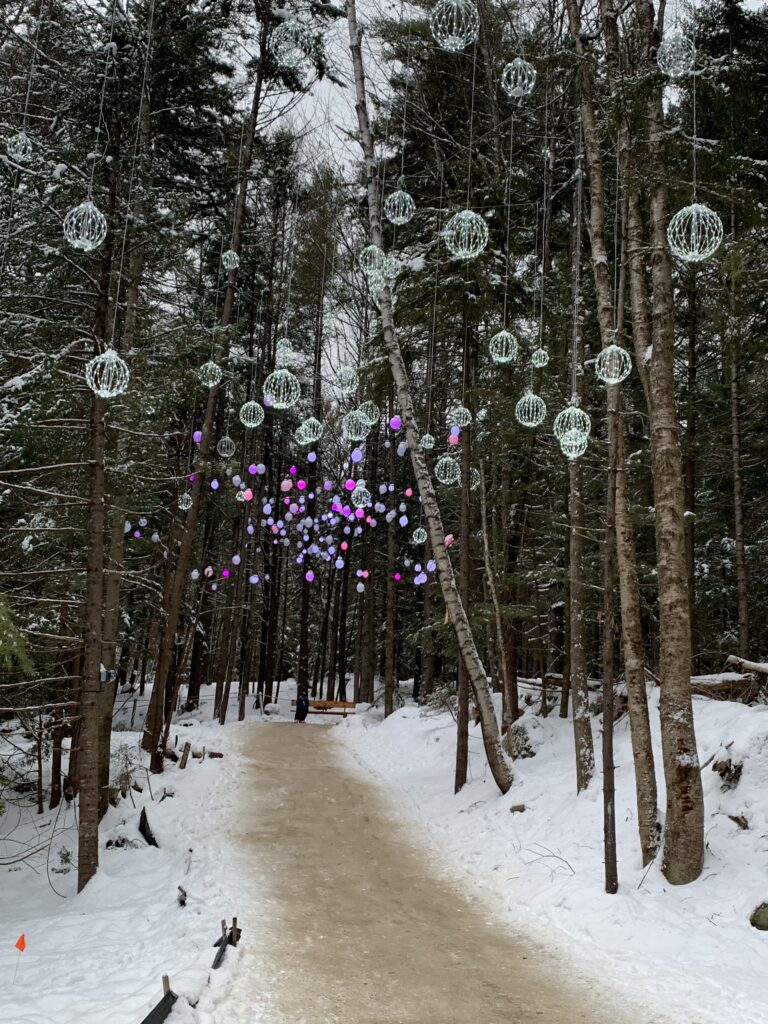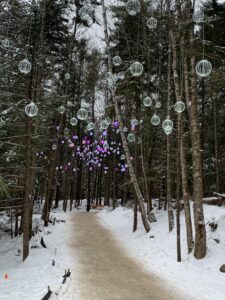 The Ice Castles are beautiful to visit before sunset. The White Mountains' winter sun sparkles off the glittering, ice-coated surface. After dark, the Ice Castles literally glow. They are lit internally with LED lights, making the walls a canvas for the colorful rainbow of ice.
In addition to the stunning castle of ice, you can enjoy a winter hike―a quarter-mile trail through the woods―where you will find beautifully lit winter wonderland tableaus. Trees with twinkling lights and curtains of hanging snowflakes light the hard-packed, snow-covered path. Be sure to stop by the icicle growing garden where icicles used to craft the castles hang, dripping slightly, from metal frames.
 The little ones will love crawling through the ice tubes and slipping down the ice slide. Grab a mat and release your inner child as you enjoy the ultimate slip and slide through the ice tunnel.     At the finish, the gridded rubber flooring will put the brakes on quickly, and you may hear a few chuckles from onlookers in-the-know as you tumble off your mat.
You can also enjoy a horse-drawn sleigh ride through a New Hampshire winter wonderland of white. Snuggle up close to someone special and enjoy the clip-clopping of hooves tromping across the sleigh path as the bells jingle a merry tune.
Getting the most out of your visit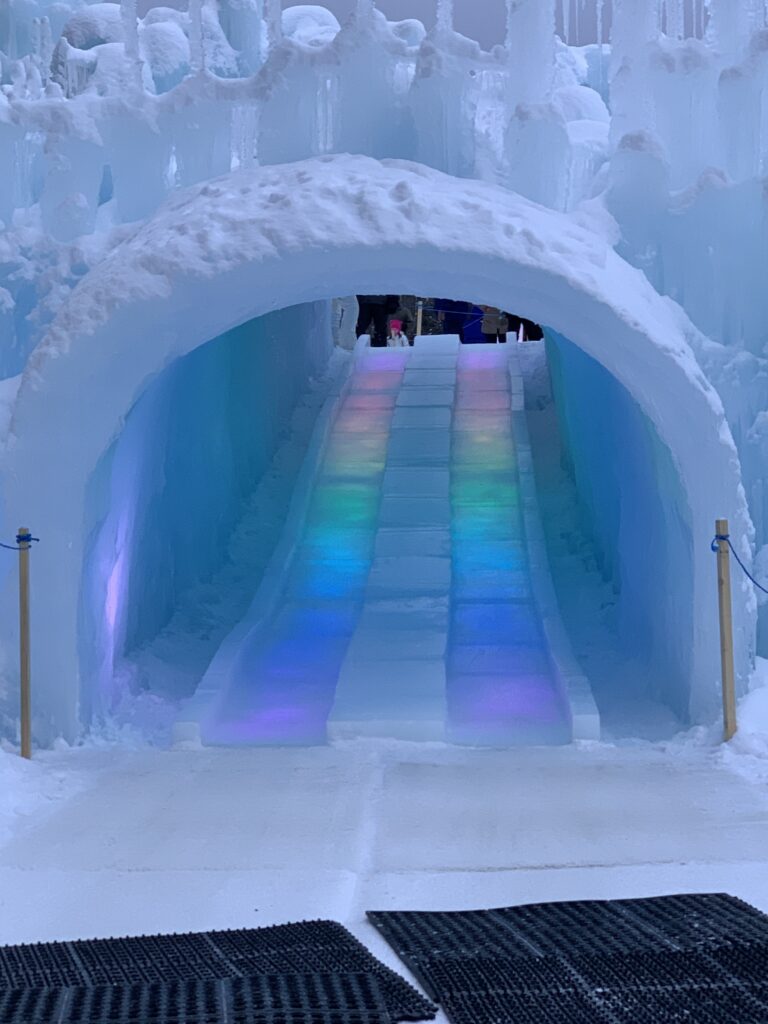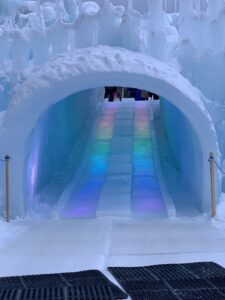 This family-fun adventure is perfect for date night, a multi-generational outing, or exploring with your friends. Watching children light up as they explore the unique ice castles is a heart-warming experience. Their natural wonderment is a joy to behold. A small sled is the best transportation option for little ones. It drags through the ice and snow easier than a stroller and you know those little legs will get super tired running around in all the required winter outerwear.
When you're ready for some hot chocolate, snag a spot at the fire pit or one of the ice tables where you can warm up while enjoying the lights and a glowing winter wonderland. 
In this picture-perfect setting, you will want to snap lots of frozen photos. A drop in temperature is good for the ice, but not for operating your camera. A pair of gloves with touch screen tips makes for a warmer photography experience.
Shake off a little bit of cabin fever and enjoy the drive north to explore this awe inspiring, only-in-winter treat. You can pre-purchase your tickets at https://icecastles.com/new-hampshire/.
RELATED CONTENT: 
Discover the art of spoon carving (fiftyplusadvocate.com)
Cooperstown beckons with the National Baseball Hall of Fame (fiftyplusadvocate.com)
Goat yoga on a farm makes for an adventurous getaway (fiftyplusadvocate.com)