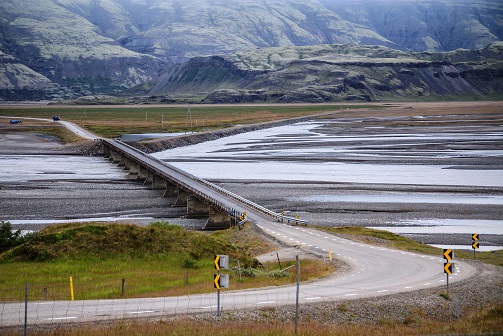 Route 1 in Iceland
By Victor Block
Some drivers follow a route along one of the highest roads in the world. Others steer their car through a much lower setting which hugs an ocean coastline at sea level. Then there are journeys that take people through some of Mother Nature's most magnificent handiwork.
Vacationers seeking to explore a region, or entire country, by driving enjoy a staggering choice of options. Descriptions of just a few road trips offer an idea of the variety.
Begin with the hair-raising drive in northern India that goes literally to the top of the world. The road through the Khardung Pass reaches an altitude of 18,379 feet, where the air is thin and the views are breathtaking.
This twisting, turning route once was traversed by people riding on horses or camels. Today it's so popular that at times only vehicles heading in one direction are allowed to proceed, while those going the other way wait their turn.
Equally as beautiful in a very different way is the Great Ocean Road in Australia. It lives up, or rather down, to its name as it skirts that country's southeastern coastline. Travelers pass lush rainforests, steep cliffs and inviting beaches. Driving on the two-lane road has been named a "Top Tourism Experience" in that country.
Any discussion of outstanding driving trips must include some known for the scenery through which they lead. Highways with that claim to fame are in New Zealand, Hawaii and Iceland.
As it runs from Queenstown to Dunedin, the Southern Scenic Route in New Zealand's South Island passes through a myriad of landscapes. They range from glacier-carved lakes and rushing waterfalls to dramatic limestone outcrops and a fossilized forest. The road also passes sea level settings that are home to penguins, seals, sea lions and other wildlife.
It's no surprise that Hawaii is known for scenery-rich roads. One of the most popular is the "Hawaii Belt," comprised of three connected state routes around the perimeter of Hawaii Island. Along the way, travelers have opportunities to view both active and hardened lava flows, lush jungles, soaring mountains and deep valleys.
A shorter ring road, which makes up in rugged beauty what it lacks in length, is Route 1 which encircles Iceland. It passes through mountainous terrain and skirts tiny fishing villages, stunning fjords and a glacial lagoon. One highlight is a magnificent 197-foot waterfall with the tongue-twisting name of Seijalandsfoss.
People who prefer extended trips might consider Argentina's Ruta 40 (Route 40), which is one of the longest stretches of highway anywhere. It spans more than 3,000 miles and rises from sea level to a height of 16,000 feet. The route leads past pristine lakes and through 27 passes below the snow-capped peaks of the Andes mountain range.
A very different setting greets those who follow the Alaska Highway, which is almost 1,400 miles from end to end. Beginning in Canada, the route passes through the Rocky Mountains, descends to follow a river and offers glimpses of "ghost towns," which are reminders of prospectors who came to the area seeking gold in the late 19th century. Another attraction is the opportunity to spot black bear, moose, bison and Dall sheep from the road.
Those in search of shorter scenic drives also are in luck. The route that hugs the steep hills of the Amalfi Coast in Italy is only 30 miles long but is world famous for passing through, and above, some of the most magnificent scenery anywhere.
Whatever your interest – history, magnificent scenery or many other passions – it's likely there's a driving trip, and maybe many, to satisfy your curiosity and spirit of adventure.
(Photos/submitted)