By Ellen L. Weingart
Brunei was never on my husband's and my travel radar. But the oil-rich nation, which occupies a very small part of the island of Borneo, was the first port of call aboard the Diamond Princess on our cruise through the South China Sea in Southeast Asia.
Say "cruise" and many people think of a relaxing, sun-drenched vacation in the Caribbean. But a cruise can also be the ideal way to visit exotic ports. Vacationers enjoy the luxury of a first-class hotel along with top-notch meals and entertainment while getting to sample places they might not feel at ease visiting on their own. Such cruises can also provide enough of a taste to lure a visitor back for a longer stay. And shipmates are geographically diverse, adding yet another dimension to the cruise experience.
When we first began cruising, we stuck to the Caribbean. Recently retired and less time-restricted, we've turned to more exotic destinations. As seasoned cruisers, we enjoy the quality and broad age demographics aboard Princess.
So it was hard to resist a cruise that offered the opportunity to sample a part of the world we might never attempt on our own. Our other ports of call were in Vietnam, Cambodia and Thailand.
Baby boomers like us who spent our young adult years in the turmoil of the Vietnam War (called the American War in this area of the world) might have mixed emotions about stops in Vietnam and Cambodia, but everyone we met in these countries was warm and welcoming.
This day, however, was devoted to a taste of Brunei, which came in the form of a Princess tour of the capital city of Bandar Seri Begawan.
Bandar is about a 45-minute drive by modern air-conditioned bus from the port. We passed suburban style houses that are home to government workers — about 80 percent of the people work for the government — and modern high rises that house foreign workers as our guide, "July" (an easily pronounced and remembered version of his actual name) told us about his primarily Muslim country. We learned there are no taxes, medical care is free, housing is subsidized and university students receive a $2,000 a month stipend.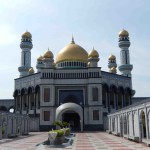 Our first stop was Jame'Asr Hassanil Bolkiah Mosque for photos. The richly decorated, sea-blue edifice was built in 1992 for the silver jubilee of the 29th and current sultan, Hassanal Bolkiah, and features 29 domes.
Then we were on to the Royal Regalia Museum.
Although the sultan's wealth is estimated at $20 billion, it is common practice for heads of state to present him with ornate gifts made of precious metals and gems. These are kept on display in the Royal Regalia Museum, along with a replica of the throne room and photos of the royal family and of the sultan in a variety of always-successful athletic pursuits. Except for a few designated areas, no photos are allowed.
A short drive brought us to the royal palace, Istana Nurul Iman. Because the palace is only open to the public once a year, we got just a distant glimpse.
At 2 million square feet, it is the biggest single-family residence in existence. The 1,788-room home includes 300 bathrooms.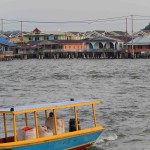 Geographically close by, but otherwise light years away, lies Kampong Ayer. With more than 30,000 residents, it is the world's largest water village: Homes, mosques, shops, municipal buildings and a hospital are built on stilts; wooden walkways replace sidewalks. A boat ride through a waterway congested with speeding water taxis brought our tour group for a look around and a stop at a school for tea and sweet cakes.
The water village looks impoverished, but there is plumbing, electricity, satellite TV and Internet. We were told that despite appearances, people here are not poor and remain in the area by choice.
As unforgettable as our day in Brunei was, we'd never have gone on our own. And as enjoyable as our visit was, we are unlikely to return. A day in Brunei via cruise ship seemed just right.
In contrast, our day in Bangkok left us wanting more. With more than a two-hour drive from the dock to the Thai capital, we had elected to take a Princess tour to see some of Bangkok's highlights. Our guide, nicknamed Noina, filled the travel time with a lively discourse on Thai royalty, history and culture, and amusing anecdotes as the scenery changed from rice paddies to modern city.
It was extremely hot, but the air-conditioned bus, combined with frequently distributed bottles of water and cooling towelettes, made the day manageable.
Our first stop was a scenic cruise along the Chao Phraya River. Then a short walk brought us to the Grand Palace. A complex of buildings surrounded by four walls and occupying 2.3 million square feet, the Grand Palace was begun in 1782 by King Rama I; additional buildings were constructed during succeeding reigns. Since 1925, the Thai monarch, including the current king, Rama IX, has lived elsewhere, but some buildings are still used for royal ceremonies and state functions. The structures' beautiful ceramic tiles and gem- and precious metal-details fill the visitor with awe. Friendly Noina explained what we were seeing and kept us from getting lost among the hordes of visitors.
Within the complex is the Temple of the Emerald Buddha; the Thai word for emerald means dark green color, not the specific stone. Only the king is allowed to touch this important symbol; photos are not allowed.
After an excellent lunch, we visited the Temple of the Golden Buddha, located near Bangkok's Chinatown. Almost 10 feet tall and weighing 6 tons, the Golden Buddha may be the world's largest statue made of gold.
It was a long day in Bangkok, but we had gotten only a taste of this amazing city. So much more awaits a return visit.