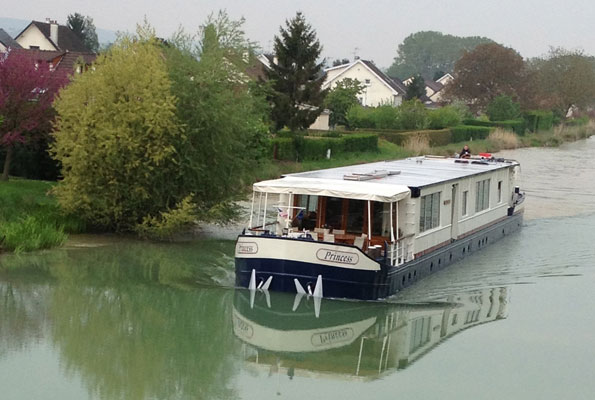 By Sondra L. Shapiro
FRANCE —
Dom Pierre Perignon, the 17th century French Benedictine monk, is erroneously credited with the invention of sparkling wine. In fact, this winemaker spent a lifetime trying to keep the bubbles out of Champagne wines.
That fascinating tidbit was typical of the in-depth exploration offered during a recent six-night sojourn aboard a slow luxury barge through the Champagne wine region of France — located about 100 miles east of Paris.
Our trip began in the town of Chateau-Thierry where our barge was docked amid a traveling carnival. As we eight passengers boarded, we made our way through a throng of children interacting with a menagerie of animals. While sipping our welcoming glasses of Champagne onboard, we watched a camel and llama grazing nearby. This small town tableau absorbed us into the local culture from the start.
From the majestic cathedral of Reims and medieval hilltop city of Laon to the somber reminders of two world wars fought on its soil, the Champagne region offered much to explore and to learn about above and beyond the sparkling wine for which it is famous. Of course there was also plenty of opportunity to sip bubby during visits to the famous Moët & Chandon and the family-owned Champagne House of Ployez Jacquemart.
The itineraries offered through French Country Waterways appeal to the traveler who prefers a more comprehensive — intellectual, cultural and culinary — experience.
Our four-cabin barge had a homey, French inn feel, with common areas comprised of a comfy salon, elegant dining room, book-lined library and an outdoor space for dining or enjoying the scenery. Warmly decorated and spacious staterooms are stocked with bottled water, robes and fresh cut flowers. There is free Internet, too. What guests will not find are televisions or radios.
The English speaking crew of six — hailing from France, Germany and Italy — enthusiastically pampered and catered to just about every whim. The young staff was friendly yet professional.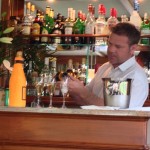 To attest to the level of service and care, one might casually speak of a fondness for something only to have it appear the next day. This happened when my husband asked for Lillet, a French vermouth, for his martini. Although the bar normally didn't stock it, the next night there was a brand new bottle waiting for him.
I happened to mention a fondness for an orange chocolate cookie we had at lunch. As I was leaving the barge on our last day, Alix, one of our hostesses, handed me a box.
The slow pace of the trip — the barge travels a bit more than 90 miles during the entire week — offers lots of time to take in the sights, sounds, history, food and wine of the region.
Typically, the Princess would spend half the day wending its way through the canals amid bucolic landscapes dotted with brilliant yellow rapeseed fields, quaint farms and villages. We contented occupants often spent time reading, chatting or gazing out the window for glimpses of wildlife or farm stock. The comfortably appointed salon was the place to gather, especially since it also was where the fully stocked bar was located. Did I mention the price for the cruise was all inclusive?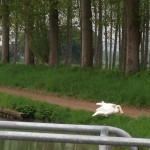 Other times we were let off at one of the numerous locks to walk the towpaths alongside the barge. Bicycles were available, but we always chose to hoof it in the name of exercise.
The other part of the day, we were zipped away for excursions in a Mercedes van driven by the versatile Claire Smithson, a crewmember and our personal guide.
We would return late afternoon to a cocktail hour featuring a sampling of unique appetizers followed by a four-course candle-lit dinner. Using local produce, dairy, poultry, fish and beef, Chef Carlos Valle skillfully prepared sumptuous mealtime offerings. The fresh butter served with every meal was a religious experience, even if artery clogging.
Lunch and dinner included two wines — a red and a white — and a cheese course described in detail and presented with fanfare by our knowledgeable server. French Country Waterways material boasts that more than half of its wines are from Grand Cru — a designation indicating a favorable reputation for wine production — and Premier Cru — the highest level of five within the Grand cru classification — vineyards. The cheese course always offered three local French specialties such as Compte, Roquefort, Camembert and others.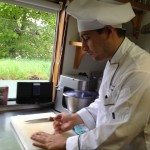 Chef Carlos made appearances at lunch and dinner to describe the menu. Though I shamelessly admit that most of us passengers, along with a crewmember who will not be named, usually snuck a peak at the bill of fare before our chef came out to proudly describe it.
No description, however, could equal the actual presentation and flavor combinations we enjoyed each day.
Breakfast usually included yogurts, fresh fruit, cereal, cheese, a meat platter and a sampling of local fresh pastries. We could also request eggs cooked to order.
Lunch, served buffet style, featured a few inventive salads, a tart or quiche and a protein. Chef Carlos conducted a cooking demonstration one afternoon showcasing a cheese-stuffed chicken breast, wrapped in bacon that was featured the next day at lunch.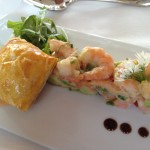 The serious standout was dinner. Each course was a visual work of art that didn't disappoint the palate. Great conversation, laughter, food and wine would last for hours. It was impossible to think we hadn't known our fellow travelers until this trip.
The last evening was a formal affair, where our affable captain, Gaeton, presided over an extraordinary menu that began with a 2003 Dom Perignon and an appetizer of raw and fried oysters, a scallop and caviar.
The meals on board were so special that even the evening we had an included dinner onshore at the two Michelin-starred Les Crayeres in Reims couldn't compare.
When we weren't eating, we were exploring. We learned that the close proximity to Paris put the region right in the path of the German army that was bent on destroying France's economic juggernaut, wine. Many of the wine makers actually bricked up their wine caves to fool the Germans. During each outing, we witnessed destruction and reminders of what the French endured at the hands of invaders.
Our first day we visited the American Cemetery and World War I battlefields of Belleau Wood. It was a somber outing as we wandered amid the rows of crosses and Stars of David marking the final resting places of 2,289 young American Marines who never made it home from the battle fought during the summer of 1918. The battlefield was a visual contrast of horror and beauty, as traces of shell holes and trenches were still visible in the midst of a forest of wild flowers and trees.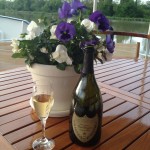 The next day was our first introduction to the region's star product. We spent the morning at the abbey of Hautvillers, the burial place of the iconic Dom Pierre Perignon. Then we traveled to the Champagne capital, Épernay, and home to Moët & Chandon. Our group was led on a private tour through the wine caves where we got a lesson in champagne-making and learned the history of the Champagne house that produces the most famous bubbly in the world — Dom Perignon. Founded in 1743 by Claude Moët, we were told the cellar's oldest bottle is an 1878 rosé, which is supposedly still drinkable. We learned that all three grapes grown in the area — Chardonnay, Pinot noir and Pinot Meunier — are used in bubbly, with some exceptions such as Dom Perignon, which uses only Pinot noir and Chardonnay.
The tour ended with a tasting featuring a rosé and a white Champagne from Moët & Chandon's most recent vintage, 2004.
The following day's visit to the family owned House of Ployez Jacquemart was a contrast in production styles, with its boutique-like approach and atmosphere more common to a region comprised of hundreds of small vineyards.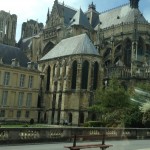 While the setting for the first part of our trip was rural, the second half was all about the city. When we docked in Reims — the Coronation City of Kings — our captain arranged an impromptu early morning stroll and also offered to accompany us to The Museum of Fine Art. Though this was not part of the formal tour, this unexpected treat enriched our knowledge of the region since the museum was offering a temporary exhibit highlighting the history of Champagne. That afternoon we visited the majestic Cathedral of Reims, a 13th century wonder, with its breathtaking rose windows, ornate carvings, tapestries, whimsical choir clock and captivating Marc Chagall stained glass windows.
This place where French kings were once crowned was heavily damaged during World War I. The lead roof caught fire and melted, actually spewing its liquid through the mouths of the gargoyles that lined the roof. Though the Cathedral was repaired, remnants of the damage are visible inside and out. The museum next door — once the palace of the Archbishop of Reims — features some of the damaged pieces from the Cathedral. Also on display are items from the various coronations, such as those belonging to King Charlemagne.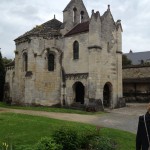 Our last day, we docked in the quaint little town of Maizy and boarded our Mercedes van to visit the medieval hilltop city of Laon. Stuck in a time warp — boasting quaint streets, shops and a cathedral — we fans of Dan Brown novels were especially enthralled by an authentic Knights Templar church.
As we made our way down the steep streets of Laon, our normally chatty group was poignantly silent. The trip was nearing its end and there was a lot to contemplate.
During our last meal onboard, my husband, David, made a toast that aptly summed up our trip: "Everyone, crew and passengers, was more than we expected and could have hoped for," he said.  "Such a memorable wonderful trip. You are all the best. Cheers."
For more information go to www.fcwl.com or call 800-222-1236
(photos by sondra shapiro)