By Sondra Shapiro
LAKE BUENA VISTA, Fla. —
Do you log countless hours a week watching the Food Network? Is your favorite pastime perusing the aisles of the local wine shop, or are you the one among your friends who says, "Let's try that new little Korean restaurant that just opened downtown?" If so, Mecca awaits you at the 18th Annual Epcot International Food and Wine Festival at Walt Disney World (WDW) from Sept. 27 to Nov. 11.
Even if you aren't obsessed with all things food and wine — perhaps a Brown Elephant cocktail from Africa or a nice smooth, smoky Scotch is more your style — a visit to the festival will more than satisfy your taste buds.
This event will appeal to connoisseurs and neophytes alike.
More than 270 Disney chefs and culinary stars from across the country will be on hand to share their talents during demonstrations and premium events. The list of celebrity chefs goes on and on — and includes Warren Brown, Paula DaSilva, Gale Gand, Jamie Deen, Robert Irvine, Dean Max, Rock Harper, Jeff Henderson, Art Smith, Buddy Valastro, Allen Susser, "Cake Boy" Eric Lanlard, Duskie Estes, John Stewart, Donald Link, Bryan Voltaggio and Emily Ellyn.
The festival offers the first opportunity many guests will have to try foods from various cultures. While the United States has seen a proliferation of ethnic cuisines over the last couple of decades, many foods and beverages are still not common here. The festival gives us an opportunity to learn about and to taste the exotic cuisines of far off places while staying close to home.
The meat and potatoes — excuse the pun — of the festival is the International Marketplace, where you can eat and drink your way around the world — World Showcase Lagoon, that is.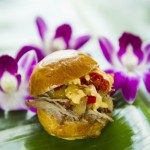 Twenty-nine marketplaces, or kiosks, dot the festival landscape, offering a cultural odyssey to ignite the taste buds. With prices ranging from $3 to $8, a nibble here and there of tapas-sized portions paired with wines, cocktails and beers from places like Brazil, Greece, Korea, Argentina, Hawaii and France is an economical way to experience the festival.
New to the lineup is the Scotland Marketplace designed by Walt Disney Imagineering. Scottish officials were so impressed with the hit Disney film, Brave, that they contacted festival planners about participating in this year's festival.
With the idea there is something for everyone, the Terra Marketplace will offer creative, flavorful vegan dishes. Why not try a Trick'n Chicken Curry?
From the start, this festival has always been a trendsetter, according to show manager Michael Jenner. "We like introducing new dishes and products to our guests. We brought in the Brazilian Caipirinha, the national drink from Brazil. We introduced Malbec from Argentina. No one was drinking that before. We are on the cutting edge and help move those trends along."
The festival also embraces movements, especially when they are good ones. "The current trend is from farm to table. So, we sourced local farmers from across Florida to see who can supply us," said Jenner.
"When we first started the festival it was all wine. But, the trend now is to pair food with spirits, beer and wines."
When considering programs, exhibits and seminars, festival planners work hard to mesh the more sophisticated interests of food connoisseurs with those of average WDW guests. There is literally, something for everyone.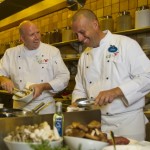 "Our chefs are good at working at the menu mix. We have the 11 countries that are here year-round with their food and beverage establishments," said Jenner. "We have our outdoor venue carts and on top of that we have the 29 marketplaces, like the Liberty Inn (at the American pavilion) for example, we have hamburgers, hotdogs and chicken sandwiches. Our marketplaces are more cutting edge. This year we are bringing a kimchi hotdog to South Korea — but not the American hotdog you are used to," said Jenner. He added that while WDW can't always get authentic ingredients, the chefs always try to authenticate the taste. "We don't Americanize the flavors; if it is supposed to be served hot and spicy then we serve it that way."
Jenner said the culinary demonstrations that happen three times each day will also be geared to anyone. "People will know who the chef is, what the protein will be, ahead of time."
The hugely popular Party for the Senses is an event that will appeal to all. This grand tasting will feature more than 50 wines and beers, 25 food stations and entertainment provided by Cirque du Soleil.
And of course, there are seminars and tastings galore such as those featuring cheese, chocolate and wine.
With mixology and spirits becoming popular, guests can learn the grassroots of bartending — how to make simple syrups, incorporate fresh juices and other ways to make a drink from scratch. How about learning to make maraschino cherries?
Spirit lovers can also sample an Apple Pie cocktail at the Poland Marketplace, an aulani sunrise from Hawaii and much more.
Foodies will be flocking to the special signature dinners that include beverage and food pairings held at venues throughout WDW such as Victoria & Albert's, Kouzzina, owned by celebrity chef Cat Cora, the Dining Room at Wolfgang Puck Cafe and The Brown Derby.
Included with the price of admission: Authentic Taste seminars, the Ocean Spray Cranberry Bog, special book signings and the Eat to the Beat! concerts. Culinary demonstrations and wine seminars feature new tastes and sips for a nominal fee.
The Party for the Senses grand tasting event and other special wine and culinary programs require reservations and separate event admission. If there is an event you especially want to attend, make a reservation well before you leave for your trip. Many of the more popular offerings are booked in minutes. Guests will be able to call 407-WDW-FEST (939-3378) to make reservations Starting Aug. 13 at 7 a.m.  For Information or to make reservations beginning Aug. 13  for Mixology and wine seminars, culinary demos, Party for the Senses and Disney's 3D Dessert Discovery go to  www.epcotfoodfestival.com.