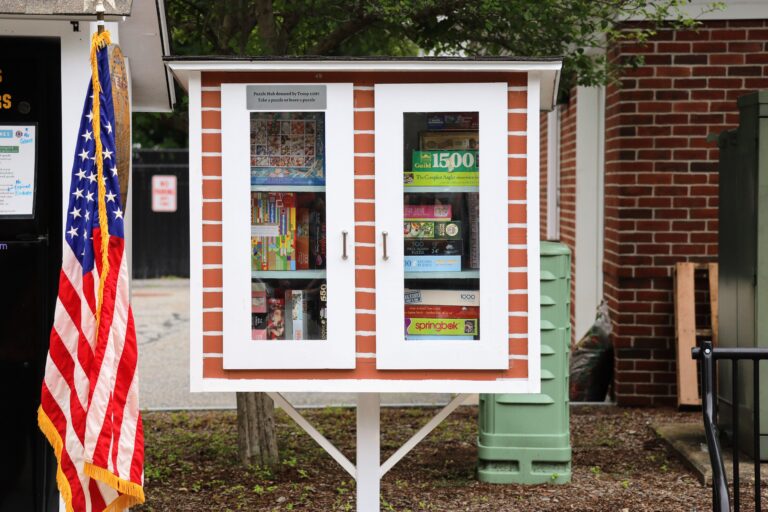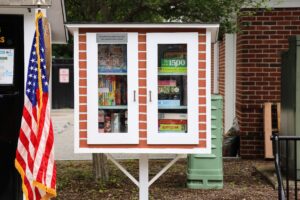 By Evan Walsh, Contributing Writer
SHREWSBURY – Take a puzzle, leave a puzzle.
That's the motto of Shrewsbury's latest community resource. On Aug. 17, three members of Girl Scout Troop 11087 officially opened the town's Puzzle Hub. 
The Puzzle Hub – located just outside the Shrewsbury Senior Center and next to the Community Refrigerator – was the result of months of planning and coordination by three scouts – Celia Marichal, Navyaa Shakthi Ravi and Melina Lam – eager to earn the Silver Award, one of the organization's highest honors. 
Originally inspired by the Little Free Library movement, the Puzzle Hub gives community members free access to all kinds of puzzles. Residents may also drop unwanted or unused puzzles at the box to share with the community.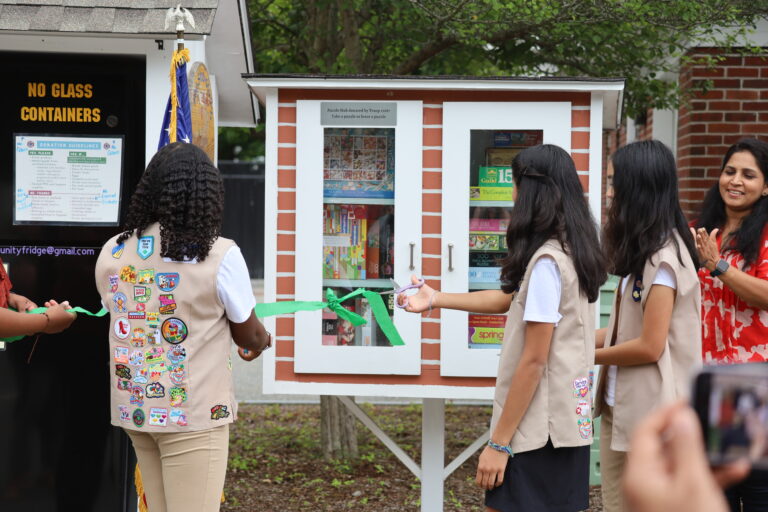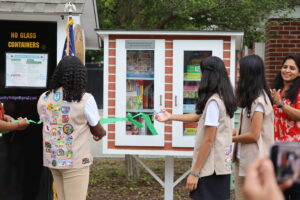 "We've been able to give [puzzles] out to members of the community," Council on Aging Director Hollie Lucht said at the dedication ceremony. "This has been a tremendous asset. I wanted to thank [Marichal, Ravi and Lam] on behalf of the senior center."
The work for the Puzzle Hub started over one year ago. Ironically, constructing the hub was, in some ways, a puzzle in itself. The scouts said at the dedication ceremony that several key pieces needed to come together to complete the larger project.
Marichal, Ravi, and Lam thanked their adviser Dominic Ruggiere, troop leaders Patricia Minton and Saradha Madhuragopal, Lucht, Missy Hollenback, Kevin Esposito, Andrea Castinetti and many others for their continued support. 
Many local companies – including Koopman Lumber, Papa's Hardware, Dunkin' and Jersey Mikes – also helped the troop by offering donations and discounts. Worcester Technical High School made the plaque on the Puzzle Hub. 
"It took many hands and many hours to raise the money we needed, but… we were able to complete our goal," Ravi said at the ceremony.
The scouts primarily fundraised for the hub by holding several lemonade stands throughout the year, raising over $1,000 in total.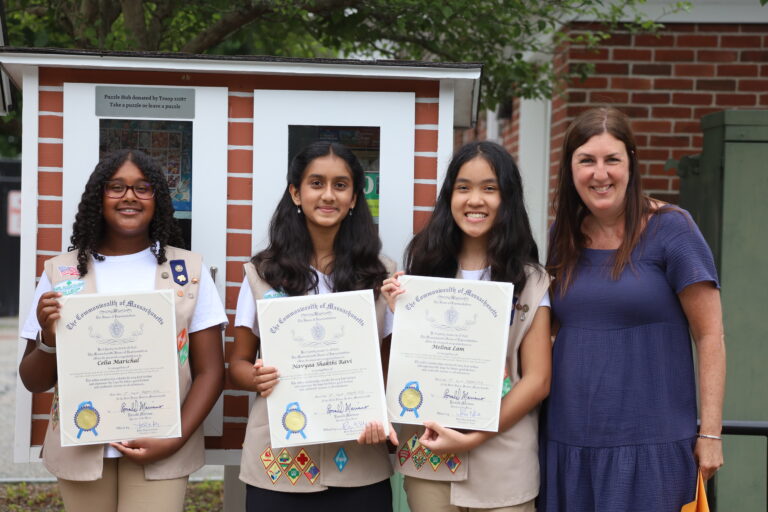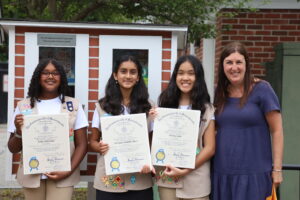 The Puzzle Hub, the result of all the scouts' hard work, has a brick exterior, blending in perfectly with the senior center and the Town Hall.
"It is so perfect… I think people in town of all ages will love [it]," said state Rep. Hannah Kane (R-Shrewsbury), who presented the scouts with official citations at the event. 
Caroline Gordon contributed to this report.
RELATED CONTENT: 
AARP awards grant for Northborough Senior Center trail (fiftyplusadvocate.com)