By Brett Peruzzi, Managing Editor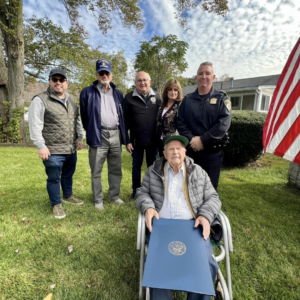 FRAMINGHAM – When Charles "Charlie" Audet of Framingham was born in October 1918, Woodrow Wilson was president, World War I was drawing to a close, and the world was gripped by a deadly influenza pandemic.
Yet 105 years later, the World War II veteran, a paratrooper who was wounded in the Battle of the Bulge, is still standing.
To honor Audet, Mayor Charlie Sisitsky and the 11-member City Council declared October 9, Audet's birthday, as Charles "Charlie" Audet Day in the city of Framingham. One of 10 children born to a French-Canadian family in Fitchburg, Audet graduated from high school and was working as a hotel bellhop when he was drafted to serve in World War II in 1941, at the age of 23. Standing at only five-feet, two-inches tall, all of his U.S. Army uniforms had to be custom-made.
War-time experiences
A volunteer member of the first American paratrooper unit, the 509th Parachute Infantry Regiment, during World War II, Audet was wounded by shrapnel during the Battle of the Bulge in January of 1945. Of the 750 members from the 509th who fought at the Battle of the Bulge, only 48 were not injured or killed.
Audet's first taste of combat was during the North African campaign. Operation Torch in Oran, Algeria, in 1942, was the first time American paratroopers invaded enemy territory. The following year, he fought in the invasion of Italy in Operation Giant III in Avellino, Italy in September of 1943. After recovering from his wounds from the Battle of the Bulge, Audet returned to active duty and served in Europe through the German surrender in May of 1945.
Business career after military service
Audet ended his U.S. Army career as a corporal and was awarded the Purple Heart and the Bronze Star for his service. Audet returned to the United States after the war and graduated from Boston University in three years, taking advantage of the educational benefits offered by the GI Bill. Audet then had a successful career as an accountant.
 Audet met his wife Eleanore and married her on April 18, 1953. They lived in Leominster for four years before buying a house in Framingham in 1957. The couple served as foster parents and were a loving presence to nearly 50 nieces and nephews. Audet continues to live in the same green ranch house on Central Street.
Mayor Sisitsky, City Councilor Michael Cannon, Veterans Agent Kathleen Lang, Veterans Council member Robert Downing, and Veterans Council member Bill Blumsack visited Audet at his house, where several members of his family had gathered, and presented him with the official proclamation declaring Charles "Charlie" Audet Day.
RELATED CONTENT:
WWII veteran celebrates 101 years at American Heritage Museum (fiftyplusadvocate.com)
World War II veterans share stories at event in Hudson (fiftyplusadvocate.com)
Honor Flight treats local WWII veteran to D.C. trip – Fifty Plus Advocate