By Sharon Oliver, Contributing Writer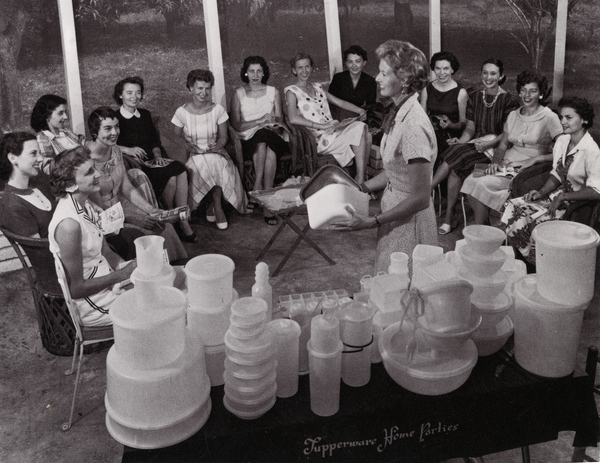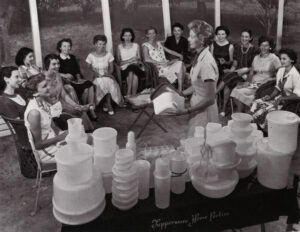 LEOMINSTER – Born in New Hampshire in 1907, Earl Tupper grew up in Central Massachusetts. During the Depression, he struggled to support his family with his tree surgery and landscaping business Tupper Tree Doctors. However, after losing a number of equally struggling clients, he was forced into bankruptcy in 1936. He finally landed a job at a plastic factory in Leominster, where his luck would really change after he developed a groundbreaking product.
Tupper founded Tupperware, an American household products company, in 1942 and developed a bell-shaped food container, "the wonderbowl," with its airtight "burping seal" that was patented in 1949. Tupperware products were soon introduced to various hardware and department stores but were not exactly flying off the shelves.
Tupperware parties and extra income
One day, Tupper received a phone call from Brownie Wise, a Florida single mother and former advice columnist who was running a company called Patio Parties. Wise explained to Tupper how she had extraordinary success selling Tupperware at her home parties. She hosted events dubbed "Poly-T parties" which targeted stay-at-home women, demonstrating how the product worked and its alternative benefits over ceramics and glass.
Impressed by her ability to sell such huge quantities, Tupper invited Wise to visit him in Massachusetts. The meeting resulted in him selling Tupperware exclusively through home parties and making Wise vice president and head of all sales at Tupperware Home Parties Inc. in Florida.
Wise recruited women to host parties of their own thus enabling them to earn a few dollars for themselves. According to Smithsonian Magazine, one of her recruits sold 56 bowls in one week. Wise's strategy helped Tupperware become one of many multilevel marketing companies like cosmetics giant Avon. Also, according to Smithsonian Magazine, Tupperware party attendees would play games such as tossing a sealed bowl filled with grape juice around the room to demonstrate how leakproof the bowls were.
Unfortunately, the partnership between Tupper and Wise eventually unraveled. Allegedly, Tupper became jealous of all the public attention Wise received, appearing in women's magazines and business publications. According to the New York Times, Tupper and the company's board of directors fired Wise and he sold the company to drugstore chain Rexall for $16 million in 1958. Shortly afterwards, Tupper divorced his wife, gave up his U.S. citizenship to avoid paying taxes and bought an island off the coast of Costa Rica.
Pandemic boosted slumping sales
According to the Bureau of Labor Statistics, the share of U.S. women in the labor force shot from 34% in 1950 to 60% in 2000. More and more women joining the workforce meant fewer housewives and diminishing interest in hosting parties or selling the containers. Tupperware struggled to stay in business but when the 2020 COVID-19 pandemic hit, the company experienced a boost in sales as people were working from home and cooked more.
However, the company's shares lost almost half their value and closed at $1.23 on April 10, 2023, even though the company warned investors it could go out of business.
Tupper's design ideas are still a heavy influence in the plastic industry as evident by other brands of food containers stocked in stores. Tupper donated 428 acres of land in Smithfield, Rhode Island, to his alma mater, Bryant College (now named Bryant University) in 1969. Towards the end of his life, he continued to try his hand at inventing gadgets and other devices, carrying little pads of paper in his shirt pocket to scribble down ideas for new inventions. His sons tell stories of their father jotting notes about better hospital gurneys, having devised a round stove, and a clothes-washing exercise cylinder for the traveling salesperson. Earl Tupper died in Costa Rica in 1983, but his iconic invention lives on in millions of kitchens around the world.
RELATED CONTENT: 
The Massachusetts man who created America's doughnut habit (fiftyplusadvocate.com)
Boston salesman King Camp Gillette changed the way the world shaves (fiftyplusadvocate.com)
A melted candy bar brought the world the microwave oven (fiftyplusadvocate.com)