By Maureen Sullivan, Contributing Writer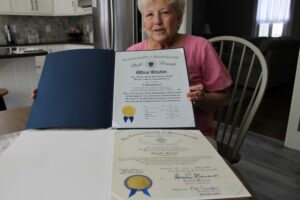 WESTBOROUGH – Wendy Mickel is enjoying retirement.
In the months after she left the town clerk's office, she renovated her longtime residence on Forbes Street and recently became a grandmother for the second time.
"Retirement's the best thing I've ever done," she said. "I've never had this kind of freedom."
Mickel is making room on her newly-renovated walls for a pair of citations that honor her as a Commonwealth Heroine.
She received the honor on June 23 from the state's Commission on the Status of Women. Because of the birth of her grandchild, she had to miss the ceremony in Boston.
Mickel was nominated by state reps. Hannah Kane (R-Shrewsbury) and Kate Donaghue, (D-Westborough).
"I was very surprised and honored," she said.
In addition to her work as town clerk, Mickel was a member of Westborough's 275th and 300th anniversary committees, and she is currently a member of the town's Master Plan Implementation Committee.
Until recently, Mickel was active with the Westborough Food Pantry; she served as treasurer for 25 years, and she helped organize an annual golf tournament to raise funds for the pantry. She decided to step away in order to help her daughter and grandchildren.
"She served the town of Westborough for nearly 30 years, dedicating her life to assisting and supporting the residents of Westborough and making sure the town has been able to hold efficient elections over the years," according to a press release announcing this year's Commonwealth Heroines.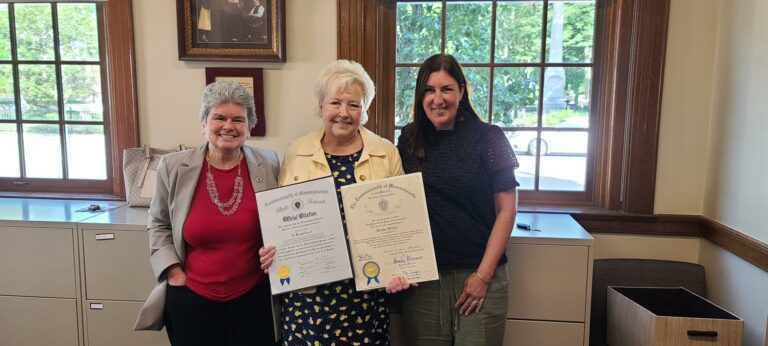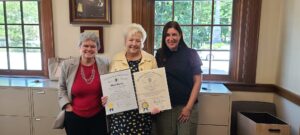 "Wendy Mickel's consistent civic engagement has enhanced the Westborough community tremendously for the past 30 years," said Kane. "I am so grateful for her years of dedicated public service and her diligence in maintaining effective elections. Her commitment to the town of Westborough is honorable and commendable, and I am deeply appreciative of her volunteer work as treasurer of the Westborough Food Pantry."
The Massachusetts Commission on the Status of Women is an independent state agency that was legislatively created in 1998 to advance women of the Commonwealth to full equality in all areas of life and to promote their rights and opportunities. 
RELATED CONTENT: 
Framingham Senior Heroes Awards recognize city's role models (fiftyplusadvocate.com)
League of Women Voters member challenges climate change (fiftyplusadvocate.com)