By David Wilkening, Contributing Writer
BARNSTABLE – Everyone's heard of George Washington, known to most as "The Father of his Country." But who knows his far lesser-known contemporary, a feminist advocate more than two centuries ahead of her time? She is Mercy Otis Warren, sometimes called the "First Lady of the American Revolution." 
Obscure but not forgotten
Warren is not entirely forgotten, yet there's only one statue of her, unveiled in recent times. Early American patriots were grateful for her advice and were also her friends and frequent supporters: John Adams, Thomas Jefferson, Patrick Henry, John Hancock. And yes George. And Martha, too. 
"Her name rarely appears in history textbooks," wrote Jeffrey H. Hacker in Cape Cod Life Magazine. But he also recalled John Adams saying that the "real American Revolution took place in 'the hearts and minds of the people,' "   If that's the case, he wrote in the September-October, 2019, issue of the magazine, then she was "no less a founder of the new nation just as much as Washington, Jefferson, Madison or another friend, Adams." 
Warren was an accomplished poet, playwright, historian, pamphleteer (on a par with equaling the more well-known Thomas Paine of "Common Sense"). As tourists visit Cape Cod this summer they would do well to note the life of Warren. She was an advocate of equality for women more than two centuries ahead of her time.
'First' woman in many ways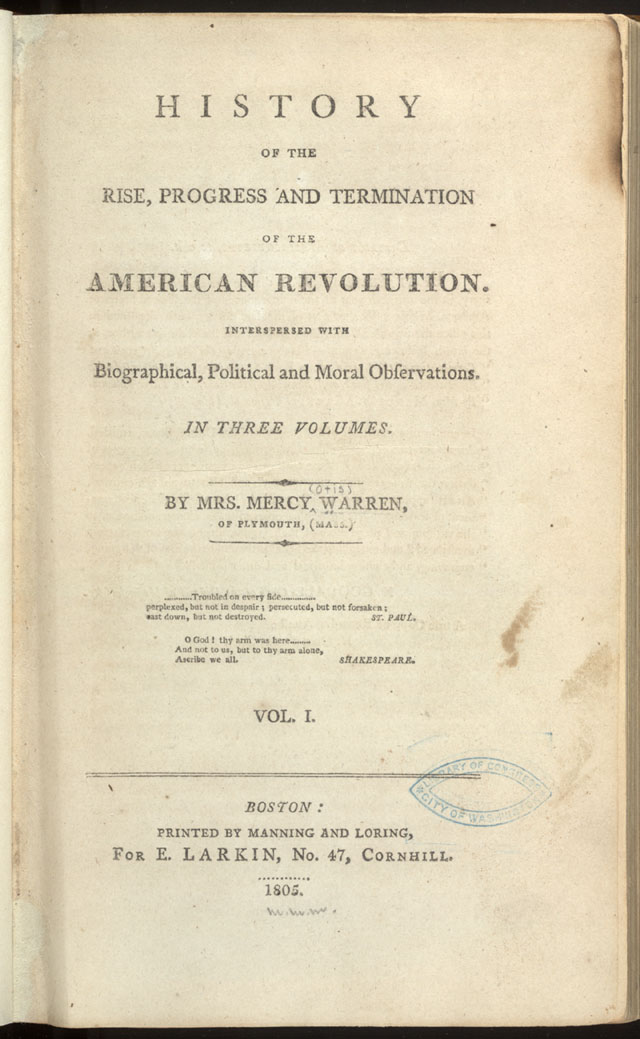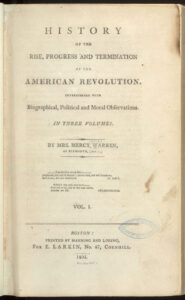 She also has a series of "firsts" that include some viewing her as the first woman to write primarily for the public rather than for herself. 
Warren was encouraged by her family to be self-educated. She was a bookish girl in a time when many women never even became literate. She read voraciously at an early age: Shakespeare, Milton, Greek and Roman literature.
Some of her plays and poems bore her name, though much of what she wrote was anonymous. That was partly because she was a woman of the times, but she also risked reprisals from England's King George for her subversive rhetoric in favor of American independence―which often mocked the British and was just as often widely-followed practical advice by her male patriot followers.
It wasn't until 1790 that her name appeared on her crowning achievement as a writer: "The American Rise, Progress and Termination of the American Revolution."  Adams, Jefferson and Alexander Hamilton and Thomas Jefferson all had the same word for the author of the three-volume history: "Genius." Then President Jefferson ordered copies for himself and for every member of his cabinet. Adams termed her "the most accomplished woman in America."
The book helped earn her the designation of America's first female historian. 
Today, for Warren enthusiasts, the Massachusetts Historical Society in Boston for more than a half century has had boxes of loose manuscripts and correspondence of the author. It's available on microfilm in the MHS library in Boston.
Historic sites in Barnstable and Plymouth
For the more casual, the towns of Barnstable and Plymouth are places to find her.
There are seven-foot-high bronze statutes by Cape Cod sculptor David Lewis of both Warren and her brother, James Otis Jr. They were unveiled on July 4, 1991, outside the Barnstable County courthouse.
Visitors today can see the two statues of Warren and brother James at 3195 Main Street in Barnstable. Her brother was also a sometimes-forgotten patriot.
Both brother and sister were descended on their side from Mayflower passenger Edward Doty. The pair grew up in Barnstable. But Warren spent most of her life with husband James Warren and their five children in Plymouth.
Her still-standing home is at the corner of North and Main Streets in Plymouth. It was here that she wrote her often satirical plays and her much-praised history of the revolution. "We're located right across the street from her home," said Lea Filson, president and CEO of See Plymouth at 4 North Street.
The typical five million visitors to the Cape Cod area might be even higher this season. Vacation rental bookings on the Cape and islands continue to show significant growth from the pre-pandemic years.
Warren's grave is also near her home in Plymouth. Burial Hill has been a famous resting place for Plymouth residents since the 1620s. The first English settlers, the Pilgrims, built their first meeting house here. It's located on School Street and is listed on the National Register of Historic Places.

Her passing came on October 19, 1814, the 33rd anniversary of the British surrender at Yorktown. The War of 1812 was at a high pitch, and Massachusetts lay under siege once again. The 86-year-old "conscience of the Revolution" was still writing and continued to offer timely and courageous advice to others in one of her last letters. 
"I would not have you think me alarmed by womanish fears or the weakness of old age," she wrote. "I am not. I sit very tranquilly in my elbow-chair—patiently awaiting the destination of providence with regard to myself, my family, my friends, and my country."
RELATED CONTENT: 
Storyteller focuses on Cape Cod shipwrecks, storms, rum runners and other historical events (fiftyplusadvocate.com)
Descended from not just one – from nine Mayflower passengers (fiftyplusadvocate.com)
New Bedford tells a whale of a tale (fiftyplusadvocate.com)