By Serena Howlett, Contributing Writer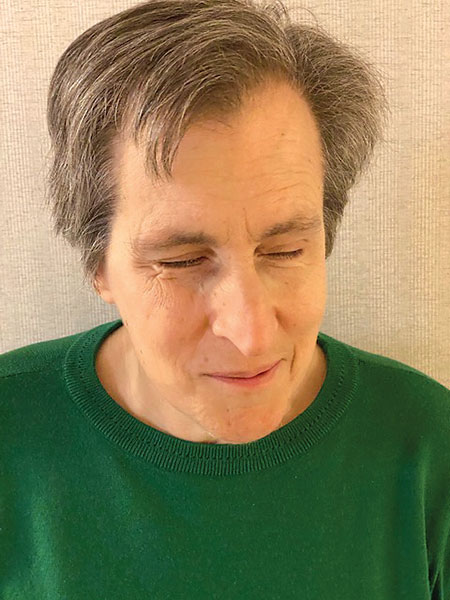 Region – Amy Ruell was born in western Massachusetts about three months ahead of her due date. Ruell's survival was a near-miracle, but the oxygen that saved her life destroyed the optic nerve. 
"My parents treated me as they would have treated any other child of theirs," she recalled. 
As a result, "being blind was not a big deal." 
Ruell's brain learned how to navigate the physical world she could not see.
 "I walked to the school bus stop," she reminisced. 
Using her fingers she learned to read words written in raised dots ("Braille"). Using her intelligence and indomitable spirit, she graduated from high school and went on to earn degrees at Smith College and Simmons School of Social Work. She married, had two children and pursued a career as a social worker and advocate for blind people.
Ruell observed that her lack of sight "has never been an obstacle," adding "blindness should not prevent anyone from enjoying a full life." 
According to Ruell, a blind person can accomplish almost anything a sighted person can do, albeit not in the same way. 
"The one limitation," noted Ruell, "is the low expectations blind people confront." 
Sighted people frequently ignore or talk down to blind people, she said, giving two examples from her own experiences. 
"I was seated with my husband in a restaurant," Ruell recalled. "The server first took my husband's order, then asked him for my order, as though I couldn't speak for myself." 
Similarly, at a medical appointment, the nurse asked Ruell if she needed help getting undressed. "Such low expectations," remarked Ruell, "are not only unfounded, but hurtful." 
Repeatedly confronted with low expectations, a blind person may begin to believe they are less capable than they really are.
"Most people think going blind would be the worst thing that could happen to them," said Ruell. "It's not the end of the world." 
Social isolation is the worst thing that can happen to a person experiencing declining eyesight or blindness, she believes. 
"With older people, physical or mental illness may occur simultaneously," Ruell pointed out. It is important to maintain social contacts and pursue interests throughout life, no matter what happens. 
A licensed medical social worker, Ruell juggles three jobs: director of low-vision adjustment services at the Massachusetts Association for the Blind and Visually Impaired, overseeing 36 support groups; psychiatric consultant to insurers concerning emergency hospital admissions; and advocate for the National Federation for the Blind. In her professional life, which includes local and national travel, Ruell takes full advantage of 21st century technology, such as a smartphone, and innovations, such as ride-hailing services. 
"Sighted and blind people benefit from the same innovations and technological tools for navigation and communication as sighted people," said Ruell. She expressed concern for blind people who cannot afford the latest technology. Ruell said she considers herself "very lucky."