By Peg Lopata, Contributing Writer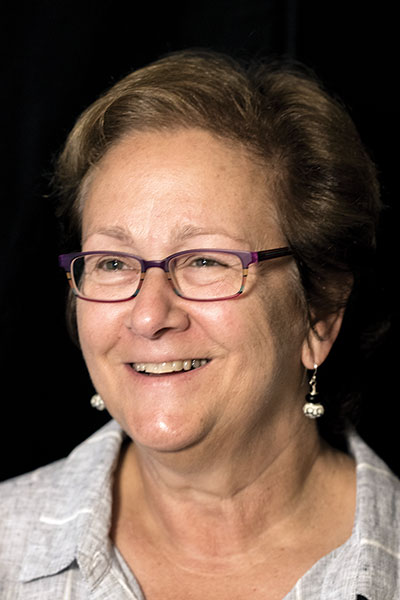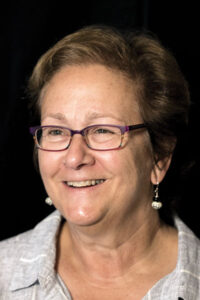 Newton Highlands – Can a successful career software systems salesperson turn into an equally successful glassworker? Hard to see the connection? But maybe that's just it! After 35 years in the computer world,  Ann Szerlip of Newtown Highlands was ready for something really different.  One class in glasswork at the Fiamma Glass Studio in Waltham was all it took.
"I was hooked!" she said. "Glass is fascinating. When it's heated, it can take on all sorts of shapes and designs.  The flame itself is mesmerizing and very calming."      
Szerlip has been a lampworker for about eight years and started fusing—making items from fused glass—about three years ago. The term "lampwork" comes from the time when these craftspeople used oil lamps to melt glass. Today's lampworkers use table-mounted torches which burn propane or natural gas and usually call what they do "flameworking". 
Szerlip's embellishes utensils with her individually crafted flameworked glass beads. 
"Lampwork beads are made from glass rods which are melted into a molten form, shaped and designed from the heat of the torch," explained Szerlip.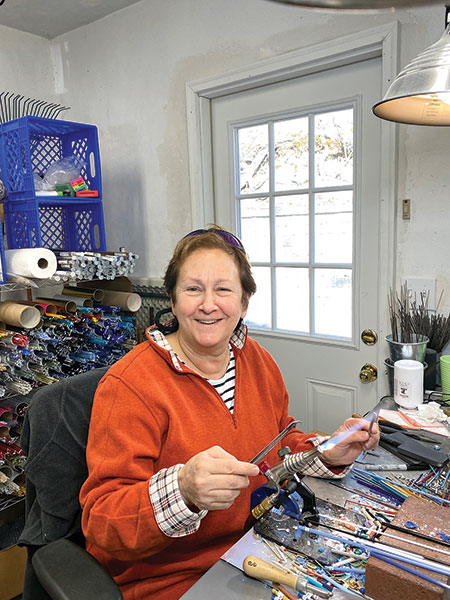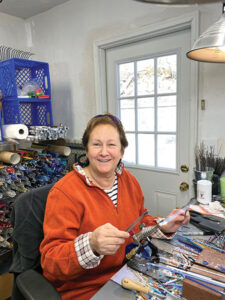 She is being modest here. It takes more than just a flame to make these beautiful, varied beads.  The flameworker needs creativity, a steady hand, a strong sense of design, incredible patience, a fix-anything mentality, and a flair for color.   One can see in what Szerlip creates that she has all these attributes.    
She also has taught herself how to make objects of fused glass. 
"Fused glass is the process of melting together two or more layers of glass to a temperature of 1,450 degrees Fahrenheit," she explained. 
Before firing, additional colors, designs and patterns can be added.  Adjusting the firing schedule will alter the outcome of the piece. 
 "At first I struggled to learn the various techniques," said Szerlip.  
She used mostly online tutorials and her diligence and creativity has paid off.  Her fused glass serving plates paired with glass-handled knives have been a big hit.
"These coordinated sets were great sellers during the past holiday season," she noted.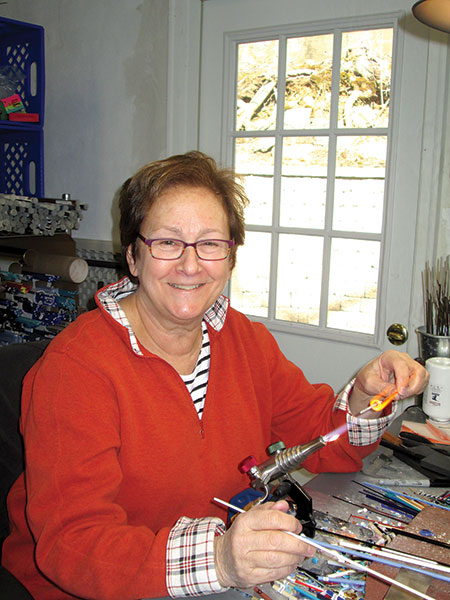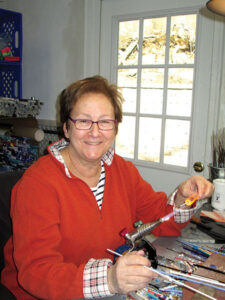 Whether glass-beaded utensils, glass serving plates, drink stirrers or appetizer sets, Szerlip has found not only joy in the process, but success as a craftsperson.  
Szerlip admitted, "I love to play with color, but am always thinking about what will sell.  I've learned that regardless of the design, people respond to color. I'm always trying new techniques and color combinations; looking at other artists and nature to get inspiration," said Szerlip.   
She also had found success due to her self-demanding work ethic and can-do spirit. 
"Like many crafts," she said, "glass working requires you to learn things you've never attempted in the past.  I'm not particularly technical, but some days I'm in my studio doing things like rewiring my kiln." 
One gets the sense that no matter what Szerlip aims to teach herself, in short order she'll master whatever she sets her sights on. 
Her work retails at the Cambridge Artist's Cooperative, Harvard Square, Cambridge.  For other locations to see and purchase her items, or find out about shows she'll be at, visit her www.annszerlip.com.  
Photos/submitted
Examples of Szerlip's work: