By Jane Keller Gordon, Assistant Editor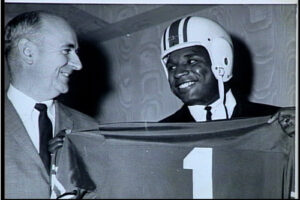 Hubbardston – In 1960, for the first time up until that point, the New England Patriots scored a first-round draft choice. That year, Ron Burton Sr., a standout All-American running back at Northwestern University, was the number one draft choice for the American, National and Canadian Football Leagues. Over the next six years, Burton went on to set records rushing and receiving for the Patriots.
As impressive as those stats are however, Burton's greatest legacy is something quite different – the Ron Burton Training Village in Hubbardston MA, which he founded in 1986. Since his death in 2003, his five children and wife JoAnn have guided the village.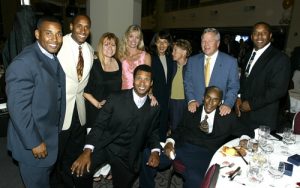 Steve is a sportscaster for WBZ-TV in Boston; Paul is also a WBZ-TV reporter; Ron is a community relations executive for the Red Sox; Phil is a motivational speaker and Elizabeth is a teacher.
More than 9,000 under-privileged children, mostly boys, have been impacted by the village, which is based on the principles of love, peace, patience and humility. Its purpose is to, "… develop and strength our youth, (spiritually, mentally, emotionally, and physically) so they are fully equipped to overcome challenges and excel in life."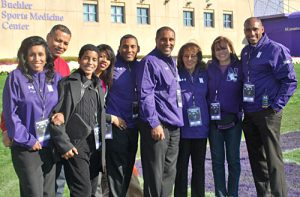 Ron Jr. eloquently shared his father's story with Fifty Plus Advocate.
"My dad grew up very poor in Springfield, Ohio. He was small and skinny, and struggled in sports. He was the kid that nobody wanted on their team. The other kids called him 'nothing,'" he said.
But circumstances and mentors changed his life, and that's what the village aims to achieve for others as well.
Ron Sr.'s grandmother, Shayne, a gospel street preacher, played an important role in his life. She told him to be strong when he was bullied and cried.
She also said, "If I ever catch you drinking or smoking I am going to pray for you, because you are going to lose," Ron Jr. said. ​
When Ron Sr. went out for football in the seventh grade, along with 55 others, he was the only one who did not receive a football suit from the coach. He begged his middle school coach to get him a uniform, which he did.
At the end of the last game of the season, Ron Sr. got off the bench for the first time, and was asked to take the ball 2 yards for a 4th down.
"By then, everyone was injured. My dad took the ball 10 yards, and those were the most important ones of his life," Ron Jr. noted.
That's because the high school coaches were watching, and they saw something in the young football player.
Ron Jr. recalled his father telling him that a coach said, "I have never seen someone run with so much courage and determination. You should wake up at 4:30 a.m. every morning this summer, and run seven miles. Watch what happens. Start slow and built up to it."
Ron Sr. took that advice, found his father's old boots and ran and ran.
When he returned to school in the fall, he outran everyone during the team's first conditioning drills. His days of bullying were over. He was no longer called "nothing".
After an outstanding high school career, he was recruited by Coach Ara Parseghian to play with the Northwestern Wildcats. It was a move that surprised many given Woody Haye's local reach for Ohio State University.
After his Patriot days, Burton had a successful career in insurance at John Hancock.
But Ron Sr. had another goal, his son said.
"My dad had a dream to start a camp for kids like him. He said that the meek and poor don't have a chance. In 1984, he took his life savings and bought over 300 acres in Hubbardston," Ron Jr. explained. "The camp now includes replicas of English gardens, the Parthenon, and buildings with French furniture from old castles. These reflect the beauty that my dad experienced later life."
"The first year, in 1985, we had 30 kids. They ran seven miles every morning. There are no electronics, no cursing, and quiet time every day. The kids sign a pledge that they will never drink or smoke, like my dad," he added.
The camp has grown to 130 boys each summer. Boys enter the program at age 11, and if they stay for seven years, and maintain their grades, they are offered full college scholarships. The Burtons and other camp staff stay in contact with the boys throughout the year.
Many other individuals and institutions have joined in the village's mission. The Red Sox hold a children's retreat there. Students from the United State Naval Academy and West Point spend time running with the boys. Reebok donates all of the students' clothes. Home Depot makes substantial contributions.
"It's not about being an athlete. It's about teaching boys to talk to themselves, to talk to others, to talk to God, and to face challenges one step at a time," Ron Jr. said "It changes everything."
For more information about the Ron Burton Training Village, visit www.ronburtontrainingvillage.org.