By Kate Tobiasson, Contributing Writer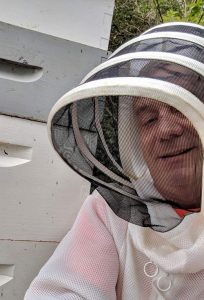 One Westborough resident has been quietly promoting female empowerment for years through a unique field: bees. Gerry Gross first found his passion for bees as a teenager in New York.
"Back in high school I took advanced biology," he said. "I learned about bee colonies and how the bees collaborated as a team. I went to college as a biology major and my freshman year, I continued to learn more about the colony and the way that it works. I was really interested in how the colonies are really female dominated. The males are useless! Back in the 1980s, women were joining power in the workforce, medical and political fields, and I appreciated the way that the bees were all working to support the queens."
An entrepreneur, Gross owned three Verizon stores and was active in the Rotary Club of Westborough. When the time came to close the stores, he thought back on his childhood passion and decided to attend bee school.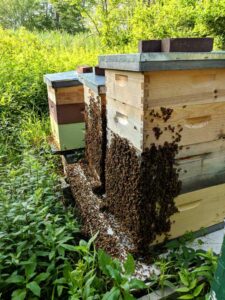 "Right here in Worcester County, we have the oldest beekeepers association in the country," Gross explained. "They hold bee school once a year; they've been holding them for 75 years. After I attended bee school, I was working on starting my hives. The director of the Community Harvest Project in North Grafton and I had a discussion about setting up some hives at her farm. We had a great year with honey, and their crops flourished that year."
Now, seven years later, Gross has nine hives in the Westborough area and hopes to continue to expand his operations. Many larger farms employ commercial beekeepers, but Gross is different. Each day, he works to help manage the hive and support each colony, identifying its unique needs and way of working.
"Every hive has its own distinctive way of life," he noted. "I'm a twin; we're not identical, and I've always been focused on the importance of the individual," Gross explained. "Every queen lays differently; each hive needs to be nurtured. Commercial beekeepers usually bring a hive to an area where there are crops or flowers for a few weeks and then they pick them up and move them somewhere else. For example, they go to California for the almonds and then Maine for the berries. They don't really understand the needs of the individuals like I do."
Discerning individual differences is important, and supporting the colony is important to vigilant beekeepers.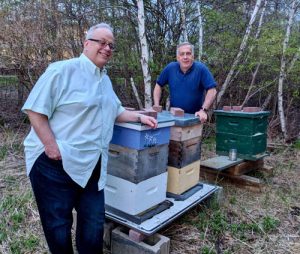 Gross keeps most of his hives in Westborough, at land owned by a close friend and local Realtor, Gary Kelley.
"Gary generously lets me use his land. It is close to a great deal of conservation land and is wonderful for the bees; they love it," Gross said. "This was a great year for honey."
Throughout the last decade, the world has come to better understand the bee collapse phenomenon. While the rest of the world has worked to help support bees, America has been slow to act.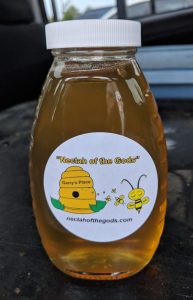 "The bee collapse is an interesting thing," Gross began. "There are three reasons why bees don't survive. One problem is that mites come in and attack and kill the bees. Pesticides are also a real problem. In Europe, they have reduced their pesticides and they have seen a great return of the bees. Another problem is that in America, farmers really only grow one crop. This type of farming makes it so that there are only flowers for only two to three weeks a year, which impacts the bees' ability to survive. I'd love for families to let their dandelions stay in their lawns and to have people grow flowers instead of grass. This would be so much better for our bees."
Honey has a myriad of health benefits; it has antifungal and antibacterial properties, can help with digestion, is loaded with phytonutrients and is even known to heal wounds. Because of its magical properties, Gross calls his beekeeping operations "Nectah of the Gods."
To read more about Gross or to purchase local honey, visit www.nectahofthegods.com.