By Bonnie Adams, Managing Editor
Worcester native is honored for services during World War II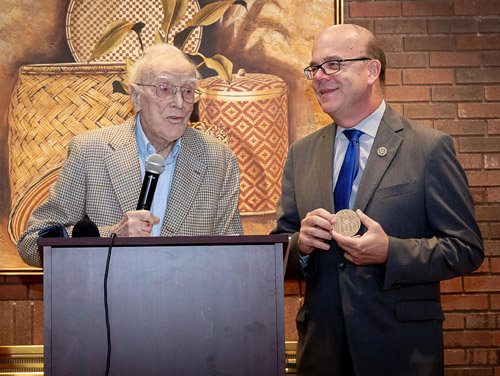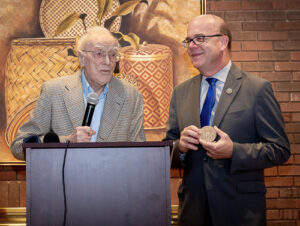 Shrewsbury – At the height of World War II, in 1943, a young Worcester man, Edward F. Daly, served in the U.S. Army in China as a member of the Office of Strategic Services (OSS), a precursor of the modern Central Intelligence Agency. There he was assigned to the communications department, coding and decoding messages.
For their bravery doing such important work under dangerous and perilous conditions, earlier this year,  Congress awarded the men and women of the OSS the Congressional Gold Medal during a ceremony held in Washington D.C. As Daly was unable to attend, U.S. Rep. James McGovern (D-MA) came to the Southgate at Shrewsbury retirement community, where Daly now lives, to personally present him with his medal.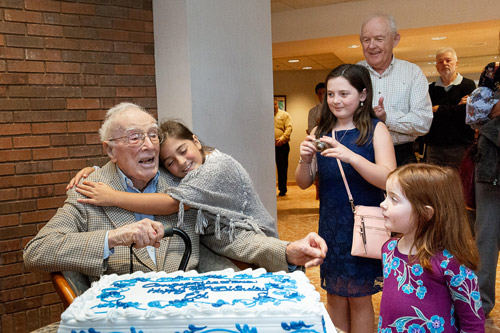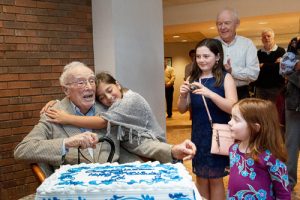 In a moving ceremony Sept. 24 held in front of family, friends and fellow Southgate residents, several of them themselves WWII veterans, McGovern noted the gold medal was a "symbol of gratitude of the American people for [Daly's] service. There is no greater honor."
The Congressional Gold Medal, along with the Presidential Medal of Freedom, McGovern explained, is the highest civilian award bestowed by the U.S. Government.
According to the Congressional Research Service, the award, which was initially created in 1776, was first bestowed on military leaders. Over the years, its scope has been broadened to include actors, authors, entertainers, musicians, pioneers in aeronautics and space, explorers, lifesavers, notables in science and medicine, athletes, humanitarians, public servants, and foreign recipients. Recipients have included such diverse honorees as George Washington, Sir Winston Churchill, the American Red Cross, Bob Hope, the Wright Brothers, Frank Sinatra, Robert Frost, Joe Louis and Mother Teresa of Calcutta.
In introducing Daly, McGovern noted that Daly was born and raised in Worcester, graduating from the College of the Holy Cross in 1942. Shortly before his graduation ceremony, he enrolled in the Army and was assigned to the OSS. Following the war, he graduated from Boston College Law School and served with distinction in both the Federal Bureau of Investigation and the United States Department of Labor.
McGovern noted that there are fewer than 100 of the approximately 13,000 OSS members still alive.
"They quietly served in clandestine situations and have never really been recognized for their bravery until now. They definitely played an important part in American's history," he said.
"Thank you for your service to your country," he said, turning to Daly. "You are living proof that public servants can make a difference."
Daly then took a few moments to address the audience, sharing stories of his time in the OSS.  Although it was over seven decades ago, his memory of those days was as sharp and detailed as if it were just days ago.
He noted that he is not a hero, but rather, "just one of the guys." There were many others, he said, who were in much more perilous situations.
"We don't share that view of you," McGovern said.
"Well, I am trying to be humble!" Daly quipped back, to the amusement of the audience.
Among those in attendance were Daly's niece Mary Ann Cappolino, her husband Greg, and their three young daughters.
"This is such a special day for my uncle," she said. "We are so happy to be here for this ceremony."
Mary Lou Halloran Neagle, whose late father, Fred Halloran, was Daly's best friend for most of his life, was also in attendance.
"I wouldn't have missed this for the world.  He really deserves this honor and attention," she said of Daly. "He is such a great man and was always so good to my father and mother (Virginia). He is really special to our family."
After the ceremony, there was a reception to celebrate Daly for another reason – he was turning 98 on Sept. 25.  As he gazed upon the cake baked in his honor and listened to the audience serenade him with "Happy birthday," he beamed.
"This is a great day," he said. "I will never forget it."
And thanks to his inclusion on a very special list, Edward  F. Daly, and his service to our country during one of its most perilous times, will never be forgotten either.