By Ed Karvoski Jr., Culture Editor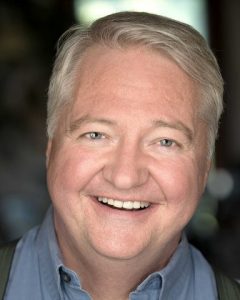 Waltham – While J.T. Turner of Waltham performs voice-over work for films and television, he's continuing to add credits to his resume for playing iconic musical-comedy roles at regional theaters. Concurrently, he's entertaining and educating audiences with his portrayals of historical figures.
Performing onstage became Turner's passion while attending high school in New Jersey. His first memorable role as a young actor is playing the money-hungry brothel owner Marcus Lycus in the musical comedy "A Funny Thing Happened on the Way to the Forum."
"I auditioned against the Student Council president and a very popular basketball player," he relayed. "As a humble freshman, I got cast over both of them. That's really when I launched my career as a character actor."
Turner moved to Boston to study theater at Emerson College. After graduating in 1981, he worked "a real job" in banking while performing with community theaters. Auditions and voice-over work in New York City prompted him to join the actors unions and pursue professional theater jobs.
"I decided that I'd never work in a cubicle again," he declared. "From that point on, I became a fulltime actor. I also decided that there would be enough theater work for me in the Boston area. The Boston theater community is incredibly close and supportive."
Throughout Turner's career, he has been cast to play some of his favorite musical-theater characters including Alfred P. Doolittle in Lyric Stage Company of Boston's multiple-award-winning "My Fair Lady" in 2015. Understanding that it's a familiar role in a classic show, he challenged himself to create a unique portrayal through his dancing, choreographed by David Connolly, and his overall performance, directed by Scott Edmiston
"I looked to some of my physical comedian heroes – specifically, Charlie Chaplin and Buster Keaton – and tried to adapt their movements into the dances I did, as well as my other movements onstage," Turner explained. "Playing Alfred in that production is among my favorite roles of all time."
This past July, he got the chance to play a character that had topped his "bucket list": Moonface Martin in "Anything Goes" at Reagle Music Theatre of Greater Boston in Waltham.
"It was a ton of fun playing Moonface, an over-the-top gangster character, constantly plotting and finding himself in ridiculous situations," he said. "This is a great time to perform 'Anything Goes' because it's pure entertainment and escapism for a couple hours."
A particular credit on Turner's resume has become a steady gig. For his ninth year, he'll return to North Shore Music Theatre in Beverly as Mr. Fezziwig in "A Christmas Carol" from Dec. 7 to 23.
"Fezziwig, to me, embodies Christmas," he said. "Doing this show is so much like coming home for the holidays. It's such a great celebration for me to come back each year."
In between doing musicals, Turner creates and performs solo shows in which he portrays historical figures via The Actors Company at venues such as schools, libraries and historical societies. His first solo show many years ago was as Charles Dickens presenting a one-man version of "A Christmas Carol." He has since added Benjamin Franklin, Robert Frost, William Shakespeare and others.
"I love the connection with the audience during the solo shows," he noted
A stage-musical credit that he's determined to add to his resume is the fast-talking, con man role written by a multitalented comedy legend.
"High on my bucket list now is the terrific character Max Bialystock in 'The Producers' by Mel Brooks – I admire his work," Turner shared. "One of these days, I will play that role."
For more information about J.T. Turner, visit jtturner.org.