By Ed Karvoski Jr., Culture Writer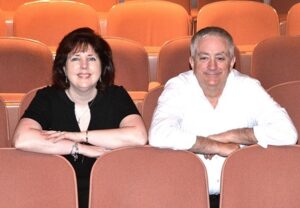 Shrewsbury – Community-minded couple Joanne and George Smith of Shrewsbury are focused on finding ways to foster the town's performing arts programs. Their volunteer efforts for several years benefited the Shrewsbury public schools' performing arts department. Now, they're fulfilling various behind-the-scenes responsibilities with the Shrewsbury-based community theater group, Regatta Players.
When their son, Justin, entered freshman year at Shrewsbury High School (SHS) in 2010, they joined the Shrewsbury Schools Music/Theater Association (SSMA). The nonprofit organization raises funds to help support the district's music and theater programs. George and Joanne were ultimately voted president and vice president respectively. After Justin graduated from SHS in 2014, his parents continued serving as SSMA officers through 2016.
"It took two or three years of rebuilding SSMA until it became desirable for a parent to be part of the organization," George acknowledged. "We continued as officers until we felt comfortable that it could be handed over to others and then SSMA would be taken to the next level."
Joanne added, "We not only enjoyed the work we were doing for SSMA, but also the people who we were doing the work with."
In 2014, Joanne accepted an invitation from another active SSMA member to get involved with Regatta Players as assistant production manager for "Godspell." When Regatta needed a production manager in 2015 for its production of "The Wedding Singer," Joanne volunteered to fill the position. She has subsequently been production manager for Regatta's "9 to 5: The Musical," "I Love You, You're Perfect, Now Change," "First Date," "Evita," "Shout" and "Young Frankenstein."
"The production manager is a jack of all trades," Joanne explained. "You need to coordinate all parts of the production and make sure that everybody communicates well together. I'm the 'go to' person."
In 2015, Joanne asked George if he'd build a shelf onto already-constructed platforms for "The Wedding Singer." George deemed the platforms were unsafe and needed steps.
"At that point, I rebuilt the entire set," he relayed. "I loved the camaraderie with everybody pulling together for the common goal of the show. It was infectious."
Since then, George has volunteered alongside Joanne on the Regatta production team. He collaborates with each show's director on set design and then helps build them. A director heard George singing "The Impossible Dream" from "Man of la Mancha" while building a set and encouraged him to audition for Regatta's next musical.
In addition to set building for "First Date" in 2016, George made his onstage debut portraying the show's waiter. This past August, he returned onstage to play the singing Hermit in "Young Frankenstein" and also danced with the ensemble.
"I danced very poorly at our wedding and there I am onstage with a professional choreographer showing me how to do a pas de bourrée," George shared. "How wonderful is America that a guy like me can get onstage with a bunch of great people and do a pas de bourrée?"
Joanne's major challenge as production manager is accomplishing the most with a tight budget while producing largescale musicals. George managed to save expenses by attaching wheels onto set pieces formerly used as doors in "Shout" and recycle them as revolving walls for "Young Frankenstein."
"Everybody pitches in and does whatever needs to be done to make our productions successful," George said.
"It's a lot of work, but also a lot of fun," Joanne noted. "Rehearsing with people three or four nights a week for two to three months is like building a family with each show. It's true community theater because we are a community."
Learn more about Regatta Players at regattaplayers.com and facebook.com/regattaplayerstheater.