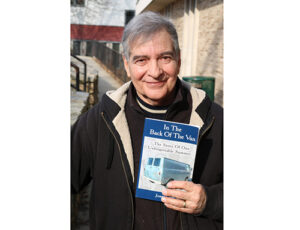 Hudson man recalls touring with rock legend 50 years ago
By Jane Keller Gordon, Assistant Editor
Hudson – Joe Bebo, who is now 69, spent the summer of 1968 rehearsing and playing gigs with Irish rock legend Van Morrison. As the summer came to an end, Morrison asked Bebo to follow him to New York City, where he planned to record an album and hoped to sign a contract with Warner Brothers.
Bebo chose to return to school. At the time, he was halfway through his drum and composition studies at the Berklee College of Music.
Recalling that time 50 years later, Bebo said, "I was the first person in my family to go to college, and graduating was really important to me. I have no regrets. I've had a great life."
Morrison was 23 that summer, and had already recorded the classic rock songs "Gloria" and "Brown Eyed Girl." He had a manager, a van and roadies, but no band. Bebo's close friend and fellow Berklee classmate, bass player Tom Kielbania, somehow connected with Morrison. He brought Bebo to audition for the band at the Cambridge home of a 17-year-old guitar player, John Sheldon.
"I thought that 'Gloria' and 'Brown Eyed Girl' were pop songs, and I was really into jazz," Bebo recalled. "I almost didn't want the job, but when I heard Morrison sing, I was sold. It felt like jazz. Plus we got paid for rehearsing and for gigs. That was unbelieveable."
Morrison, along with Bebo, Kielbania, and Sheldon, spent the summer of 1968 playing gigs all over Cape Cod and throughout the Boston area. Bebo chronicled his experience in his book, "In the Back of the Van – The Story of One Unforgettable Summer."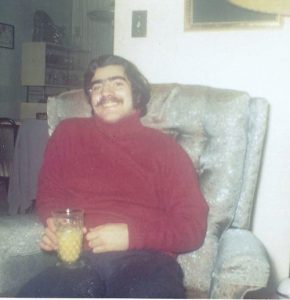 Bebo recalled Morrison as a gifted, quiet guy, who could get upset at times.
"We played at the Psychedelic Supermarket in Boston and were supposed to get a piece of the door. We got there and the place was empty. Van blew up like a gangster," Bebo said. "He played the entire gig with his back to the few people who showed up. Fortunately we did get paid."
Two years later, in 1970, Morrison had a mega hit with "Moondance," which Bebo had played with him on their 1968 summer tour. Morrison's place in rock history was secured.
After turning down the opportunity to play fulltime with Morrison, Bebo spent the next decade playing jazz and dance music gigs in the Boston area.
"It was a tough way to make a living. I had free time during the day, and got hooked on karate," he said. "I earned my second-degree black belt in 1977. A friend and I took over our instructor's karate school for a short time."
In a twist of fate, karate led Bebo to computer programming. One of his students was a manager of a data center at former computer giant Digital. By 1979, Bebo, who was then a self-taught programmer, put down his drumsticks, sold his drum set, and became a fulltime employee at the company.
He went on to earn a master's degree in computer science from Boston University.
"It was the hardest thing I ever did," he said.
Bebo moved to Hudson in 1981, and married his wife Kathy, who he had met while playing a gig in Revere.
They have rented the same house in Hudson for 40+ years.
"I never felt the need to own things," Bebo said.
They have a son named Gavin, who lives on the West Coast with his family
Over the past four years, Bebo has written nine books, in addition to the one on Van Morrison. They include historical fiction, science-based topics, and most recently, horror. His books are available on Amazon, and some at Tatnuck Bookstore in Westborough.
Not long ago, Bebo was surprised to receive a phone call from the Irish National Radio's flagship station. They gathered Bebo, Kielbania, and Sheldon — for the first time in 50 years — for an interview about the summer of 1968.
Emphasizing his lack of regret, Bebo said, "If I saw Van Morrison on the street now, after 50-years, I'd hug him and say 'I love your music. Your voice is like an instrument. You sing like a horn player. I even love Brown Eyed Girls now.'"
For more information on Bebo and his books, visit www.facebook.com/bebobooks.