By Ed Karvoski Jr., Culture Editor
Boston – As president and CEO of the Boston Center for the Arts (BCA) since August 2016, Gregory Ruffer draws upon his experience as a performer turned arts educator and administrator in several cities. Appreciating how Boston's South End neighborhood has benefitted after the nonprofit BCA's inception in 1970, he strives to reinforce the mission of its founder and first president, the late Royal Cloyd.
"The BCA's founding mission to give artists space to experiment and grow is so much a part of what I've done in my career," Ruffer said. "It has always been very close to my heart, so I feel that this job is a perfect match."
After earning his music education bachelor's degree in 1987 and master's degree in 1995 from Bowling Green State University in Ohio, he sang with The Washington Chorus in the District of Columbia. From 1997 to 2000, Ruffer often commissioned new compositions while conducting the Gay Men's Chorus of Washington, D.C. In 2002, he founded and directed The Orlando Chorale, performing mostly music of living composers.
Among his other past achievements are program manager for the National Initiative to Preserve America's Dance, and associate professor of vocal music at the College of Central Florida. Prior to his current position, Ruffer served as president and CEO of the Wisconsin Conservatory of Music in Milwaukee.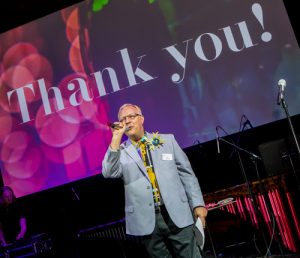 He was grateful when a multidisciplinary arts job opened in Boston. His husband, Peter Stark, serves as head of Boston Ballet School's men's program and associate director of Boston Ballet II. After three years living in different cities, their current South End home is a six-minute walk to the BCA.
"I enjoyed my job in Milwaukee, but knew that particular city wasn't my last stop," Ruffer noted. "To fulfill the mission of supporting the BCA's neighborhood, it's important for me to also live in the South End."
The BCA occupies a 2.2-acre campus consisting of the historic 1884 Cyclorama; resident companies of dance, music and theater; artists' studios; performance and rehearsal spaces; an art gallery; a music school and two restaurants.
Now its sixth president, Ruffer has studied the BCA's history. In 1967, the Boston Redevelopment Authority began planning an arts center encouraged by Royal Cloyd, then a South End resident and chair of its Urban Renewal Committee.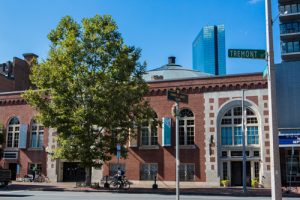 "Back then, the South End wasn't vibrant like it is today," Ruffer explained. "The city couldn't afford to keep up the Cyclorama, and worked with Royal Cloyd to form the nonprofit that would take a 99-year lease on this land and the buildings on it. It became the BCA's responsibility to keep up the buildings and create programming. I honestly think that the BCA was a good part of the reason why the neighborhood started to turn around. It shows the power of what cultural life can do for a city."
Since his tenure began, Ruffer estimates that he invested about $140,000 of improvements into the theaters. Additionally, he hired Wanda Strukus as chief programming officer to expand offerings of all art forms.
"Because the BCA is so incredibly diverse with our visual and performing arts on a campus where we're the caretakers of historic buildings, I'm learning something new every single day on my job," Ruffer said. "I feel at 52 years old that I'm learning and growing in a way I haven't done since I was in my 20s."
Regarding the BCA's 99-year lease, Ruffer added, "There's an option for us to purchase the land and buildings. I would imagine we'll do that during my tenure."
For information about the BCA at 539 Tremont St., visit bcaonline.org and facebook.com/bcaonline.