By Ed Karvoski Jr., Culture Writer
Southborough/ Worcester – Nick Noble has known that he loves folk music since his childhood. However, it never occurred to him until after relocating to Worcester in 2007 that he would host "Folk Revival," Thursdays from 7 to 11 p.m. on the primarily jazz National Public Radio station WICN 90.5 FM and streamed live on wicn.org.
"Within weeks of my 50th birthday, I started doing a radio show and have been doing it ever since," he said. "It's not something I would have envisioned myself doing, but I've really come to like it a lot."
Originally from New York City, Noble grew up listening to folk music such as The Limeliters album "Through Children's Eyes."
"I'd sing the harmony along with folk records, not necessarily the melody," he explained. "I've been singing most of my life."
At age 13 he moved to Southborough to attend St. Mark's School, where he graduated in 1976. He studied history at Trinity College in Hartford, Conn., earning a bachelor's degree in 1980 and master's in '82. While in college, he sang and played bass with the group Trinity Pipes, consisting of several vocalists and instrumentalists.
"It was one of the last college folk-pop bands before a cappella took over in the late-'70s," he noted "We were sort of clones of The New Christy Minstrels and The Serendipity Singers."
Noble taught history for 28 years, mostly at Fay School in Southborough. He has worked since 2011 at his alma mater, St. Mark's, as communications manager, editor and school historian.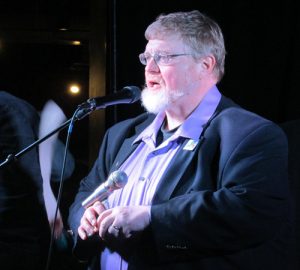 In 2007, Noble accepted invitations from then-host Norah Dooley to be a guest periodically and later the fill-in host on "Folk Revival." When Dooley began a full-time job in Boston, Noble became the program's weekly host. Up to then, his radio experience was commentating a few Trinity College basketball and football games.
"One of my goals with 'Folk Revival' has always been to promote local artists," he said. "There's such a great music scene in central Massachusetts. They don't get the kind of love that they should with their talents. I still play all the standard folk songs of the past, but also try to have local artists of interest on the show. We stream online, so we're bringing Worcester to the world."
"Folk Revival" occasionally presents live guest performances at the WICN studio. Among past guests have been Tom Rush, and Randy Sparks of The New Christy Minstrels. Noble also compiles many themed shows.
"You name a holiday, I've got a show that will match it," he quipped. "My favorite theme is the one I do early-October every year called 'A Few of My Favorite Songs.' It's my birthday week, so I pick the songs that I like."
In addition to hosting the radio show, Noble administers the Facebook group "The Folk Revival." The group has over 3,600 members.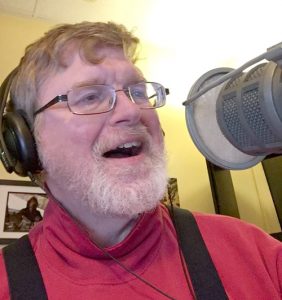 "We call it our 'online coffee house,'" he said "In some ways, the unsung success of 'The Folk Revival' is that there are people who are now friends – and I'm using that term in a lot more depth than Facebook friends."
When Noble won the Worcester Music Award for Best Radio DJ in 2015, he accepted the recognition on behalf of everyone who volunteers their time and skills for public radio.
"People sometimes don't realize that public community stations are really small," he noted. "While they have some paid staff, they're basically kept afloat by volunteers and donations. For me, it's a labor of love. WICN is wonderful. I like to call the show my Thursday evening therapy."
For more information about "Folk Revival," visit wicn.org/programs/folk-revival and facebook.com/groups/thefolkrevival.