By Ed Karvoski Jr., Culture Editor
Arlington – New England Entertainment Digest praised Carol O'Shaughnessy as a "powerful singer, brilliant actress and zany comedienne." A prolific career spanning over four decades earned her the Lifetime Achievement Award presented at Provincetown's CabaretFest 2018.
Growing up in Arlington, a 9-year-old O'Shaughnessy previewed her showbiz destiny via a recital song-and-dance number.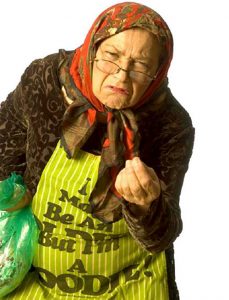 "I fell in love with the audience when I heard their laughter," she recalled. "I knew then that this is what I wanted to do."
While attending Arlington High School she performed in Gilbert and Sullivan operettas directed by drama teacher Ludvio Einsick. At age 28, O'Shaughnessy started a three-year stint performing with Einsick's musical theater group in Winchester. Concurrently, she worked singing gigs ranging from bar mitzvahs to bowling banquets.
Her love for the audience further developed in 1978 as a waitress serving songs and comedy at Romie's Oyster House in Danvers.
"Working as a singing waitress, I needed to connect with the audience," she noted. "That's most important for an entertainer."
On that St. Patrick's Day, she debuted her now well-known character Mama Scuglliaci. Merging her Italian and Irish ancestries, O'Shaughnessy as Scuglliaci belted a medley of "That's Amore" and "Too-Ra-Loo-Ra-Loo-Ral."
"Mama can be rude or a bit blue, depending on her mood," O'Shaughnessy acknowledged.
In 1979, O'Shaughnessy accepted a friend's invitation to sing during his cabaret act at The Male Box in Worcester.
"I sang Judy Garland's version of 'Rock-a-Bye Your Baby' and the response was so great that I literally couldn't get off the stage," she recounted. "I felt like a 9-year-old again."
The club owner immediately hired her for weekend gigs. Capturing the attention of producer and restaurateur Phyllis Schlossberg, she got hired at Provincetown's Post Office Cabaret in 1980. O'Shaughnessy continued performing at Provincetown clubs throughout the 1980s with her first music director Donn Hill. Out-of-state club owners on vacation booked her nationwide. Her act has traveled internationally on cruise ships.
In the early-1990s, she appeared at several New England theaters playing musicals' iconic characters: Matron Mama Morton, "Chicago"; Fraulein Schneider, "Cabaret"; Bloody Mary, "South Pacific"; and Reverend Mother, "Nunsense."
O'Shaughnessy has collaborated for over 20 years with music director Tom LaMark and his orchestra. Her 1997 debut CD "The Way I See It" was followed by a recording in 2000 at Boston's Scullers Jazz Club. "Live at Scullers" showcases her playful interaction with audiences.
"The song 'Everything's Coming Up Roses' has a key change that comes out of nowhere," she explained. "I couldn't find that note if it were sitting in front of me. The audience went crazy when I finally got it the third time."
In 2001, she revisited the 1980s with "Stuff in the Box: Provincetown, the Early Years" at The Crown & Anchor. Mementos including a hardhat, leather wristband, mirrored sunglasses and feather boas became her characters' props.
"This wonderful era was hysterically funny," she said, laughing.
Channeling an earlier era, she recorded and performed "Ring-a-Ding-Ding: Music of the Rat Pack" in 2005. Among the show's venues was a dance party in 2006 at the country's longest-running ballroom, Moseley's on the Charles in Dedham.
"I went to Moseley's to dance as a young divorced woman," O'Shaughnessy shared.
Friends and fans joined O'Shaughnessy in 2011 to celebrate her 69th birthday at Scullers. She opened her show singing "Lucky to Be Me."
"I'm very fortunate," she said. "I have lots of health issues, but I'm still able to sing and make people feel better. That makes me feel better. I don't feel pain when I'm singing."
The release party for her fourth CD, "Christmas on Huntington Avenue," took place December 2017 at Boston's Club Café, described by PartyEarth.com as "a buzzing hetero-friendly gay hotspot." Having worked there regularly since the club opened in 1983 to now, O'Shaughnessy expressed gratitude to founder and CEO Frank Ribaudo, and co-owner Jim Morgrage.
"Club Café is my home away from home, where I feel comfortable," she said. "I remember Frank saying in 1983 that he didn't want this to be just a gay club; it's where people can have a good time and not worry about anything else. These days, that's precisely what it is."
For more information about Carol O'Shaughnessy, visit carolosh.com and facebook.com/OCarolO.
photos/courtesy Bob Bond