By Ed Karvoski Jr., Culture Editor
Waltham – The 50th summer season of Reagle Music Theatre of Greater Boston in Waltham is once again led by its founder and executive producer Robert J. Eagle. Having evolved from a community theater group to a nonprofit regional company, Reagle produces three summer musicals with casts consisting of local performers alongside about 10 percent professional Actors' Equity Association union members. Other year-round entertainment includes celebrity concerts, and original revues written and directed by Eagle.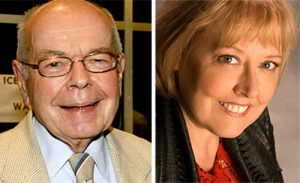 Commemorating the half-century milestone, Eagle received a citation from Boston Theater Critics Association (BTCA) at its 2018 Elliot Norton Awards ceremony. Also, the Independent Reviewers of New England (IRNE) gave him and Reagle a Special Recognition Award. Observing firsthand Eagle's longtime impact on Reagle is its board president Susan Conkey.
"No one has such the commitment and dedication to an organization that Bob does – it's his life," she said. "The fact that he's been the driving force for 50 years is unheard of in any business, but particularly in theater. His knowledge of theater and passion for it is unparalleled."
With a grant from the Waltham City Council in 1969, Reagle was founded as a summertime performance outlet for high school and college students by Eagle, then-teacher at Waltham High School and ultimately its director of English and drama. Reagle became incorporated in 1977 and got nonprofit status in 1984.
Also in 1984, Reagle hired its first professional Equity union performer, Robert Fitch, who played Rooster Hannigan in the original "Annie" Broadway production. Fitch directed "Annie" and reprised Rooster at Reagle in 1984, 1996 and 2008. Reagle board president Conkey played one of the singing Boylan Sisters in each of the three productions.
Joining Reagle's 2008 "Annie" cast were Emmy Award-winner Sally Struthers as Miss Hannigan, and former WBZ-TV sports reporter and news anchor Scott Wahle as Franklin D. Roosevelt. Wahle has made several appearances at Reagle including his 2004 IRNE Award-winning performance in "The Music Man," which he reprised in 2010 along with renowned Boston and Broadway musical actress Mary Callanan.
The 50th summer season opens with Wahle portraying the formidable director-choreographer Zach in "A Chorus Line," June 7 to 17. Directing and choreographing is Leslie Woodies, who performed as the musical's veteran dancer Cassie in national and international tours. Show times are Thursdays 3:00 p.m., Fridays and Saturdays 7:30 p.m., and Sundays 2 p.m.
From July 5 to 15, Reagle will present "Anything Goes" with Leigh Barrett playing the evangelist turned nightclub singer Reno Sweeney. BTCA awarded Barrett its 2018 Elliot Norton Prize for Sustained Excellence. Director-choreographer is Eileen Grace, a former Radio City Music Hall Rockette, as well as a Ziegfeld girl in "The Will Rogers Follies" original Broadway production. Show times are Thursdays 2:00 p.m., Fridays and Saturdays 7:30 p.m., and Sundays 2 p.m.
Concluding the summer season is "The Music Man," Aug. 2 to 12. Portraying stuffy librarian Marian is Jennifer Ellis, acclaimed by the Boston Globe as "a leading lady with a lustrous soprano who invariably delivers." Helming the production is Reagle's resident choreographer Susan Chebookjian. Show times are the same as "Anything Goes."
Conkey expressed her pride serving as Reagle board president during its 50th anniversary.
"Great theater companies have come and gone in the past 50 years," she noted. "I know that when people come to one of our shows they always come back again. I won't be around for all of the next 50 years, but hope that our theater still is."
Reagle Music Theatre of Greater Boston performs at the 1,082-seat Robinson Theatre, 617 Lexington St. in Waltham. Order tickets online at reaglemusictheatre.com or call 781-891-5600.