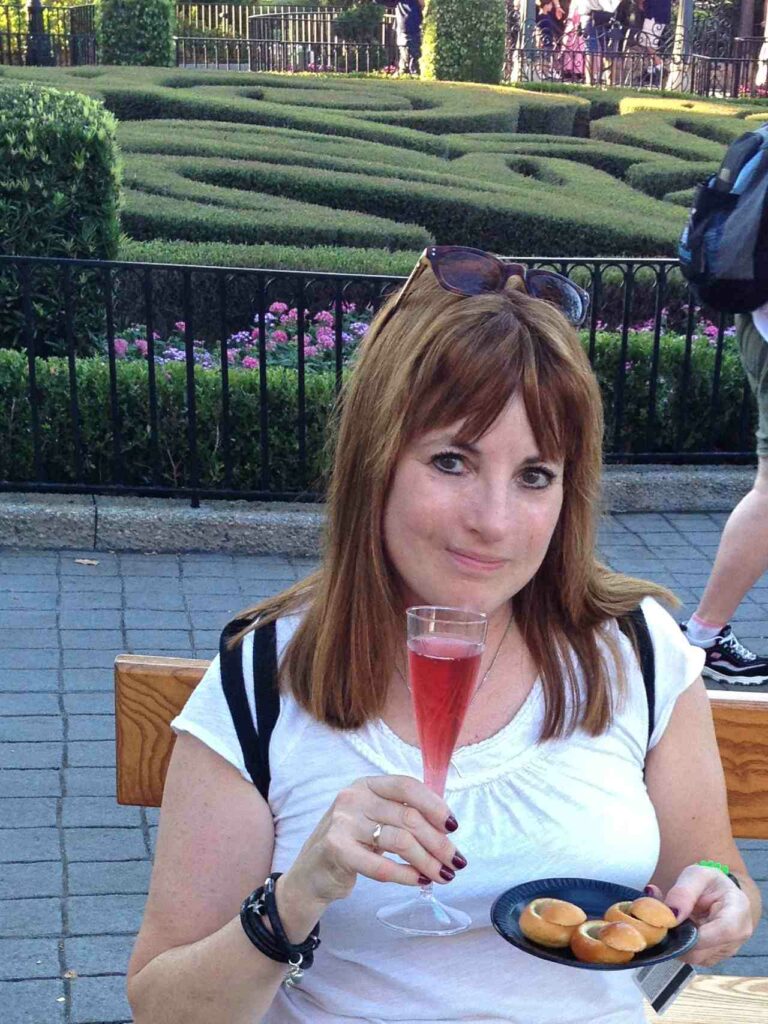 By Sondra Shapiro
I  just turned 60. So, true to my inner child, I packed my bags for Walt Disney World (WDW) to doggedly pursue two of my most enjoyable activities — sampling food and wine and riding attractions — with my favorite person, my husband, David.
It was fortuitous that the Epcot Food and Wine Festival coincided with the occasion.
Excited to get my culinary odyssey rolling, as soon as the plane landed in Orlando, I directed our limo driver to drop us at Downtown Disney. With suitcases in tow, we headed over to Raglan Road Irish Pub for dinner, a place that came highly recommended — and rightly so.
The creative dishes presented by award-winning Irish chef, Kevin Dundon, is draw enough. But the live music and line dancing performances and the authentic Irish pub atmosphere help to make this a one-destination dining spot.
Related: PBS to feature Chef Dundon
Because I planned to spend most of my time at Epcot, we stayed at the conveniently located and easy-on-the-wallet Walt Disney World Swan and Dolphin Resort, a 10-minute walk or short boat ride away.
My birthday present to myself was to turn a blind eye to calories. So I ate and drank (no driving) with reckless abandon. The sheer magnitude of culinary delights — 30 kiosks offering food, wine and libations from around the world; special dining events with celebrity chefs; seminars and demonstrations — could keep a foodie busy for a week or more. I had to cram it all in, in just three days.
I needed to also fit in my usual Disney must-do activities, such as riding the Haunted Mansion at the Magic Kingdom, the Tower of Terror at Hollywood Studios and Test Track and Soarin' at Epcot.
Truthfully, the turning 60 thing did weigh in the back of my mind for a while. Had it really been 10 years ago that I spent my 50th birthday at Disney? A decade gone in a flash. So, rather than dwell, I decided to immerse myself in the moment.
Comparing the two trips, I was gratified to realize my energy level hasn't changed. I could still navigate the 1.2-mile trek around the World Showcase multiple times a day. Not to mention the miles of walking around Future World and the trek to and from the hotel each day.
Whether it was the sharp, fast curves of Test Track or the sweet, garlicky escargot enveloped in a crunchy brioche and washed down with a pomegranate Kir at the France Marketplace, I approached everything as though it was my first time.
I was ambitious assuming we could literally eat and drink our way around the World Showcase in one night, but we came close, managing to try quite a few tapas-sized offerings — berbere-style beef with onions, jalapenos, tomato, okra and pap from Africa, potato and leek waffle with braised beef from Belgium, venison sausage with pickled mushrooms, baby arugula and black currant reduction, and more.
Not to mention various libations such as Porcupine Ridge Syrah from Africa, or Altenmünster Oktoberfest beer from the Brewer's Collection Marketplace.
A highlight was the night we went to Party For the Senses, which offered almost two-dozen dishes served up by well-known chefs, 50 wine and beer varieties and performances by Cirque du Soleil. To indulge in celebrity chef Art Smith's decadent buttermilk fried chicken and waffles with maple syrup, only to realize I was standing next to the man who created it was a birthday present I will long cherish.
Topping off the magical evening with a viewing of my all-time favorite fireworks event, IllumiNations: Reflections of Earth, would have been enough for an ordinary birthday celebration. But this 60th required all things in excess. So I treated myself to the show two nights in a row.
The trip was like riding Disney's Test Track — non-stop excitement at every hair-raising turn.
I ended my visit on my actual birthday. There were three things I needed to accomplish before boarding the plane: an encore tasting of those escargot persillade (garlic and parsley) en brioche; a celebratory glass of Moet & Chandon Imperial champagne from the Desserts & Champagne Market Place; and topping it all off with my own version of birthday cake, a warm chocolate pudding with Bailey's custard from the Ireland Marketplace.
During the last hour of my trip, as I sat outside the French Pavilion sipping on a glass of champagne, I watched an acrobat balancing himself on a stack of chairs. I noticed the steady concentration of the performer. Ever present in the moment, he slowly added chair upon chair, stopping at each level to take stock of his progress.
Watching his climb, the journey up seemed impossible, insurmountable. Then he was at the top, basking in the cheers of his audience and grinning from ear to ear, taking a bow for a job well done.
Such is life — one step at a time. It's living life purposefully and in the moment. Milestone birthdays allow me to look back at those moments and get pleasure from the knowledge that no matter how old I am, I still embrace life with child-like wonder.
I now realize age really is just a number. To dwell on that number is to miss out on all the wondrous things large and small that happen every minute of the day. That was the lesson from this trip. Oh, and the other takeaway … a few extra pounds.