By Sandi Barrett, Contributing Writer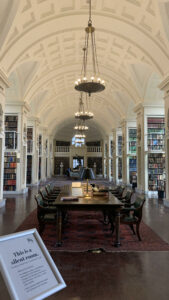 BOSTON – The Boston Athenæum is a breathtaking private library, but also a beautiful museum and busy cultural center. Quietly tucked into one end of historic Beacon Street, it is a hidden gem, perfect to explore on a day trip into the city.

Opulence from an earlier time

When you enter the building, the massive ceiling heights, towering multi-paned windows, and historic art collection envelop you in a cloak of opulent bygone days. Founded in 1807, the Boston Athenæum's mission was to house a reading library along with a collection of rare books, maps, and manuscripts surrounded by beautiful art pieces. The library contains over 500,000 books available for circulation and over 100,000 rare collector pieces.

The first floor, which is open to the public, offers a series of rooms each decorated with important statues and paintings. A small reading nook with overstuffed chairs and views of the Granary Burying Ground is a cozy hidden nook of solitude.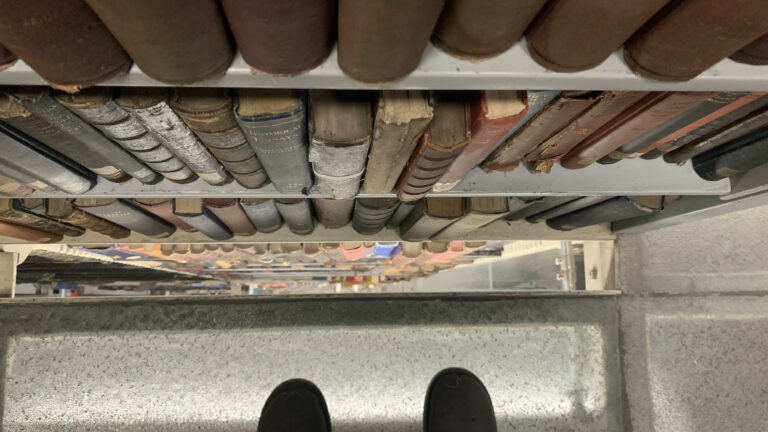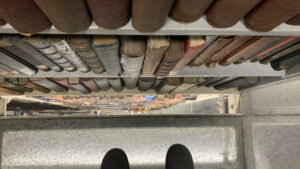 The fifth floor reading room offers members a quiet space to study, research, or read in peace while surrounded by elegant architecture and rich, club-style furnishings.

Bibliophiles need to take a tour of the Boston Athenæum's stacks. Packed with historic volumes, walking over the glass-floored stacks will have you gaping at the sheer volume of books. The five-story building with two additional basement levels has an unfathomable amount of completely filled bookshelves.

Through a small kitchen off the stairwell is a terrace offering panoramic views of the Boston skyline. Strewn with a half dozen tables, the unobstructed view beckons you to sit and soak it in a beautiful Boston day.

Tours and programs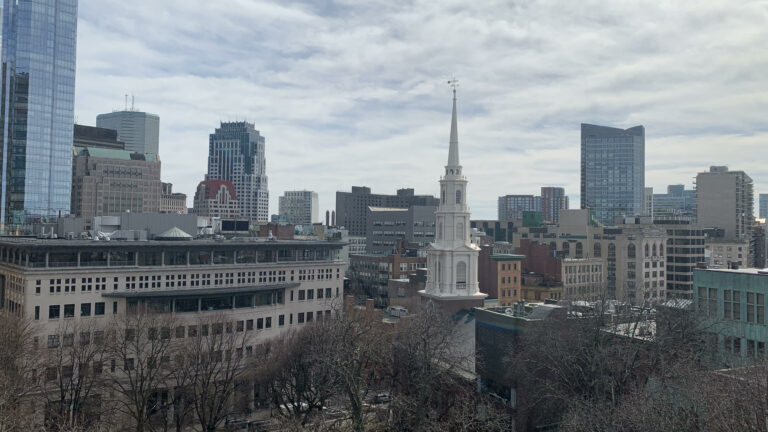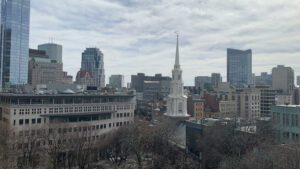 The best way to explore the Boston Athenæum (https://bostonathenaeum.org/) is with a tour. Guests are welcome to visit the first floor for a nominal fee and full library tours are offered frequently. The first floor provides a museum experience with access to the exhibition gallery and three large rooms with art in abundance and rotating installations from their collections. A full tour offers the opportunity to join a docent for an hour to learn about the library's history and its remarkable collections while walking through grand spaces and cozy nooks. 
You can also purchase a day pass which grants access to all the member-only areas of the library. Imagine finding the perfect book, sinking into a cozy leather chair, and spending the afternoon wrapped in a perfectly spun story. Tours fill up quickly. Pre-booking online is highly recommended.

The library offers a wide selection of programs including insights into the development of Boston along with lectures on a wide smattering of local and global topics.

Other nearby attractions

A view from the rear windows offers a peek of the Granary Burying Ground. Laid to rest on this small plot are a treasure trove of historical who's who. Local Massachusetts dignitaries rest next to three signers of the Declaration of Independence: Samuel Adams, John Hancock, and Robert Treat Paine. Other notables include the revolutionary hero Paul Revere and Benjamin Franklin's parents. After visiting the Athenæum, take time to stroll among the headstones.

Along with the Boston Athenæum, a visit to the Granary Burying Ground and the State House are within walking distance. Afterwards, stroll through Beacon Hill and explore Acorn Street, the most photographed street in Boston. Add a visit to Louisburg Square and admire the beautiful brownstone homes in this small, upscale enclave.

Boston is a beautiful city, walking friendly, and full of history, art, and culture. Lucky for us, it is simply a short drive away. Make some time to explore our Commonwealth's capital. 
RELATED CONTENT: 
Visiting America's Stonehenge in southern New Hampshire (fiftyplusadvocate.com)
Cape Cod's Mercy Otis Warren is the almost-forgotten 'first lady' (fiftyplusadvocate.com)
Forest Hills Cemetery a fascinating destination for history, landscape, art (fiftyplusadvocate.com)