By Bill Levine, Contributing Writer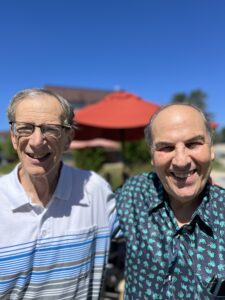 REGION – My childhood friend's 70th birthday party was basically a boys' night out at his house. Our octet of septuagenarian buddies picnicked at the kitchen table surrounded by the Celtics game on two large screens. We then convened to the sofas for the whimsical part of the evening, a sharing of our ancient wisdom. This being a fun-loving rather than Socratic crowd, wisdom-sharing evolved into more of a roast. A friend with a DJ personality read funny wisdom snippets from the internet, and another jabbed the birthday boy with Don Rickles-style quips. 
Friends to the rescue

Then it was my turn to add a little sobriety to the proceedings by imparting a lesson I learned 57 years ago on the junior high basketball courts. I guess I would call my contribution, it's okay to rely on a little help from our friends, to paraphrase The Beatles. Indeed, in eighth grade I was surprisingly cut from the JV junior high team, only to be reinstated a couple of days later, based on a petition signed by friends who had made the cut. In part, my friends dared to petition because they saw me use my height to good advantage during the fall. Coach H. bought the testimonials of my friends that my ability, though clumsily displayed, was still ability. I was reinstated on the JV squad which ultimately led to a Cinderella six-week apex of my adolescence the following winter, as a starter on our junior high's championship varsity team.
I hesitated endorsing my friends' proposed petition. Sure, I was devastated when my name was not on the made-the-team list, but I of course could have told them to forget it. Indeed, I had the inclination that this would be an embarrassment to me as a sore loser since "cut" means "cut."  But the fact that my basketball peers thought my being cut was outrageous gave me the confidence to greenlight the petition.
In ninth grade, I parlayed the help from my friends into a peak adolescent event that still resonates with me. The sweet, indelible memory of the six-week season revolved around sharing the experience of winning the city junior high school championship with my friends, and enjoying a blessed reprieve from my athletic mediocrity.
But this gift of my buddies' middle-school petition didn't boost me into a reflexive altruist who was always attuned to Hallmark card-level helping opportunities, so it took 50 years for me to recognize a valuable helping opportunity.  
A favor returned

In June of 2016, the hiring manager finished up our video interview by inviting me up for in-person visit to meet the team. There was no "I'll get back to you" reply. For the first time in two years of job searching, I was not too old or too technically outdated. This hiring manager was selling the job to me instead of the other way around. He could envision me fitting in perfectly with his team of gray-haired mainframe/COBOL staff as a remote programmer. In addition, the business side was about producing commissions for financial product agents, my IT bailiwick for 30 years. All I had to do was drive 70 miles to Concord, New Hampshire, meet the guys, and accept a job offer. Simple, right? Not really. The two roads diverged at that point, and I at 65 and pensioned, I went down the retirement path.  
But my good friend Lee was not retired and was looking for a job. He and I had worked together in the agent commission IT group of another company for over 25 years, creating very similar resumes. He would be a shoo-in for the New Hampshire job. I excitedly called Lee and informed him of the job opportunity that seemed to be a career match. He applied for the job and had an enjoyable remote work experience for the next five years. I was delighted to late in life finally help a friend out big-time. More importantly, I have recently realized that I also did a pay-it-forward deed to honor the scribbled names written on notebook paper that was handed in to a coach 57 years ago.
RELATED CONTENT: 
Cultivating friendships takes work but offers rich rewards (fiftyplusadvocate.com)
Boston-based 'friendship' organization helps older adults avoid social isolation (fiftyplusadvocate.com)
Crossing career paths with longtime musician friends – Fifty Plus Advocate