By Sharon Oliver, Contributing Writer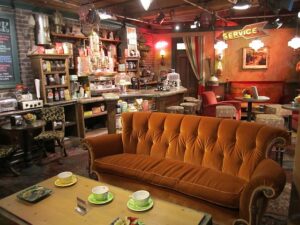 BOSTON – Local fans of the TV show "Friends" will soon have a piece of their favorite sitcom to experience. Previously thought by many to be making its debut in New York City, the first Central Perk Coffeehouse will actually be coming to the Back Bay neighborhood in Boston. That's right, the famous orange sofa where Rachel (Jennifer Aniston), Monica (Courteney Cox), Phoebe (Lisa Kudrow), Joey (Matt LeBlanc), Ross (David Schwimmer), and Chandler (Matthew Perry) gathered around will be making its way to 205 Newbury Street later this year. Well, perhaps not the exact same sofa, but you get the idea.
Popular show had millions of fans
From 1994 to 2004, millions of people faithfully watched episodes of "Friends" where this group of young Manhattanites in their twenties and thirties often discussed their ups and downs and gossip over a hot cup of joe at Central Perk. The Boston project is a collaboration between Warner Brothers Themed Entertainment and CenPer Holdings, LLC, along with "Top Chef" judge and restaurateur Tom Colicchio, who has helped to inspire the anticipated menu.
In a statement to People magazine, Warner Brothers said, "The forthcoming coffeehouse will be imbued with the same heart and soul as the iconic setting from the series. Central Perk Coffeehouse will be a place for fans (and friends) to slow down and come together over great coffee and eats."
Chef Colicchio also commented on his hopes for the forthcoming project, stating, "Our goal with this partnership and the Central Perk brand, like all of my food and beverage enterprises, is to secure the best ingredients and then deliver superior products and services for a great customer experience." 
In a recent press release, Central Perk Coffee Company president Joe Gurdock stated, "We are incredibly excited and proud that the world class city of Boston will be the home of our new Central Perk concept. Newbury Street and the city's Back Bay neighborhood are such treasured gems; known and admired around the globe. We are so fortunate to have found the ideal first location for this concept."
Boston already a coffee hub

For now, coffee consumers can buy Central Perk products like "How You Doin'?" (medium roast), "Pivot Blend" (medium/dark roast), "We Were on a Coffee Break" (dark roast), "Oh.My.GAWD!" (cold brew blend), "Gunther!" (espresso), "Moo Point" (decaf). Fans have already been enthralled by the Warner Brothers studio tour in Los Angeles with sets that made guests feel as though they were living in the sitcom. The series was nominated for 62 Primetime Emmy Awards, winning the Outstanding Comedy Series award in 2002.
While it may be surprising to learn that New York City will not serve as the launching pad for a Central Perk Coffeehouse, it may also come as a shock to learn which cities rank as the top ten best coffee cities in the U.S., according to real-estate firm Clever. Not on the list is Seattle, where coffee is king. Based on affordability and the largest variety of coffee shops (not taste or quality), Boston comes in third.
Boston has approximately 61 coffee shops per 100,000 residents. Soon, Central Perk will open its doors and become a part of Newbury Street's already trendy atmosphere where good friends meet to drink, eat and be there for each other.
RELATED CONTENT: 
Boston Strangler murders re-examined in new Hulu movie (fiftyplusadvocate.com)
Planned Boston Common renovations incorporate input from public (fiftyplusadvocate.com)
New Arlo Guthrie exhibit a highlight at Folk Americana Roots Hall of Fame (fiftyplusadvocate.com)