By Sharon Oliver, Contributing Writer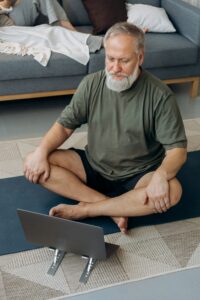 REGION – Yoga has evolved over time into a sundry of practices. Take your pick from mere strength training poses to allowing cute little baby goats to prance on your back. Then there is laughter yoga, which involves more than giggles and toothy smiles. It incorporates meditation and breathing exercises as well.
No experience required
Doug Savage of Savage Laughter in Wareham stresses the importance of breathing exercises. "It releases oxygen, gets into your blood stream. There are so many studies out. It's good for bronchitis," he noted. "It's good for asthma. It's good for depression."
He added, "If you laugh more often then you sort of build up the inner child, you are producing the feel-good hormones and you kind of foster the inner joy inside of you."
At Savage Laughter, yoga attire nor mats are not required. However, comfortable clothing is suggested and typical yoga and meditation sessions last around an hour and include breathing, clapping, childlike playfulness, and laughter exercises. No experience needed. Just bring a willingness to cultivate joy. Remember, laughter is a stress buffer and can be contagious.
Origin and benefits
The combination of laughter and yoga is the brainchild of Dr. Madan Kataria, a family physician in Mumbai, India, in 1995 and has grown from one small group in Mumbai to over 10,000 clubs worldwide. Sebastien Gendry brought the concept to the U.S. when he founded the American School of Laughter in 2004. 
Laughter yoga helps to improve your emotional state within minutes by releasing serotonin and endorphins from your brain cells. You are likely to find yourself cheerful throughout the day and laughing more than you normally do. It's also like a cardio workout in that it increases your heart rate and blood circulation, thereby relaxing your muscles.
This particular style of yoga involves a series of movement and breathing exercises to promote deliberate laughter. It starts with warm-up exercises like clapping and chanting 'ho, ho, ho' and 'ha, ha, ha.' The session ends with yoga nidra, a type of relaxation. 
Led by a trained laughing yoga instructor, exercises are practiced in group settings, such as a club or workshop.  The average session begins with gentle stretching, simple breathing techniques, clapping, and chanting to help people relax.
Laughter yoga helps suppress stress hormones like cortisol. These effects are linked to a better mood, reduced pain, lower blood pressure, a stronger immune system, and lower stress levels and rates of depression. Experiencing a good belly laugh along with other people can create a bonding and strengthen relationships. 
Among those who may find laughter yoga beneficial to clients, patients, and other constituencies are yoga and fitness teachers, psychologists and psychiatrists, marriage and family therapists, senior care workers and anyone else seeking to reduce stress in the environment. 
Rigorous training for instructors
Training for becoming a certified laughter yoga instructor requires completing a 40-hour course and generally includes:
Learning the physical, mental and emotional benefits of laughter

How to laugh without humor, laugh alone and how to teach others to do the same

The history of laughter yoga

Starting and running laughter clubs

How to market your services to businesses

Techniques for special groups (children, seniors and more)

Laughter boosting techniques
There are a number of laughter yoga meetups throughout the state, including www.letslaughtoday.com. Some coaches offer online sessions on Zoom or would be more than happy to come to your next event. Laughter clubs are informal with no obligation to attend every session. 
To quote Michael Pritchard, "You don't stop laughing because you grow old. You grow old because you stop laughing."
RELATED CONTENT: 
Goat yoga on a farm makes for an adventurous getaway (fiftyplusadvocate.com)
Humor offers benefits to feeling better and improving outlook (fiftyplusadvocate.com)
Teaching safe, quality yoga focused on age and ability of students (fiftyplusadvocate.com)