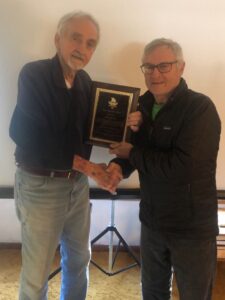 By Bill Gilman
Contributing Writer
MARLBOROUGH – For the first time in six years, there is new leadership at the Massachusetts Senior Games.
Dennis Pollard, 78, of Marlborough, was recently elected to a three-year term as chairman of the games' board of directors. He succeeds Davis Cox, 83, of Northborough, who served six years as chair.
Pollard has served four years on the board, most recently as vice chair. 
As with all organized athletic competitions, the Massachusetts Senior Games took a hit from the COVID-19 pandemic with cancellations and restrictions. Still, Pollard feels the games are in a strong position moving forward.
"We are certainly still trying to bounce back from the pandemic. But last year was a pretty good year for us," said Pollard. "We are looking to expand and add sports. We're adding cornhole this year. We're looking to have a soccer tournament for the first time in five years, and we are hopeful to have a softball tournament for the first time in many years."
Additional events will also be added to the track and field competition this summer at Springfield College.
More than 1,200 Massachusetts athletes take part in the Senior Games each year. As many as 30 sports will be contested at 20 different communities in 2023. Competitions are divided into five-year age groups. The competition season started with alpine skiing at Wachusett Mountain in Princeton on March 8, followed by the ice hockey tournaments, which started in late April in Worcester.
Despite the name, Massachusetts Senior Games has opportunities for athletes aged 40 and up to compete. However, only athletes 50 and over are eligible for the National Senior Games.
In addition to his position on the board, Pollard has also served the past five years as game manager for the games' pickleball competition, an event which has grown into one of its most popular.
"The last two years we have had more than 200 people participating each year," said Pollard. "It's a sport that has grown exponentially in popularity."
Another goal for Pollard is seeking additional sponsors for the Massachusetts Senior Games and raising overall awareness of senior athletic competition.
Besides his passion for pickleball, Pollard is an active skier and cyclist. Married for more than 50 years, he and wife Diane have two children and three grandchildren.
While Cox's role as board chairman has come to an end, he will be remaining active with the games in his new position on the executive committee.
"The past chairman moved to the executive committee for a three-year term. It helps maintain the continuity and keeps the experience," he said.
Specifically, Cox will be working with the marketing team, looking to increase awareness of the games and generate positive publicity for the athletes with local news outlets.
Cox will also be continuing as an active competitor. This past year, competing in shuffleboard, he won gold and silver medals at the Massachusetts Senior Games and went on to win a silver medal in doubles at the national competition.
He has one other project he is pursuing with great vigor.
"I'm hoping that we can get the National Senior Games hosted by Massachusetts in Boston. It would be great for the state with more than 15,000 athletes participating," said Cox. "I'm hoping it can happen in 2025, fingers crossed."
RELATED CONTENT: 
Super Seniors – Meet Leonid Sukher- Man with a paddle – Fifty Plus Advocate
Athletes across the state prepare for Mass. Senior Games – Fifty Plus Advocate