By Nance Ebert, Contributing Writer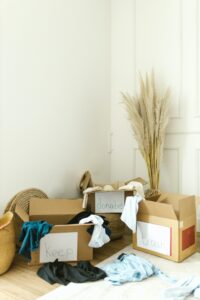 REGION – Whether you are downsizing, helping a friend or aging parent clean out their home or just want to get rid of unwanted items, there are many tips to help with decluttering and organizing. 
Have a plan
To begin this daunting task, you have to create some sort of a plan. Trying to tackle every room in a home is just not feasible. Breaking down this job into smaller, more manageable chores can be helpful and alleviate some of the stress associated with the assignment. 
Starting with one closet, for example, can set the stage for success throughout the rest of the home. First, empty out all the contents within the space. Hangers, clothing, shoes, bags, belts, sweaters, jackets and more all must be removed. It's important to look at each item carefully to determine if this is something that fits, is in wearable condition, is still in style and will be kept. 
You might also find that if you sort through items in the same category, you might be able to tackle larger areas throughout the home at the same time. For example, all clothing is mounded in one area to then go through. This same exercise can be done for all papers, books, athletic equipment, pocketbooks, etc. 
Clutter happens when things do not get put back where they belong. If you designate a place for every single item in your home, this will not occur. The environment in which you live will feel more peaceful. 
Getting rid of what you don't need
There are many local organizations that accept donated clothing in good condition. You can search in your area for those available. These range from large donation bin receptacles, local churches and synagogues, charities, clothing drives and more. Goodwill, Habitat for Humanity, Facebook Marketplace and Salvation Army are also great established resources for other household goods and furniture. 
Some of the resale clothing online sites include ThredUp, The RealReal, Poshmark and more. 
By designating items into piles, you can start the sorting process. One pile should be to donate, another for disposing and another for keeping. Only items that you truly love and that you will actually wear/use should be kept.
Thin hangers with a non-stick surface should be purchased. Buy several packages in a single color. These hangers enable the clothing to stay hung and they take up less closet space than a traditional chunky plastic or wooden hanger. In kitchen cabinets and pantries, clear, see-through containers help to easily identify the contents within. Many storage sets come in shapes and sizes to accommodate most areas. 
Clothing items to keep should be organized in your closet by color. It is easy to see what you have or what you might need if you store your clothing in this manner. It is amazing to see that once this method is implemented, you will eliminate the need to shop for items that you forgot you had, as they were hidden among the clutter of your closet. 
The philosophy of organizing
Marie Kondo, a Japanese organizing consultant, television personality and author of four books, Marie Kondo is known as the guru of tidying and organizing. She has sold millions of copies of books around the world and has trademarked the Kon Mari philosophy. Her belief is that the goal of tidying is to clear away the clutter which then frees you to live the life you want. She also believes in beginning the tidying process by imagining your ideal lifestyle. 
"When you reassess your belongings and organize your home, you set the stage for a huge transformation. Pick up each item and determine if it sparks joy," said Kondo. 
Living in an environment that is cluttered and disorganized can be chaotic. Your environment should be calm and soothing to enable you to feel peaceful. Approaching any decluttering or organizing project can seem very overwhelming but, once this task is accomplished, you can enjoy your surroundings. 
"I want my clients to have peace of mind once I help them declutter and organize," said Kira Coopersmith, owner of Sensible Sort Professional Organizer in Greenfield. "To live in a space that is curated to support them in their current state of existence. The needs of young parents are very different from the needs of downsized empty nesters," she observed. "Our homes should not only be an outward reflection of who we are but a supportive sanctuary for us and our current needs." 
  RELATED CONTENT: 
Sorting through sentiment (fiftyplusadvocate.com)
Are there valuable treasures hiding in your attic? (fiftyplusadvocate.com)
Preparing for the challenge of moving as an older adult (fiftyplusadvocate.com)