By Sharon Longo, Contributing Writer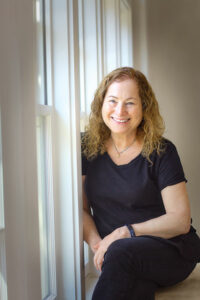 CAMBRIDGE – The experiences of our past often affect the decisions we make in our present and future. For Donna Gordon, two past experiences became the basis for her debut novel released in 2022, "What Ben Franklin Would Have Told Me." The book has received favorable reviews from the Boston Globe, Martha's Vineyard Times, and Vermont Standard. It also recently received the Whirling Prize for Prose.
Inspiration from other projects

While taking photographs at Camp Sunshine, a supportive retreat in Maine for children and their families suffering from serious illness, she noticed a young boy suffering from the rare genetic disorder progeria. The disease, which causes children to age rapidly, beginning during their first two years of life, gives sufferers a life expectancy of only about 13 years. "I didn't know his name, but his eyes, his face, his spirit; they stayed with me in a haunting way." 
Additionally, after hearing someone in Harvard Square talking about Amnesty International and what they did, Gordon reached out to the director of the former Northeast office. She initiated a project called "Putting Faces on the Unimaginable: Portraits and Interviews with Former Prisoners of Conscience." She contacted 15 people who had been political prisoners around the world and were now living in the U.S. from as far north as Maine down to Washington, D.C. 
Gordon photographed and interviewed the subjects who experienced punishment ranging from house detention to torture. Her powerful project was on display at Harvard's Fogg Museum, Boston's French Library, and Tufts University's Wessell Library. "I learned so much and was so humbled to hear the first-person accounts of how they managed to get through it," said Gordon.
Both experiences moved her to create two characters: Lee, a 13-year-old boy with progeria and a penchant for American history, and Tomas, his caretaker and a survivor of Argentina's Dirty War, a forced military takeover which led to the death and forced disappearance of about 30,000 people under dictator Jorge Videla. The novel takes the reader on a journey to find Tomas's wife and child with Lee, whose inspiration is Ben Franklin, often asking what the Founding Father would do or say. Lee lives with his single mom, an off-Broadway makeup artist, and the story explores the ideas of accelerated time for Lee and lost time for Tomas. It is a story about history, friendship, life and death. 
Raising awareness

"I want people to become aware of and know about human rights and progeria and be open-minded and tolerant of all people," Gordon explained. "The world is changing all the time and we need to be sensitive to those changes. We need to take action when we see someone who needs help."
"Thinking about taking action isn't enough," she emphasized. "I learned through meeting the political prisoners that it makes a difference to speak up and speak out. Keeping quiet isn't enough."
"It was vitally important for them to survive and to have other people hear their stories," Gordon noted. "I felt it was important that I did as much as I could to tell their stories."
Gordon's 13-year-old character is a bit of a composite, looking to her own two sons for inspiration, while also writing about her own curiosity and resiliency in life. "There's a lot of me in Lee's character."
A deep background as a writer

The 65-year-old Gordon has been active as a writer for many years. Having started with poetry, she then moved on to prose. A graduate of Brown University, she became a Stegner Fellow at Stanford, a Ploughshares and PEN Discovery, and also received the New Letters literary journal's Publication Prize. Her work has been published in Tin House, Ploughshares, the Boston Globe Magazine, Post Road, the Quarterly, Poetry Northwest, Solstice and other periodicals. 
After her children were born, she had stopped writing fiction, and freelanced for the Boston Globe and some business magazines, but after a while she began to miss the creativity. "The music of language is inside me and doesn't want to stop," Gordon said. "I need to write descriptively with things that are moving and emotional."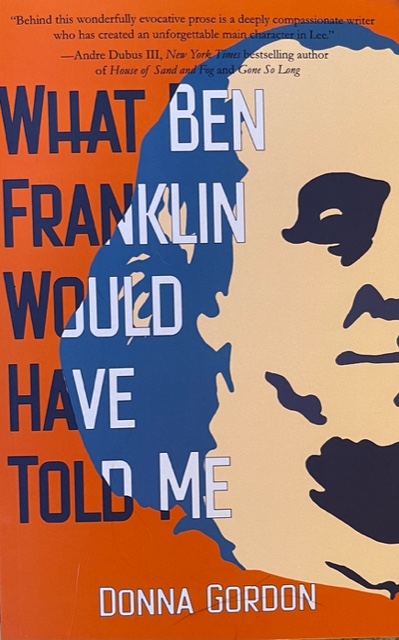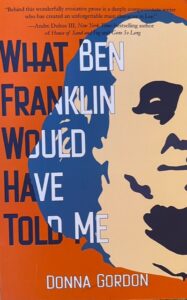 In 2012 she began writing her debut novel. After meeting with two other women in a monthly workshop, she found the structure of the writing group to be beneficial in the process. "It was helpful to try to create a complete section for each of those meetings so I could get the first part of the book written and move on," Gordon noted. "The women each brought something interesting, and they were open-minded enough to support me through the process. They were always very thoughtful, and everyone had something interesting to offer. It was a great experience." 
A prolific writer, Gordon was a 2016 finalist for the New Letters Alexander Cappon Prize in Fiction, received honorable mention from the literary journal Glimmer Train and was a 2017 Tennessee Williams Scholar at the Sewanee Writers Conference. After receiving the 2018 New Letters Journal Publication Award for one of her stories, an agent reached out to represent her, wanting to make a certain number of changes to her novel. "I didn't feel that making those changes would see it through to publication." 
She went on to be a finalist for the 2019 Black Lawrence Press Big Moose Award, a semi-finalist for the 2019 Dzanc Books publication award, and a semi-finalist for the 2019 Eludia Award. She also became a semi-finalist at YesYes Books for her novel.
Also a visual artist

In addition to writing, Gordon is a visual artist, represented by Galatea Fine Art, a contemporary gallery in Boston's SoWa (South of Washington Street) neighborhood. Her solo member show was called Double Vision and was on display at the Concord Art Association in 2022. She also had her lithograph called "The Two Faces of Carol" on exhibit at the Danforth Art Museum's 2022 juried exhibit. 
"I drew when I was in high school but hadn't done it since then," Gordon explained. In 2016 she started going to life-drawing sessions, and that led to drawing and painting. "My imagery and words overlap, and I feel lucky to be able to pursue both." 
Trusting others and believing in yourself

"I think the worst thing for me would have been to get to the end of my life and not have published my book," said Gordon. "I would have had a lot of regret. It made a big difference going from being a writer to being an author and to have my book out in the world."
"Rely on the kindness and goodwill of other people in your life. It's important to ask for help," she advised. "While writing is mostly solitary, I've learned that the process of writing, publishing, and promoting a book is a collaborative effort. I'm grateful for the good will of my readers, friends, editor, publicists, and reviewers who've taken the time to contribute ideas and opportunities."
Finally, she added, "Believe in yourself. You can find your way past obstacles. It's never too late to follow the things that are important to you, and sometimes it takes a while to get where you're going, but it's worth getting there." 
More information: www.donnasgordon.com
RELATED CONTENT: 
Sudbury author helps others unlock their writing potential (fiftyplusadvocate.com)
Author, artist Jackie French Koller turns another page (fiftyplusadvocate.com)
Worcester author chronicles one of Revolutionary War America's most notorious crimes (fiftyplusadvocate.com)