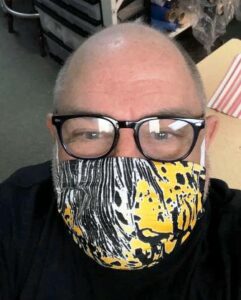 Waltham – David Josef, a well-known fashion designer who has dressed hundreds of celebrities throughout his career, is now creating for superstars of a different sort – those on the front line of the coronavirus pandemic.
As his business slowed down to due to the crisis, Josef decided to use his talent to sew as many masks as possible that will then be donated to local hospitals. Along with his husband, Danny Forester, Josef is spending up to eight hours a day making approximately 75 masks. Not only that, he used his far reaching social media network to help his friend Ann M Russo, raise enough funds to purchase fabric from North Caroline that she will use to make approximately 500,000 masks in her Fall River manufacturing facility.
On FaceBook Josef wrote, "I'm just a chubby boy, with a sewing machine and a dream…… of changing the world!"
But giving back is nothing new for this kind, funny, humble designer. Using his talents to help those in need is in his DNA as much as his creativity is.
Click here to read the profile Ed Karvoski Jr. wrote on Josef in April 2019 –
https://www.fiftyplusadvocate.com/2019/04/08/fashion-designer-creates-a-flair-for-fundraising/