Hopkinton author believes empathy is greatly missing today
By Deborah Burke Henderson, Contributing Writer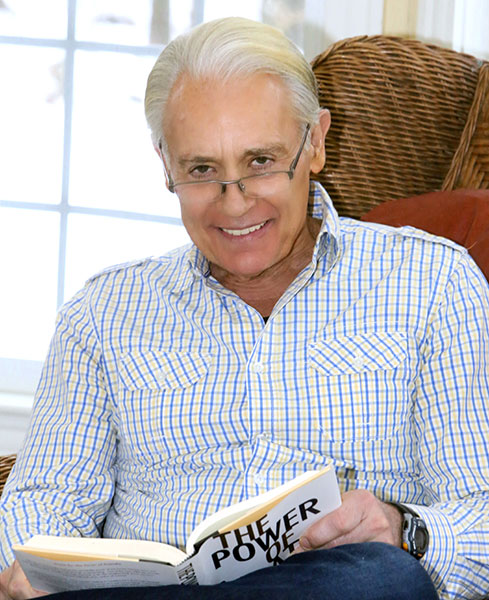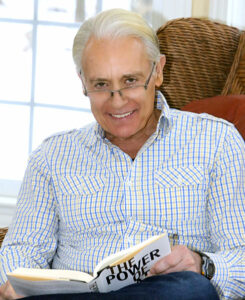 As a young boy, he noticed his mother was a great listener. You might say she listened more than she conversed, and though he did not have a name for it at the time, this fascination became the driving force behind a life journey to understand empathy and the role it plays in our lives.
"I've always paid attention to it," said Arthur Ciaramicoli, Ed.D., Ph.D., of Hopkinton, a licensed clinical psychologist and author. "What I've found to be most effective in my counseling practice is to get to one's heart and soul – where the character is – and that's what empathy reveals."
Influenced in graduate school by the writings of psychoanalyst Heinz Kohut who defined empathy as "vicarious introspection," Ciaramicoli took the definition a step further by giving it action. He defines empathy as the capacity to understand and respond to the unique experiences of another.
Ciaramicoli developed a unique approach during 35 years of consulting with and counseling leaders in business, education, and politics as well as athletic teams. His communication and leadership groups, ongoing now for more than 30 years, have allowed him to study the personal characteristics that lead to excellent and effective leadership skills.
He champions this innovative leadership style based on authenticity, integrity and empathy, calling it AIE leadership, and his work has positively influenced thousands to live and lead with an open heart and mind.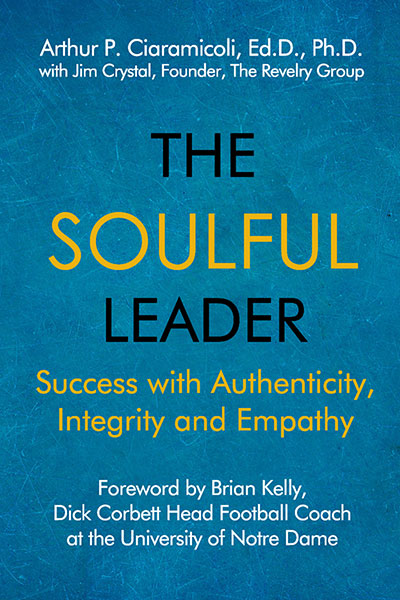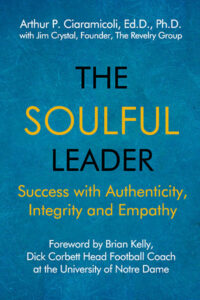 His most recent book, The Soulful Leader, explains and provides poignant and practical examples how AIE leadership produces an environment where everyone grows to respect each other while producing on the highest possible level. This book is intended for leaders across all industries as well as for parents, teachers, coaches and others in leadership and mentoring positions.
Ciaramicoli has learned that when you listen, really listen, to someone, a chemical change takes place in the brain, and there's credible research to prove that occurs.
As he explained, everyone has empathy neurons present in their brains. When empathy is expressed, oxytocin hormones are produced, making one feel positive, happy, generous, safe and trusting. The more empathy, the greater those feelings. The more demeaning a person, however, produces cortisol hormones which cause inflammation and lead to feelings of stress, prejudice and bias.
If we don't receive or express empathy, our capacity atrophies, just like a muscle will atrophy without use.
In an earlier work, The Power of Empathy: A Practical Guide to Creating Intimacy, Self-Understanding and Lasting Love," the author states that "learning how to express empathy – putting your thoughts and feelings into words that will find their way into another person's heart and soul – requires self-awareness, careful reflection and a considerable amount of practice."
He helps the reader learn how to express their insights in ways that help rather than hurt and provides seven essential guidelines to develop empathy: ask open-ended questions, slow down, avoid snap judgments, pay attention to your body, learn from the past, let the story unfold and set limits.
He emphasizes the importance of slowing down in today's ever-rushing society to better understand the uniqueness of another's experience.
"Take the time to be in their world, not your own," he counsels. "Be an empathic listener. When you do so, people feel listened to and respected. Be calm and the listener becomes calm. Then there's greater opportunity for an exchange that will lead to happiness, engagement and creativity."
Believing that "empathy is our common language," his work demonstrates how "we can give voice to our heart's most profound yearnings, eloquently articulating the soul's most anguished questions."
Empathy, he asserts, is the bridge to our human connectedness – that invisible connection which binds us together, as a people, neighborhood and nation.
"Empathy is a trait we desperately need to cultivate in these times," Ciaramicoli stated. "People are so worried about state of the nation. We are so divided now. We must come together, but we have kind of lost our way."
There are opportunities to be empathic every day, and Ciaramicoli believes we function better when we employ empathy throughout the day.
"Something is missing in our society that so many people lead unsatisfied lives, and I believe that something is empathy," he added. "There's nothing more important in life than empathy. Look for common ground with others because, as human beings, we have a common ground."
A member of the American Psychological Association and the Massachusetts Psychological Association, Dr. Ciaramicoli has been on the faculty of Harvard Medical School for several years and served as a lecturer for the American Cancer Society, as Chief Psychologist at MetroWest Medical Center and Director of the Metrowest Counseling Center and the Alternative Medicine Division of the Metrowest Wellness Center in Framingham, Mass.
The Soulful Leader is available for order online at open-bks.com, Amazon.com and in bookstores nationwide. Visit BalanceYourSuccess.com for more information about Arthur P. Ciaramicoli, Ed.D., Ph.D. and view his blog and bookshelf for other recommended readings.