By Janice Elizabeth Berte, Contributing Writer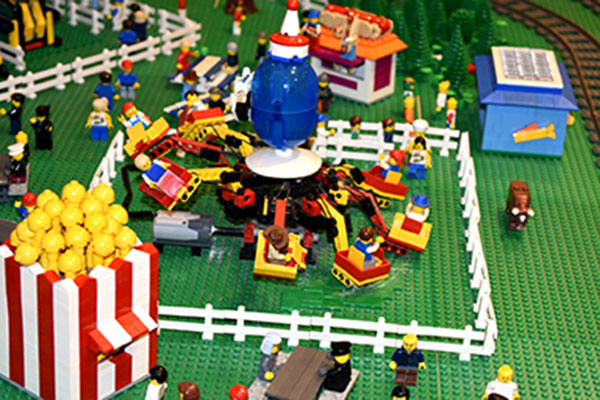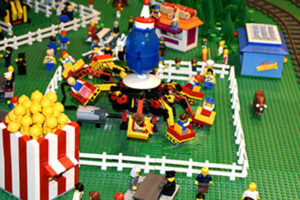 Most people remember with much fondness the brightly colored plastic LEGO kits that they received when they were kids. The anticipation of creating a display that would entertain all of your family and friends left you exhilarated for hours. These kits kept you out of trouble, and showed how imaginative you were. This kind of innovation still goes on in the New England LEGO Users Group.
NELUG formed in 1999 and is comprised of 60 members ranging in age from 18 to 60 from throughout New England. The group has been providing displays for 10 years to the Wenham Museum.
This year's display features trains, with other items such as skyscrapers, a castle, a carnival, and an enchanted forest.
Joe Comeau, a NELUG member, has participated in these grand events because of his love for creativity and providing enjoyment to the visitors. NELUG has such originality that a staff member from the Wenham Museum asked if the group would provide displays every year.
"For this particular display at the museum, it is quite novel," Comeau said. "The quarry, which is only a portion of the total display, is a robotic earth-moving piece of equipment that will move 'gravel' through a closed-loop system. It's all LEGO, right down to the Mindstorms intelligent bricks that we are using to program it all. This alone will have taken a couple hundred hours to design, build, program and test. Whoever is working on the display will work collaboratively with the other members, and the designer will arrange most things, and get feedback on iterations of the design."
There are usually 8 to 10 members that actually work on the museum display because of time and proximity issues.
When designing their pieces for the museum, the group sticks to footprints that are 18 feet by 18 feet which is usually small for other group displays, and they don't keep track of all of the pieces they use.
"We do something different every time and it is all fueled by our own imagination, so keeping track of the number of elements isn't something we typically do," Comeau explained.
The new idea or design is usually created by one member who will meld everything together, but other members will commit to contributing and giving feedback so it all blends nicely. What makes the displays unique is the fact that there are different members who will create different sizes, layouts and themes so it keeps everyone on their toes, and makes for an interesting exhibit for the visitors.
After the exhibit is over at the museum, it goes into the club's books, and the members will review how their display worked, or didn't work. They then can expand on next years' creation from that data.
For more information, visit www.nelug.org.