By Jane Keller Gordon
Assistant Editor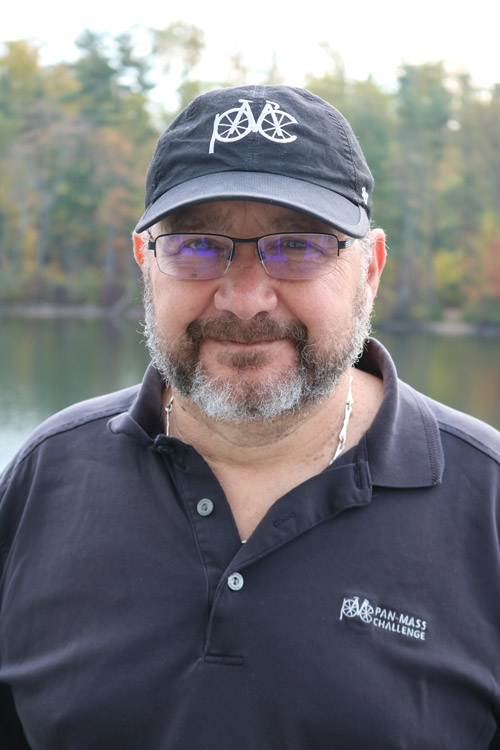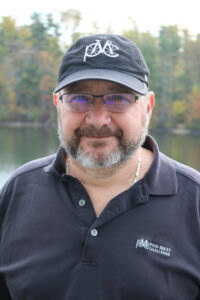 Hudson – Howie Davidson's numbers are great. He has survived six bouts of non-Hodgkin's lymphoma; biked the Pan-Mass Challenge (PMC) 20 times, raising close to $150,000 for cancer research; and at 58, rides about 5,000 miles a year.
Growing up in Brookline and then West Yarmouth, Davidson never imagined that he'd ride cross-country on a bike, or that he would develop cancer.
His first bike was a bright orange Raleigh 10-speed chopper with a high sissy bar in the back. When it was stolen, his parents bought him a Gitane, a light Italian racing bike.
"They got me that bike because it could be carried up three flights to our apartment. They didn't know that it would be the start of a biking career for me," he said.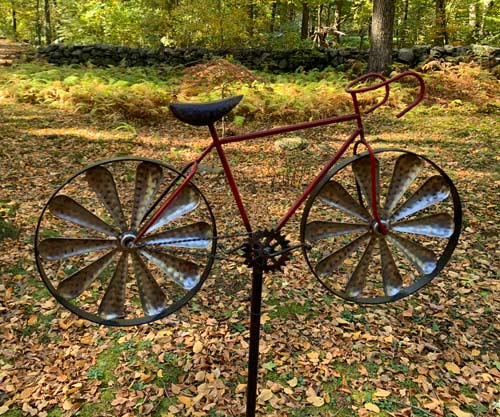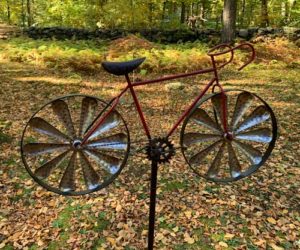 Davidson bought another bike when he was studying computer science at Worcester Polytechnic Institute.
"It was too big for me, but I thought I'd grow into it. I never did. It was really big!" he said.
The years that followed brought Davidson two sons, a career as a software engineer for several companies, and more involvement in biking.
When he was 33, he started mountain biking, and then road riding.
Three years later, in 1997, he rode his first century (100 miles) with the Nashoba Valley Pedalers (NVP), a riding group that he found on the web.
"They organize recreational rides of anywhere from 15 to 100 miles," he said.
That same year, Davidson was diagnosed with cancer.
"It was in one gland and I had low dose chemo. It didn't bother me too much," he said.
Davidson rode his first PMC in 1998, within a year of his diagnosis.
Over the next few years, Davidson experienced four more bouts of localized lymphoma.
"I was treated with radiation, which didn't bother me much either," he said.
Fifteen years ago, just after a century ride with NVP, Davidson battled another type of more aggressive non-Hodgkin's lymphoma. That time, he underwent major chemotherapy and full open field radiation.
That summer he rode the PMC again. And, then again, and again.
In 2007, he rode cross country in 52 days with America by Bike.
Four years ago, Davidson joined Team Lick Cancer, a PMC team.
"I train with them, and we get together every so often. It's been really rewarding," he said.
Davidson's commitment to raising funds for cancer research was elevated when his second wife Lynne, a nurse practitioner, died from stomach cancer in 2013.
He has also raised $15,000 for diabetes, which he believes he developed as a result of cancer treatments, although he said that he was prone to it.
For the past five years, Davidson has participated in the New England Classic Tour de Cure, riding 550 miles over seven days through Massachusetts, Maine, New Hampshire and Vermont.
Looking back over his 20 years of PMC rides, Davidson said, with a smile on his face, "I've ridden the PMC in downpours and incredible heat, with pneumonia, and with cancer. Somehow the timing of my treatments worked out so that I could always ride."
"I usually ride 150-200 miles a week, until the snow banks get too high," he added. "It's an adrenaline rush for me, and the scenery is amazing."
It's not surprising that most days, Davidson wears a PMC logo shirt or hat.
To contribute to Davidson's fundraising efforts, visit:
Pan-Mass Challenge: https://egifts.pmc.org/HD0013
Tour de Cure: http://main.diabetes.org/goto/hdavidson