By Victor Block
Part 1 of 2      
 I was 3,000 feet high, floating in a hot air balloon over a vast plain dotted with massive and magnificent centuries' old Buddhist pagodas, temples and monasteries.
This was but one of many fascinating activities and encounters I have enjoyed during several trips planned by Myths and Mountains. That tour company promises journeys that "explore and experience," and my time in Myanmar (formerly known as Burma) lived up to that expectation and more.
For example, the balloon ride sailed over the ancient city of Bagan, which was the capital of a kingdom during the 9th to 13th centuries from which Burma later evolved. More than 2,200 Buddhist structures survive today, and are part of the reason why Myanmar is referred to as "The land of pagodas." But only part.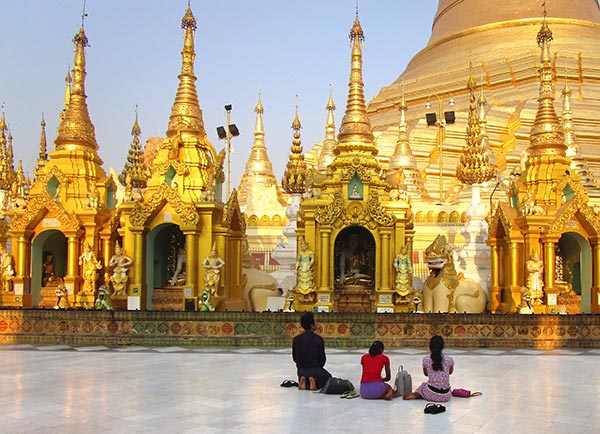 If the pervasiveness of religion in everyday life leads to an assumption that Myanmar (ME-un-mahr) is only about Buddhism and Buddhist temples, think again. In fact, it's a multi-racial country with interesting cities, intriguing villages, stunning nature and attractions sure to excite and delight even the most intrepid traveler. This variety isn't surprising in an area about the size of France and Great Britain combined.
Burma gained its independence from Britain in 1948. An oppressive military junta that took control in 1962 left a lasting stain on the nation's history. The generals suppressed dissent, were accused of serious civil rights abuses and allowed the economy to stagnate largely isolated from the rest of the world.
When free elections were permitted in 2015, the political party of Aung San Suu Kyi won and she now serves as the State Counselor. She has managed to institute new freedoms, economic reforms and other advancements. However, the constitution still gives the military a strong voice in governance of the country.
In recent years tourism to Myanmar has slowly increased, and those who go there find plenty to satisfy a myriad of interests.
Yangon is the largest city and commercial center. It boasts the most extensive collection of colonial-era buildings in southeast Asia, reminders of when Britain was in charge.
Mandalay, the second largest city, was the seat of Burma's kings before British colonization.   Now it's a center of arts and crafts, with different neighborhoods dedicated to various trades.
More special to me were the villages scattered about the countryside, where people live much as their forebears did. Simple houses made of Intertwined bamboo line narrow dusty lanes. Domesticated animals often wander along the streets.
One place where life has changed little is Inle (In-lay) Lake, and a fascinating way of life it is. That large, shallow body of water is home to the Intha people, one of 135 nationalities that help to comprise Myanmar's total population. Each of those groups clings proudly to its distinctive dialects, clothing and traditions.
All transportation is by boat, primarily long, narrow teakwood dinghys which are propelled by whining outboard motors. In a kind of over-water ballet fishermen propel their vessel with a paddle held in one leg which leaves their hands free to cast the net. Farmers plant crops in floating gardens comprised of water hyacinths and weeds bound together and anchored to the lake bottom by long bamboo poles.
Even in this unique setting, pagodas dotted around the lake serve as reminders that you are, in fact, in Myanmar.   It's just another experience, along with countless others, that make a visit to that destination so intriguing. Next month, we'll meet the equally fascinating people of the country.
Myths and Mountains operates tours and custom trips to a number of destinations in Asia and Southeast Asia.  For more information call (800) 670-6984 or log onto mythsandmountains.com.