Roberta Witts, president of the Chelmsford Art Society
Photos/submitted
By Ed Karvoski Jr., Culture Editor
Chelmsford – After the Chelmsford Art Society (CAS) was founded in 1970, the nonprofit organization began organizing the town's already-existing Fourth of July Art Festival. In addition to preparing for this year's 50th annual Art Festival, the CAS is planning a retrospective celebration of the half-century holiday event.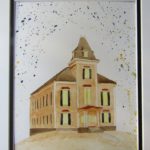 Among those looking forward to the milestone celebration is the CAS President Roberta Witts, a watercolor and pen-and-ink artist, and owner of Picture Yourself!, a gallery and frame shop in Chelmsford.
"This year is the 50th anniversary of the Fourth of July Art Festival, so the CAS will also have a special exhibition in the gallery at the Chelmsford Center for the Arts (CCA)," she explained. "We'll have scrapbooks with photos and a slide presentation of past winners' artwork. You don't need to be a CAS member to have your work shown at our Fourth of July Art Festival. We welcome everybody."
Likewise, the CAS membership is open to residents outside of Chelmsford. There are currently about 200 members including artists from throughout the Merrimack Valley and beyond. A quarterly newsletter announces regional art shows and competitions. Members' artwork is displayed year-round at Picture Yourself!, the CCA, and the retirement residence Summer Place. The CAS annually awards a scholarship of at least $1,000 to a Chelmsford resident pursuing education in an art form.
Meetings are held the last Wednesday of each month from September to May with guest artists offering demonstrations. While some demonstrations are presented by professional artists who are CAS members, most are invited guests from outside of the organization. Guest artists are recruited by program manager Helen Moriarty, a longtime CAS member who has served in various officer positions.
"Our members ask a lot of questions during the demos, so we learn about new techniques and art materials," Witts noted. "We've had some artists demonstrate an exciting new medium, alcohol ink on yupo paper. Members enjoy the demos' entertainment factor and the social aspect of the meetings."
Most meetings are held at the CCA, which is also where the Art Festival and 50-year retrospective will take place. The building was formerly the Town Hall from 1879 to 1981, then became a community center. In 2009, the CCA opened as a visual and performing arts venue.
The golden-anniversary festival retrospective will begin jogging memories Friday, June 15, 5:30 to 7:30 p.m. in the CCA Gallery. Shoppers of the Chelmsford Farmers' Market at the nearby Town Common can also visit the retrospective Thursdays, June 21 to Aug. 23, 1 to 5 p.m. The retrospective will be open Saturdays and Sundays, June 16 to Aug. 26, 1 to 4 p.m.
As for the Fourth of July Art Festival, award ceremonies and receptions are scheduled for Monday, July 2: kindergarten through grade 12 artists from 4 to 5 p.m.; adults from 5 to 7 p.m. Ribbons are given in various categories. Cash prizes are awarded to adult professional and nonprofessional artists.
The Art Festival will be open to the public Tuesday, July 3, 4 to 9 p.m., and Wednesday, July 4, 8:30 a.m. to 1 p.m. Another holiday festivity in the neighborhood those two days is the Chelmsford Lions Club's Country Fair at the Town Common, and July 4 will also feature the 51st annual parade and the John Carson Memorial Two-Mile Road Race.
"We get a couple thousand people wandering through the building to see the Art Festival," Witts said. "It's a great way to introduce lots of people to many art media."
For more information about the Chelmsford Art Society, visit chelmsfordartsociety.com; for Chelmsford Center for the Arts, visit chelmsfordarts.org and facebook.com/ChelmsfordArts.