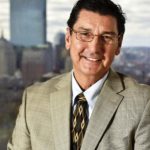 By Mike Festa, State Director, AARP Massachusetts
Seniors on fixed incomes often have to make difficult choices between heating their homes, paying for essential medications, or putting food on the table. Food assistance programs like the Supplemental Nutrition Assistance Program (SNAP) can provide seniors and their disabled family members with a monthly benefit to offset the costs of nutritious and healthy food.
A cornerstone of the nation's nutritional safety net, SNAP (formerly known as food stamps) helps prevent and alleviate food insecurity and hunger. SNAP is a federal program administered at the state level by the Massachusetts Department of Transitional Assistance (DTA) and is an important resource for families to obtain healthy and affordable foods.
SNAP is the first line of defense against hunger for one out of nine low-income Massachusetts residents. SNAP brings over $1.2 billion federal dollars annually into the commonwealth for the direct purchase of food from local and regional grocery stores and farmers markets, which creates a potential annual economic stimulus of $3 billion. Every $1 billion in SNAP dollars creates at least 10,000 jobs in the food retailer, food production and farming industries in Massachusetts.
The USDA's Economic Research Service reports that nearly 10 percent of Massachusetts residents suffer from food insecurity. Massachusetts ranks second to Mississippi in older adults being unable to afford basic living expenses. Without access to federal nutrition dollars from these programs, and especially SNAP, Bay State residents' healthcare costs rise and their health outcomes – from birth to old age – are substantially diminished.
In Massachusetts, 31 percent of SNAP households include families with minor children, with the majority of parents working but at low wages. Half of the Massachusetts SNAP caseload includes a household member who is either elderly or with disabilities.
Medicaid and SNAP participation data from the commonwealth shows a "SNAP Gap" of low-income households that are income-eligible for SNAP but not currently receiving benefits. In the Bay State, 1.4 million MassHealth recipients are potentially eligible for SNAP, yet only 766,000 are currently receiving benefits. In some cases, seniors are reluctant to ask for assistance, even when they are eligible, or they just don't know about the SNAP program.
AARP Massachusetts supports a bill designed to close the SNAP Gap by creating a common application portal for low-income households to apply for MassHealth and SNAP at the same time. "An Act Creating a Common Application for Core Food, Health and Safety-Net Programs" is designed to streamline and improve the efficiency of the application process.
As of December 2016, 147,500 SNAP recipients were 60 and older, representing nearly 20 percent of the Massachusetts SNAP caseload. Food insecurity is expected to increase by nearly 50 percent by 2025 as the Baby Boomer generation ages.
AARP Massachusetts will continue to work to close the SNAP Gap and protect funding and access to this critical program for Massachusetts households.
    Mike Festa is the state director for AARP Massachusetts. Archives of articles from previous issues can be read at www.fiftyplusadvocate.com.