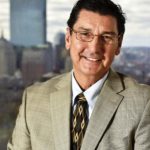 By Mike Festa, State Director, AARP Massachusetts
Fighting fraud is constant work. Scammers are always coming up with new ways and techniques to steal your hard-earned money. Today, 21st-century technology has offered con artists a whole new array of ways to perpetrate fraud on Americans of all ages. For example, we've reached the point where, every two seconds, someone's identity is stolen. We know that the best defense against fraud is an educated consumer, and that's why AARP started the Fraud Watch Network.  It's a free and comprehensive fraud and identity theft prevention resource for anyone of any age to better defend against fraudulent attempts.
Here are a few of the latest fraud tips from the Fraud Watch Network:
IRS imposters are known for using phone calls and email to scam people out of money. Now they are using postal mail. You may get a letter saying you owe taxes related to the Affordable Care Act and that you must write a check to the "IRS" and mail it to a post office box in Austin, Texas. This is a scam. Real IRS notices only direct payment to the United States Department of Treasury. If you get a notice like this and doubt its integrity, call the IRS at 800-366-4484.
Tech support scams are a billion dollar industry. They happen over the phone and online. The goal of the scammer is to take control of your computer remotely, tell you that you have viruses that can be fixed for a fee, then get you to give your credit card number. If you get a tech support call out of the blue, hang up. You should also avoid clicking on pop-up notices that say you have a problem with your computer. If you are experiencing a problem with your computer, call your computer's operating system tech support. Also, install the latest version of established anti-virus software on your computer and make sure it is up-to-date at all times.
Use your credit card, not your debit card, for purchases. Consumer protection experts recommend using credit cards to protect you from fraud and theft. With credit cards, you are liable for only up to $50 of fraudulent use and most credit card companies will waive this fee. In the case of a lost or stolen debit card, financial losses to the consumer can be much more significant. Call your bank for details.
Last year, Americans gave over $373 billion to charity. Government officials who regulate charities and fundraisers say that most charities are legitimate, but there are fundraisers that keep most of the money they raise. As you plan charitable giving for the year ahead, do your research. Check out charities at www.give.org  or www.charitynavigator.org to make sure your money is going where it should, and not into the pockets of scammers.
Shred all sensitive information with a security micro-cut shredder. This kind of shredder will turn paper into confetti that cannot be reassembled by a scammer.
Lastly, remember that free public Wi-Fi is never private. Avoid conducting personal or financial business on shared public computers or over public wireless hotspots.
For more tips and resources, visit www.aarp.org/fraudwatchnetwork or call 877-908-3360.
AARP is a nonprofit, non-partisan membership organization for people 50 and over. We have approximately 825,000 members in Massachusetts and nearly 38 million nationwide. Our state legislative priorities are consistent with AARP's all-volunteer national Board of Directors and focus on removing barriers for caregivers, protecting and improving in-home and community-based long-term services and supports, strengthening the financial security of 50-plus residents, improving healthcare access and quality, and making health care more affordable.
        Mike Festa is the state director for AARP Massachusetts. Archives of articles from previous issues can be read at www.fiftyplusadvocate.com.